Dutch Maid Logistics Inc.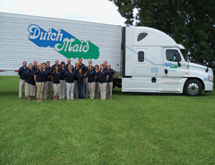 For Dutch Maid Logistics Inc., the issue isn't getting enough business but rather getting enough drivers to handle the equipment and business the company has. With the economy improving in the company's area, drivers are seeking out lucrative opportunities outside the trucking industry.
"I think it's terrible, but it's the nature of the business," Vice President of Operations Sam Burrer laments. "You fight the battle of keeping them because there are lots of opportunities out there for them."
Dutch Maid has had a relatively low driver turnover rate of 15 percent, but it was as high as 35 percent last year before the economy improved. It uses the services of 12 independent owner/operators in addition to its full-time drivers.
That improving economy and driver turnover is resulting in capacity shortages. "We are extremely busy – capacity is extremely tight – so in our business, that's what you want to see, but the problem being because of all these things – the economy getting better – my trucks aren't full at this point in time," Burrer asserts. "I've got four or five with no drivers. Because there is a capacity shortage, your rates go up. The trucks on the road are making more money to help cover what you don't have."
Dutch Maid Logistics is a family oriented truckload carrier and an irregular route common carrier with general commodity authority for 48 states. It also is an asset-based national transportation broker with a four-star rating from Red Book Credit Services, has broker authority and operates a brokerage office in Lake City, Fla.
East Takes Toll
Located in Willard, Ohio, one of the company's competitive advantages is that it will deliver refrigerated cargo to the East Coast, which some Midwestern trucking companies
avoid. "It's a higher place for operating costs," Burrer points out. "You've got a tremendous amount of tolls – a lot of things that drive your operating cost quite a bit higher. More accidents are going to happen when you run to the East Coast. Your incident rate is going to be higher, which means your insurance carrier is going to charge you more."
Burrer estimates that approximately 60 to 70 percent of Dutch Maid's business is with five or six large shippers. This enables the company to drop off one of its 170 trailers for unloading and pick it up fully loaded with new merchandise within 24 hours.
Dutch Maid has used tracking and communication devices on its 100 tractors for 15 to 17 years, Burrer calculates, but tracking technology for the refrigerated trailers was not developed until four or five years ago, he says. The company had it installed approximately three years ago on its reefers.
Dutch Maid also provides spotting operations for three or four of its customers. It has 10 or 11 trucks that are used to move trailers away from loading docks at a customer's facility once they are loaded to make way for empty trailers that can be filled.
In-house Maintenance
Burrer estimates Dutch Maid's six mechanics provide approximately 90 percent of the maintenance required on the company's fleet. Major work such as engine overhauls and warranty work is outsourced. The company replaces its tractors with new ones after five or six years of use and trailers after eight to 10 years.
Burrer attributes Dutch Maid Logistics' success to its employees, good ownership, having the necessary equipment and loyal customers. "Our shippers as a whole are pretty dag-gawd loyal to us," Burrer maintains.