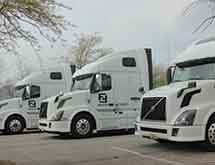 Five year ago, Bill Hood was working on a farm in central Illinois, often enduring subzero temperatures while loading trucks and performing a variety of other tasks. "My fingers were cracked and bleeding," Hood recalls. "I said, 'There's got to be a better way.'"
Hood wrote a business plan in January 2010, secured some funding, and less than one year later was behind the wheel of a truck hauling his first load. The majority of Hood's hauls were throughout the Midwest, but he traveled across the county when the opportunity presented itself. "I chased the money," says Hood, who continued to work on farms during the harvest seasons.
Today, Hood and his wife, Lauren Hood, own Farm2Fleet, a successful owner-operator firm located in Chattanooga, Tenn. It recently was named one of North America's 20 Best Fleets to Drive For by the Truckload Carriers Association.
"It does feel good," Hood says of the award. "We are humbled."
Drivers nominated Farm2Fleet for the award, but Hood completed extensive paperwork and was interviewed about his company as part of the selection process. He credits the owner-operators for the recognition.
"They're the ones that provide great service to our customers," he says.
The road from operating his own rig to running a growing owner-operator fleet was driven by a desire to create a company that treats drivers with respect. "We decided that we're going to run this company like a world-class organization," Hood says. "It's what you would expect if you went to a business in any kind of industry."
Hood decided his owner-operators would be treated in a way not commonly seen in trucking. For instance, he provides business-class lodging for them during orientation and holds training sessions at a country club. "This is a tremendous business partnership, and we're going to treat people with respect," Hood says. "Our core value has always focused on how we work with our owner-operators."
Additionally, drivers are offered the flexibility to set their own schedules, pick their own freight and choose their runs. One owner-operator, for example, takes several months off each year to hike the Appalachian Trail while others prefer not to drive on weekends, choosing instead to spend time with family. "It's the ability to control their own lives," Hood says. The result has been a minimal turnover rate. In fact, Farm2Fleet's 12-month turnover rate is less than 10 percent, while other firms are close to 100 percent, Hood says.
Hood describes his drivers as business operators – a key distinction that is not typically realized by other owner-operators. "Other owners are not really running a business," he says. "They're driving a truck."
Many owner-operators come to Farm2Fleet having cultivated relationships with their own clients, which benefits the company. "They have a trust built," Hood says. Farm2Fleet also provides owner-operators with customers if necessary. The company also handles financial and safety compliance issues for its drivers.
Hood and his wife, who serves as company president, started Farm2Fleet in December 2010 and leased on their first owner-operator in 2011. Today, they have about 80 drivers, several who came aboard in the past year when the company "refocused its energies" on growth, Hood says.
Technology is a significant factor in Farm2Fleet's success. In fact, Hood believes adopting the latest technology tools is required for the company to grow and remain relevant. The company recently partnered with Real Time Freight for its cloud-based transportation management system (TMS).
Farm2Fleet also integrated an electronic logging device mobile solution developed by uDrove with its TMS and fleet management systems. "Technology is a big part of the business," Hood says. "We want to be the most technologically advanced trucking company in the industry."
The owner-operators who partner with Farm2Fleet are expected to be tech-savvy and must know how to use a smart phone or tablet to access the TMS Hood says. Drivers who aren't familiar with the devices are turned away. "We want to be honest and ethical with people," Hood says. "The failure rate for those having to learn our business model and technology is too high."