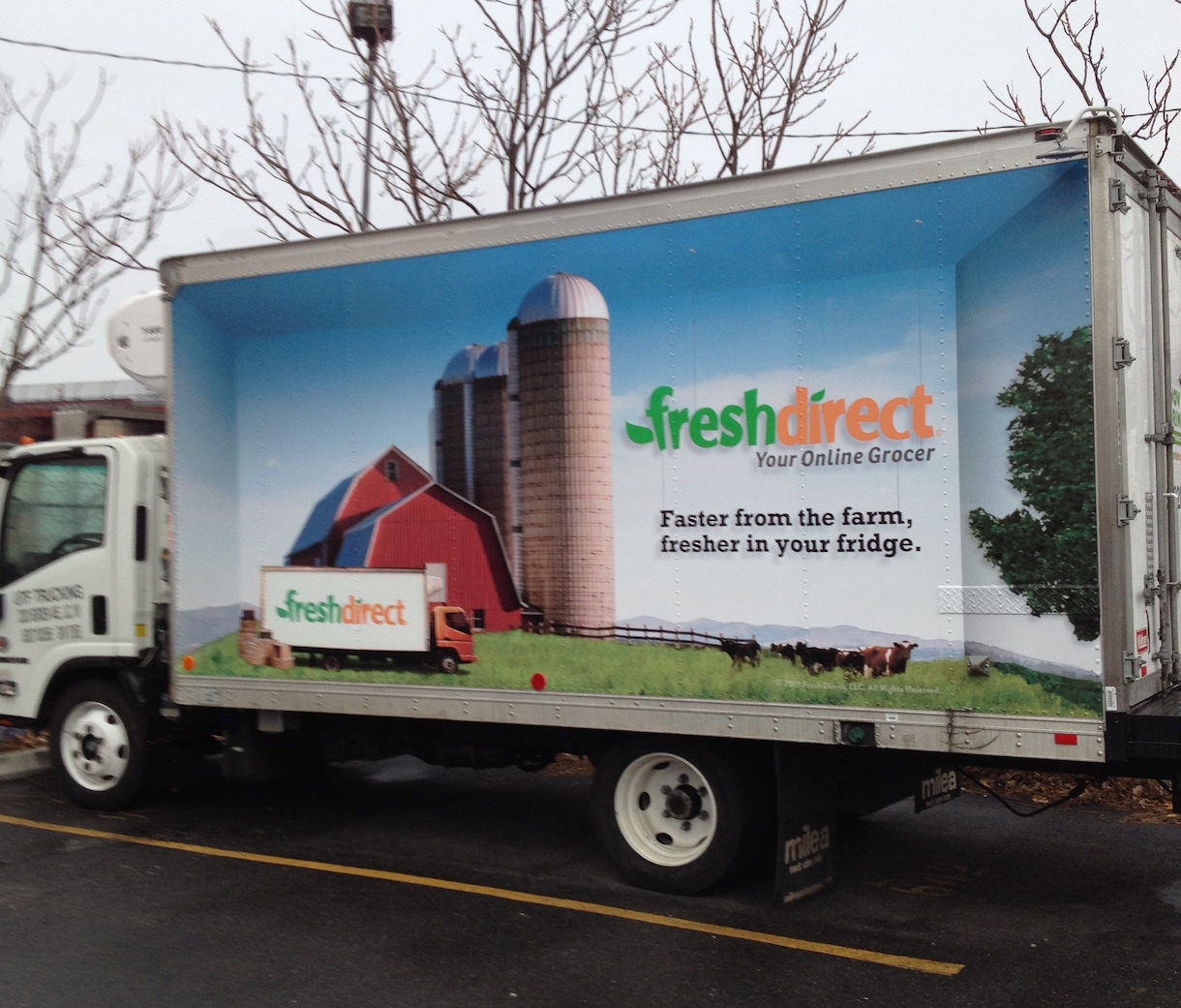 FreshDirect delivers everything carried in a grocery store directly to customers in the Northeast with an award-winning, green fleet.
By Russ Gager
Putting "fresh" in a grocer's name demonstrates a commitment to obtaining food from its source in the shortest time possible. Helping to deliver on that promise is FreshDirect's Director of Fleet Operations Mike Derrig.
FreshDirect delivers everything that can be found in a grocery store to the metro areas of New York, New Jersey, and Philadelphia along with the southern Connecticut metro area and Delaware's metro areas. "But that's only to give us somewhere to jump off from," Derrig says. "I live in the middle of cornfields. I'm surrounded by cornfields, and yet we have quite a good customer base near me. It's the convenience."
FreshDirect 's main distribution center is at the company's headquarters in Long Island City, N.Y. Two more distribution centers – one in Hackensack, N.J., and the other in Philadelphia – are used for cross-docking. "We have deliveries direct into our Long Island City distribution center from different farms and providers – the whole gamut of what you would need – dry goods or fresh vegetables, we get them direct," Derrig emphasizes.
As its name implies, FreshDirect emphasizes produce, organic and fresh prepared food. "We buy direct from the farms, so we don't have to go through a broker or another distribution center," Derrig points out. "It's a way to keep our costs down while maintaining high quality standards."
Fresh Fleet
FreshDirect has a fleet of hundreds of vehicles, ranging from box trucks to tractor trailers. FreshDirect has piloted a variety of new technologies, including hybrid diesel-electric trucks, fully electric trucks, and trucks with battery powered refrigeration. The majority of its diesel vehicles are 2010 or newer models with clean diesel technology that uses diesel exhaust fluid and particulate filters to operate more cleanly.
FreshDirect has investigated using compressed natural gas (CNG) vehicles but has found New York City's regulations and the lack of a refueling infrastructure for its vehicles to be a problem with its adoption. "We've pursued CNG vigorously, and we will continue to pursue new opportunities to make our fleet greener."
In a bow to sustainability, FreshDirect uses biodiesel. "We use 5 percent and 10 percent biodiesel," Derrig says. "Any more than that in the Northeast and you're going to have a lot of problems in the winter. In winter, you have a lot of moisture in the fuel, and if you're running a very small fleet, you're OK. But if your fleet is the size we have, it can be a maintenance problem. Biodiesel is more readily available in the Midwest. So we do what we can."
Another way FreshDirect reduces its ecological footprint is with a "Green Delivery" program that encourages customers to choose eco-friendly delivery timeslots that group deliveries made to the same area within the same time window. This reduces the additional driving that would be necessary for multiple orders to the same area throughout the day.
Despite the challenges of being green, FreshDirect is one of the companies near the top of the list for having one of the cleanest fleets in the Northeast, Derrig says. In 2015, FreshDirect won the Environmental Protection Agency Northeast Diesel Collaborative Breathe Easy Leadership award. "We want to be good neighbors," Derrig says. "We provide organic, wholesome food, and we want to deliver that on healthy trucks, as well."
In-house Maintenance
FreshDirect uses a blend of leased and owned vehicles in its fleet. "A good portion of our fleet is leased, but we also own quite a few of our own trucks and handle the maintenance in-house pretty much at all three locations," Derrig says. The company also uses local vendor contract maintenance.
The leasing company handles routine maintenance such as oil changes. "We've got four people on staff for maintenance," Derrig says. "We work together with our leasing companies and other vendors to maintain the fleet."
"Most of FreshDirect's vehicles are still under warranty and can be sent to the dealer for service," Derrig says. "The trucks are getting so complicated that the reliability is good, but you don't get the experience of working on them. You're better off sometimes sending it out. You don't do enough repairs often enough, and you need a software program for every make and model of engine you have."
Unique Design
The custom bodies have special shelving for the grocery orders and tri-fold rear doors with steps on the rear platforms. "The rear platforms make it easier for drivers and helpers to get in and out of the vehicle," Derrig says. "We have online GPS tracking that tracks not only our trucks but monitors the temperature, door openings, refrigeration usage and whether it's in the on or off mode."
The company uses a system from Telogis that includes GPS, safety warnings, notifications and alerts. It monitors the way trucks are driven – taking note of harsh braking, for example, which can damage fragile food such as eggs. "We monitor ferociously to make sure safety expands out into the product and into customer service," Derrig says. "We make sure our drivers are driving safe and resulting product damage comes down. If we have damaged product, we can see how the driver was driving that day."
The Telogis system also monitors FreshDirect's cold chain. "We make sure our product is cold the entire time from when we get it delivered to us until we deliver it to our customers," Derrig says. "It helps us prevent food safety issues while ensuring we deliver food at its freshest." The entire temperature history of a product can be monitored with the system and stored for reference.
The interiors of FreshDirect's trucks are kept at 34 F to provide for the right environment to maintain fresh food. Each truck also has specialized bins to maintain frozen items.
"The telematics is a very important part of our fleet," Derrig emphasizes. "We have come to rely on that exponentially. It's just amazing how much you use something once you have it available to you. We also use telematics for accident investigation and prevention."
Truck Lifecycles
The semi-tractors FreshDirect buys last approximately six years. "Our trucks go out twice a day," Derrig says. "If they're not being driven, they're being loaded and ready for the next morning. Our plant is running 24/7, and we run two shifts. Because of variable start times, we start running at 5 a.m. and the last delivery may be as late as 11:30 PM."
The diesel vans run for two shifts and last approximately six years. "We don't put a lot of miles on our trucks because we're urban delivery mostly, so we'll age out before we mile out," Derrig says.
FreshDirect's drivers have to know how to do much more than just drive. "You have to have a good driver who knows how to talk to the customer," Derrig stresses. "You can't take somebody who's been delivering cement bricks and expect him to deliver a carton of eggs in the same way. We train our drivers to not only deliver the product but also the customer service. They're FreshDirect experts first and drivers second." The drivers stay with the same route so they become familiar with its day-to-day operation and customers
For the future, Derrig is looking forward to the new distribution facility that is due to be operational by September 2017. Located in the Mott Haven neighborhood in the South Bronx, the new facility will replace FreshDirect's complex in Long Island City.
"Right now, we're spread out over a number of different buildings and quite a few parking lots," Derrig points out. "The new distribution center will enhance our ability to provide world-class customer service."
FreshDirect is deeply involved with the safe operation of its fleet and is a strong supporter of the Vision Zero safety program, an international effort to reduce highway fatalities and injuries that has been adopted by New York City. "Safety first and foremost is what drives the fleet," Derrig concludes.
www.freshdirect.com
Headquarters: Long Island City, N.Y.
Employees: 3,000
Specialty: Fresh food delivery and catering