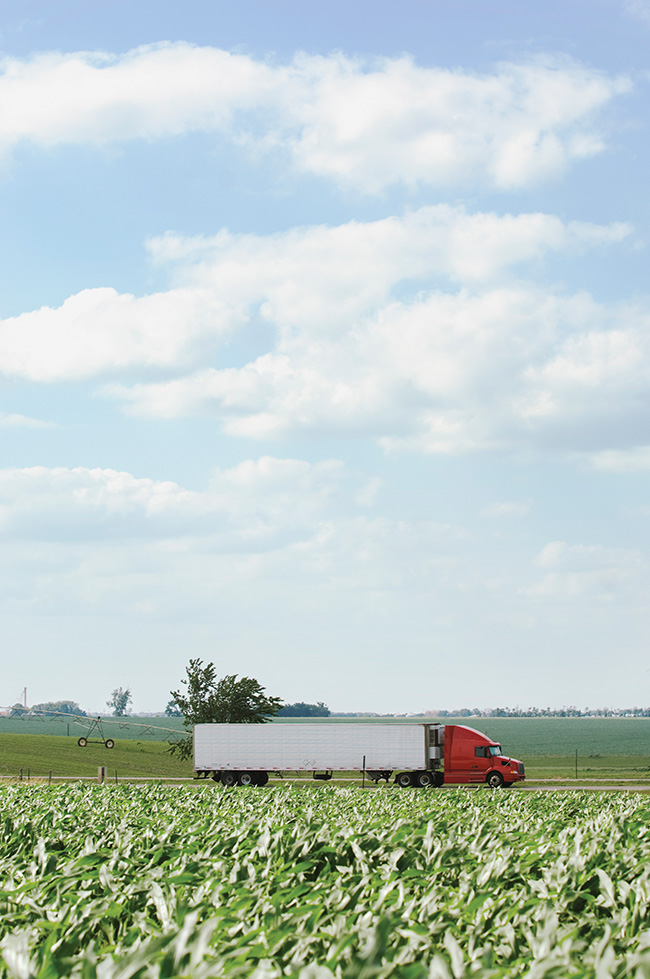 There are three trends to watch in logistics tech.
By Ted Alling
The transportation and logistics industries, like many others, are experiencing forward growth and innovation, with U.S. and global startups and technology companies clamoring to introduce the next great invention in logistics tech.
Three current tech trends are revolutionizing transportation and logistics by solving decades-old problems in logistics — making transportation and storage faster, safer and simpler. New technologies are tackling the old-school trucking industry, the ever-present last mile delivery problem, and the standard non-customized warehouse customer experience.
1. Autonomous Vehicles Will Transform the Trucking Industry
Autonomous tech stands to revolutionize the safety and efficiency of transportation, particularly with wide implementation across the trucking industry. Autonomous trucking brings many benefits to both carriers and the general public, and many transportation companies have already begun to explore the possibility of adopting self-driving trucks into their own fleets.
In October, media outlets nationwide covered the successful delivery of 50,000 Budweiser beers by a self-driving truck that drove 120 miles across Colorado. This is in addition to another autonomous trucking startup that moved trailers around a major trucking facility, just miles away from Chattanooga, Tenn. Autonomous trucking presents the opportunity to considerably reduce accidents and traffic fatalities by removing human error, the cause of most traffic accidents. The utilization of self-driving trucks also allows drivers to rest in the cab, reducing the amount of time a truck must be stopped, and ultimately making routes faster.
While many may fear a declining need for drivers as autonomous trucking becomes widely used, a complete loss of jobs is not anticipated. Instead, the roles undertaken by drivers and the types of in-demand jobs will change. There will be transitionary period where drivers will still need to supervise autonomous vehicles from inside, but ultimately, from distributed command stations. Autonomous trucking also will create a demand for workers in other positions. Drivers can be retrained as machinists, robotics support staff, and for other higher-order functions, including sales. These new roles for drivers will likely attract young talent to the industry, growing the transportation workforce overall.
Of course, the technology behind autonomous trucking is not free of kinks, which is why intensive research and development is ongoing— spurring constant advancements in the industry. Much like the trusted airplane autopilot, autonomous trucking will only improve with greater use, particularly with the insights of actual drivers providing input on where the technology falls short. Due to the rapid R&D currently underway regarding autonomous vehicles, it's likely that autonomous trucks will be hauling freight in the next 10 to 15 years.
2. Shared Economy Concept Extends to Logistics and Will Impact Last Mile Delivery
Last mile delivery has long been a strain on logistics providers, who often lose money on its implementation. Now, tech startups are utilizing new avenues, including the sharing economy, to make last mile delivery convenient and profitable, as evidenced by the many Uber-like startups dedicated to solving the last-mile problem popping up globally. Companies like Skydrop provide businesses with capacity to deliver goods to their customers. These new developments open the door to decrease last-mile transportation costs to drive superior customer experiences that increase revenues and profit-turning.
Innovations in last mile delivery will be especially critical in suburban areas, where service is most needed due to the current absence of last mile delivery services. However, positive unit economics might not occur until full autonomy is gained, which is being delayed less and less by technological capabilities and more so by regulatory issues. Regulation must be clearer and will require providers and policymakers to continue to come together to work towards a solution. Stakeholders can educate and inform legislators and the public, thereby rallying support for new regulations that fit the modern tech economy. Policymakers, then, must show a willingness to update outdated statutes. The logistics industry should look to companies in other industries that have faced similar regulatory obstructions, like AirBnB, for examples on how to engage with local legislators.
3. New Players in the Market Will Make Warehousing More Nimble
New technologies are transforming warehousing, creating a more flexible customer experience. SaaS platforms for pricing and premiums for high demand storage space are creating a warehousing industry that caters to the exact needs of customers. Expect to see an emergence of newcomers to the industry that will provide bespoke space with improved pricing, and these agile players will lead the way in warehousing that truly molds to customers' needs. We've seen interesting business models and value propositions from the likes of DarkStore, Flexe and Stord.
Tech will revolutionize not just the customer experience, but the warehouse floor as well. Demand is growing for a comprehensive IoT playground across warehousing. A broad Internet of Things structure allows warehouse managers to easily organize and protect warehouses, while making shipping quicker. Modern warehouses are already taking advantage of a wide range of IoT-enabled technologies — from systems that allow for easy temperature management to autonomous robots for moving goods. Specifically, there is immediate demand and R&D activity in location, hazard and inventory technologies with IoT capabilities.
As with all new technologies, implementation has its difficulties and must be thoroughly tested first. Warehouse managers and their tech providers must figure out new ways to coordinate data systems to be compatible with IoT technology. However, the analytics that will be provided by a warehouse IoT will ultimately allow for constant improvement. Some startups in this space that provide interesting solutions are OTTO (a Clearpath company), Locatible, and BionicHive.
New tech is flooding the transportation and logistics industries and innovating in ways that once seemed impossible. These advancements benefit the carriers, warehousers, customers and more — improving efficiency and lowering costs for all parties. While each technology faces its own unique roadblocks, radical advancement will continue with the help of innovators from around the globe. Watch out for these trends in autonomous trucking, last mile delivery and warehouse tech, which are poised to dramatically shape the transportation and logistics industries in the coming years.
Ted Alling is a serial founder who has built two successful and fast-growing companies by age 35. In 2002, Ted founded Access America Transport, one of the fastest-growing third-party logistics companies in the country, with his two best friends from college, Barry Large and Allan Davis. In 2010, they founded Lamp Post Group, a venture capital firm and tech business incubator. In 2014, Access America merged with Coyote Logistics, forming a $2 billion dollar transportation powerhouse. Coyote Logistics was later acquired by UPS. Since the merger, Ted and his fellow partners are focusing even more energy on Lamp Post Group and the startups the company invests in. Most recently, Ted co-launched the premier logistics accelerator in the heart of Chattanooga, Tenn., called Dynamo. The first cohort for the accelerator began July 2016.