Great Lakes Cold Storage/Polar 3PL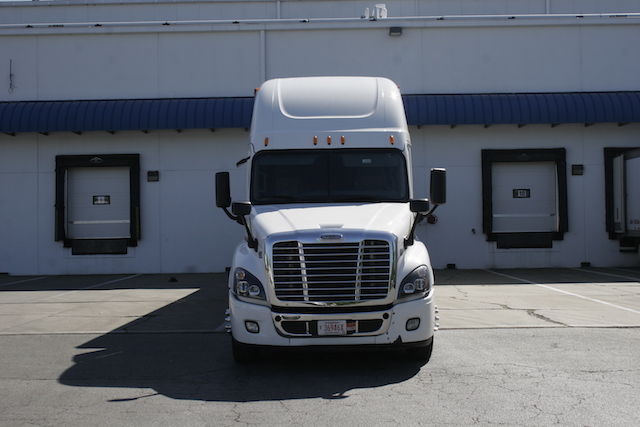 Great Lakes Cold Storage and Polar 3PL have a hot business in cold temperature storage and transportation.
By Jim Harris, Senior Editor at Knighthouse Media
Great Lakes Cold Storage and Polar 3PL have created a market space for their services by keeping their cool – literally. Founded in 1999 by Pat Gorbett following his acquisition of a refrigerated warehouse facility in Solon, Ohio, Great Lakes Cold Storage provides a full complement of warehouse and inventory management services to the grocery/food and other cold storage industries.
The company prides itself on maintaining close relationships with all of its clients. "All of our customers, both new and existing, tell us how much they appreciate our customer service. We have a great group of people here who listen to our customers' problems and help them solve their issues," Executive Vice President Joseph Smith says. "Being a smaller company allows us to have a personal touch that larger companies with 50 to 100 warehouse don't have."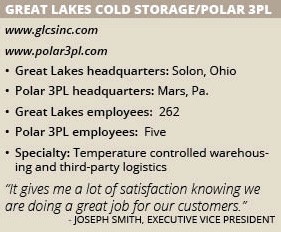 In 2014, Great Lakes Cold Storage was able to offer its clients transportation services when Gorbett created Polar 3PL. The company has quickly grown from transporting just a few shipments a week to today handling several thousand loads annually.
"It can be hard to acquire a customer base and find an identity for a company in a short period of time," Chris Lindemann, vice president of transportation for Polar 3PL. "I'm proud that we've developed a niche in the temperature-controlled space by partnering with less-than-truckload (LTL) providers around the country that give us available capacity and matching them up with our customers that need help shipping smaller quantities of frozen and refrigerated pallets from point A to point B."
In addition to serving Great Lakes Cold Storage's warehouse locations, Polar 3PL also provides temperature-controlled LTL services to other customers across the country. Its customers include food and beverage manufacturers as well as distributors.
"Our customers demand that type of service (temperature-controlled LTL) because they are small-to-medium-sized and can't always sell full truckloads of products," Lindemann adds. "There are only a handful of providers that handle temperature-controlled LTL trucking."
Expanded Services
Following the acquisition of a 118,000-square-foot facility in Cranberry Township, Pa., in 2004, Great Lakes Cold Storage dedicated the Solon warehouse to Pennsylvania-based supermarket chain Giant Eagle, one of its biggest customers. Great Lakes Cold Storage receives goods directly from manufacturers or other distribution centers, Smith notes.
Both companies are improving their capabilities and offerings. The growth of the Giant Eagle business recently led Great Lakes Cold Storage to expand the Solon facility by 50,000 square feet to nearly 300,000 square feet. A brand-new racking system, updated refrigeration systems, and warehouse management system were also installed.
Polar 3PL continues to seek LTL partners that can help it deliver to smaller markets. The company also wants to expand into different commodity types – such as fresh meat, confectionary and seafood products – that require specialized temperatures.
Both Great Lakes Cold Storage and Polar 3PL see themselves as an extension of their customers' operations. "We feel that we have a buy-in with the product that we are holding, so we want to be sure inventory is brought in correctly, kept in the proper environment and managed well," Smith says. "It gives me a lot of satisfaction knowing we are doing a great job for our customers."