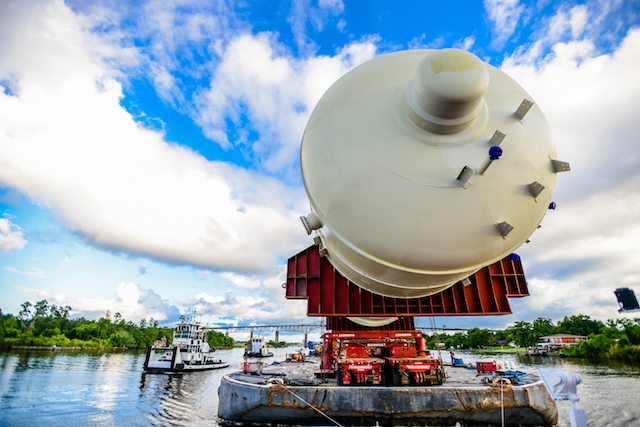 Mammoet's new Texas branch will increase its focus on crane services.
By Alan Dorich, Senior Editor at Knighthouse Media
Some might immediately name "equipment" as the key factor in lifting, transporting, installing and decommissioning large structures, but Mammoet takes a different outlook. "We have a lot of really awesome equipment, but that's not what makes a company," Pierre Mille declares.
The company instead considers the human factor to be more important and so it makes that its largest area of focus. "We have invested a tremendous amount of time making sure we have good people," he says. "That's the most difficult part of our business."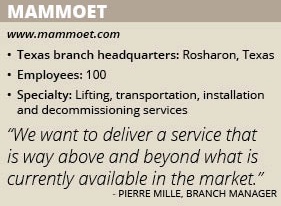 Mille is the branch manager of the Texas region for the Utrecht, Netherlands-based company that serves the petrochemical and mining industries, as well as civil engineering, power generation and offshore projects. Mammoet's history goes back to 1807, when Jan Goedkoop bought the "Two Brothers," a 140-ton sailing cargo ship.
Two centuries later, Mammoet has earned the reputation of a trusted source for its services. Mille notes that the company has earned its reputation by focusing on the long-term best interests of its clients, which keeps them coming back. "What's very important to us is repeat business," he says. "We're not looking for one quick win.
"For us, it's about having good relationships with our clients [while] providing excellent service and excellent sales support," he continues, noting that Mammoet provides its services safely, without incidents.
"Having that repeatability, they know exactly what they can expect from us," Mille says. "They get the same quality every time."
Going Local
Mammoet is in the process of restructuring its business to put a greater emphasis on its branches. "We've refocused to make sure we give more attention to local work," Mille says, noting that this will put more concentration on small- and medium-sized jobs.
By doing so, Mammoet aims to ensure that it is not only relying on large projects to thrive, but also focusing on short-cycle business. "We see a need to create a constant business that is predictable," he says.
"That is the intent of going to the branch structure, which is what I'm overseeing for Texas," he says.
The branch will serve clients from Freeport to Beaumont, Texas, and focus on the crane services business. Mammoet recently announced it was expanding its fleet of cranes to increase its rental capacity in the region and meet the growing demand of its customers.
The location plans to focus on day-to-day transports, lifts, shutdowns, turnarounds and plant maintenance in the Lone Star State, along with supporting projects in the Gulf Coast. "This is somewhat of a new business," Mille says.
Getting Stronger
Mammoet recently purchased 11 new hydraulic cranes from Liebherr, which will be delivered to Texas from the company's factory in Germany. "We will have all 11 mid-summer," Mille says. "That will strengthen our business."
He adds that this is not the first time Mammoet invested in equipment from Liebherr. "We've purchased hundreds of cranes from [them]," he says, noting that the company invests millions of dollars in Liebherr's products annually.
Next year, the Texas branch plans to have at least 22 hydraulic cranes, which will add to its current fleet of 25 all-terrain cranes. But the ultimate goal is to reach 100 all-terrain cranes. "That is part of our growth plan; to start putting that equipment to use," he says. "It's about setting the right structure of the company having the right processes in place. We want to deliver a service that is way above and beyond what is currently available in the market."
Mammoet's experience in the project business, he adds, will distinguish it from other providers when it comes to focusing on safety. "Our clients trust that we will apply the same safety standards to the crane services business," he says.
Getting Ready
Mammoet expects 2019 to be a busy year not only for itself, but also the entire industry, Mille says. "We're starting to see shortages in terms of equipment for the mid-part of the next year," he says.
"We're also seeing the offshore market coming back really strongly," he continues, adding that there are many projects on the horizon that are either approved or close to reaching approval.
Loyal Associates
Mille joined Mammoet 10 years ago as an engineer, which provided him with extensive background experience. However, "I spent most of my career with the company in sales management as a sales director," he says, noting that he took his current role this year.
The company, he notes, has made sure to treat its employees fairly and provide them with opportunities, which has kept its longtime employees like Mille loyal. Recently, "We celebrated some people that have worked for us 20-plus years," he says.
Mammoet also nurtured this loyalty with an "open door" environment. "Even the office is all glass doors," he says. "We definitely promote transparency."
Mille is proud of Mammoet and how it has been able to grow its U.S. operations. "We've been in business for 29 years now here in the United States," he says. "Even when I was here 10 years ago, Mammoet USA had less than 10 cranes dedicated to USA project work."
Now, the company has about 200 cranes based in the USA, dedicated to local projects, while its global fleet offers 1,245 cranes. "That's pretty significant growth over 10 years," Mille says, adding that the company has grown its USA staff from 300 to 500 people.
"We definitely take pride in being a very efficient company as well," he adds. "It allows us to provide higher quality than our competition at equal or better prices. That takes a lot of smart management and it takes a lot of hard work to have all the right people in the right position."
Mille sees a strong future for Mammoet, as it places an emphasis on day-to-day recurring business. "The whole concept of branches is very important to us in the development of the company," he says.
The company currently has three main branches in the Gulf Coast. "Within the next five years, it is possible we'll have 10 branches," he says.
It's About Time
Although Mammoet moves large and heavy objects, the company says its area of excellence is when it helps clients move time. "Mammoet safely and professionally moves deadlines forward, improves uptime and reduces the cost of ownership," it says.
"It is the challenge of pushing boundaries, creating new possibilities and accomplishing the exceptional that moves Mammoet as a team," the company says.
SIDEBAR – Transferring Skills
Mammoet regularly invests in its people. "They demonstrate an impressive flexibility, ability to cope with unexpected circumstances, cooperative attitude, professionalism and dedication," Pierre Mille says, noting that it does this through its Mammoet Academy.
Academy trainers share the company's extensive knowledge and experience through formal instruction and practical training. "Well-trained professionals are the starting point," the company says. "But as experience can only be built in practical situations, Mammoet views on-the-job learning as an integral part of the training process.
"We ensure all Mammoet staff comply with local rules and regulation have the competencies to execute their work professionally," Mille says, noting that the academy is its central training and development initiative. "This in-house network of education centers is built on the principle 'Prepare for a Professional Future' as it aims to transfer skills and knowledge as well as culture and mentality."
SIDEBAR – A Shared Commitment
Mammoet avoids accidents through its strict Safety, Health, Environment and Quality (SHE-Q) program. "Every day, dozens of safety officers ensure that the standards are maintained consistently throughout the world," it says.
"The safety officers focus on safety and the impact of our activities on the environment, but is not their responsibility alone: it is a key responsibility of everyone working at Mammoet," it says. "We require that all employees, contractors, subcontractors, visitors and any others who may be affected by our operations share this commitment."