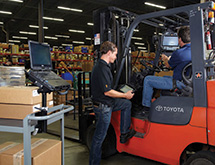 When comfort, safety and quality are what matter most in mobile office solutions, Havis stands ready to take on its clients' unique challenges. "Our products are built with customers' expectations in mind," says Chris Bernert, director of sales. "We are very in touch with our customers in terms of sales, technical support and the level of engineering that goes into the products."
Havis specializes in mounting equipment and docking stations for fleets in transportation, utility and public works, public safety, military and government, and other mobile professional industries. The company also manufactures prisoner transport units and K9 inserts for the public safety sector.
The company has been manufacturing from its headquarters in Warminster, Pa., since it was founded in the 1970s as a provider of mission-critical equipment for the public safety industry. Havis has a second location in Plymouth, Mich., for additional engineering and technical support. "We have a very diverse product line, which requires a short lead time; therefore all of our products are manufactured in our Pennsylvania facility," Bernert says.
"Havis' ultimate goal is to get closer to its customers, says Sam Barall, national sales manager of Enterprise, Havis. "We are all over the place; wherever a laptop or tablet can fit, whether that be in a car, truck, forklift, construction crane, boat, you name it – if it's mobile we can build a product for the application. Our goal is to make our solutions the most comfortable, the safest in the industry and made with the highest-quality product material."
Compatible and Safe
One of the ways Havis differentiates itself in the industry is by the safety measures it takes in its products. "With everything we design we keep three things in mind: comfort, safety and quality," Barall says. "We design products for many different applications depending on the customer's demand. Once our engineers receive the scope of work they begin to design around the safety obstacles such as the airbag deployment zone and the vehicle controls to make certain that nothing we are making could be detrimental to those functions. We next consider the ergonomics of the product for the user as well as the comfort of the occupants once the product is installed."
Havis works closely with the automobile and truck manufacturers to get their vehicles into its shop to design, test fit and evaluate new products based on the vehicle's architecture. "Depending on the size and weight of a product we are mounting we need to make certain that all of the mounting points in the vehicle's structure are adequate to support the additional stress of weight and vibration over the life of the vehicle," Bernert says.
It is equally important for Havis to develop relationships with laptop and tablet manufacturers. "The relationships are developed with the leadership and engineering department and flows companywide," Marketing Manager Heather Miller explains. "We are very well connected on the vehicle OEM side and it's very important to work side-by-side on the computing side to make sure we are compatible."
The biggest change Havis has seen in mounting equipment has been the increased use of lighter weight devices like tablets and varying preferences based on the particular needs of the industry. "In the transportation world, larger trucks seem to want seven- to eight-inch screen devices while utility markets seem to like the larger, 12-inch screens for various use case reasons," Barall notes. "Some industries appear to be shifting from laptops into the tablet world. We have adapted by designing more universal cradles to hold most of the numerous sized tablets on the market today."
Havis is with its customers from start to finish, Miller says. "We consider ourselves a key component to a total mobility solution," she adds. "The end-user has a problem and typically they need software to solve that problem. They need hardware to run that software and where we fit in is we can assist the customer in considering their options on how to dock, mount and accessorize their total mobility solution early on in their project."
New Solutions
Because Havis understands safety is so critical to mobile workers, the company recently launched its Screen Blanking Solution powered by Blank-it. The solution is an easy, safe and legally compliant way to manage in-vehicle computer displays and prevent driver distraction. "This new product is another great safety feature that will blank out the screen of a tablet or laptop when the vehicle is in motion," Barall explains. "Reading a text, texting or watching a video causes distracted driving and we offer a product that combats that. The ultimate goal is to prevent driver distraction."
The Screen Blanking Solution can block everything or leave certain programs – like navigational systems – running. There is also an override cable that can attach to the solution and the docking system, which allows programs to continue to operate while the vehicle is in motion. However, it will only work if the docking system is rotated to the passenger side, allowing access to only that seat.
Moving forward, Havis wants to continue to grow with the industries it supports and provide applicable mounting and docking products to solve their business problems. "We want to stay relevant and innovative by being ahead of information or aligned with it," Miller says. "We do a lot of info sharing in our ecosystem to understand our customers' business problems and how we can help solve them. We stand behind our products and have outstanding warranties and protection plans to prove it."