Heniff Transportation Systems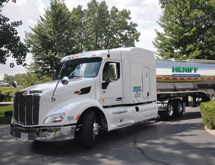 border="0″ />Heniff Transportation Systems was eager to acquire more customers until 2010, when it discovered that doing so too quickly and without the right foundation was not in its best interest.
Bob Heniff had founded Heniff Transportation Systems in 1998 in his Chicago apartment with only one chemical manufacturer as a client and four trailers. "My grandfather and father both had transportation companies that focused on hauling petroleum products," Heniff says. "Basically, I am a third-generation business owner in a similar industry."
Today, Heniff Transportation is headquartered in Oak Brook, Ill. and it has nine truck terminals located in Texas, Tennessee, Louisiana, Kentucky, Pennsylvania and Illinois. The company's fleet includes more than 300 tractors and 600 stainless steel trailers that transport hazardous and non-hazardous chemicals from refineries and storage facilities to end-users. About 70 percent of Heniff Transportation shipments are of non-hazardous chemicals.
Expedited Growth
Heniff Transportation temporarily focused its efforts from expanding its customer base in 2010 to focusing on becoming more efficient by updating its technology and streamlining existing processes, Heniff says. "Prior to 2010, we had a number of years with double-digit growth," he explains. "We were growing too fast, not attending to efficiencies in our operations and couldn't keep up with demand. We were falling behind in the back office." Heniff Transportation's average time to invoice a customer was six to seven days. Today, it's billed to the customer within 20 hours from time of delivery.
"We wanted to be that viable platform a shipper could grow with for years to come," Heniff explains. "We made the company more efficient and positioned it into an ideal platform for growth in the future. We will grow smart with strategic customers that appreciate our stewardship of their products instead of uncontrolled, wild or fly-by-the-seat-of-your-pants deals that offer unbelievable growth and rarely amount to the promised results."
The company began updating technology and streamlining its operations in 2011 when it purchased People Net's Mobile Demand "tablets" for each truck. "The tablets have an immense number of features that allow us complete visibility to improve daily operations," Heniff explains. "We can do everything digitally."
The tablets allow drivers to log their hours, capture digital signatures from customers, take photos, send a bill of lading and find an optimal route to a location. In addition, customers can track the truck for estimated pick-up or delivery times in real time. "We can do things faster and more efficient than anyone now," Heniff says.
Heniff Transportation received a full return on its investment nine months after purchasing the tablets and implementation. Annual cost savings through fuel performance with the new software is more than $1 million.
The new technology will give Heniff Transportation the foundation it needs for future expansion and acquisitions. In the next few years, Heniff expects to acquire some of the company's competition. "The average competitor in my industry is an elderly guy whose kids did not come into the family business and he is not looking to grow the business today," Heniff explains. "We are a rare team of younger guys out there that are much more aggressive and looking to grow our enterprise. That's why we did so much work and made the improvements to our platform to build on."
Securing Safety and Drivers
The pool of drivers qualified to transport chemicals for Heniff Transportation is small and the oil and gas industry has been attracting a large number of those drivers to the oil fields, Heniff says. "Competition for drivers has grown immensely, but retention has improved," he adds. "We have a great program that we are always trying to improve for the drivers. More drivers are coming back into our driver pool; I guess they realized the grass wasn't greener on the other [the oil and gas industry] side."
Even when an employee has prior experience in transporting liquid bulk chemicals, Heniff Transportation puts each driver through a substantial training program. The training sessions can range from one to three weeks, depending on the driver's skill. "We have to teach them all the chemical handling requirements to qualify these drivers," Heniff explains. "We do a lot more handling of a shipment than a normal driver because our drivers utilize pumps or air compressors to off load the liquid products from our tank trailers."
Because of the complexity of the driver's role, safety has always been a major focus, Heniff says. "It's amazing because over the last few years, my safety director has become one of the most important guys on my staff," he says. "We have a great safety record and are always focused on continuous improvement with that."
Heniff Transportation regularly receives outstanding DOT safety ratings that have also proved to be a valuable sales tool. Customers look at safety records and audits from the Federal Motor Carrier Safety Administration's Compliance, Safety, Accountability Department, Heniff explains. "We pride ourselves on our safety and we audit every one of our competitors so we know where we stand and if there are any common trends among our carrier group," he adds. "We are happy to see where we are, where we are headed and that we are definitely well qualified to serve our customers."