Coretex (formerly International Telematics)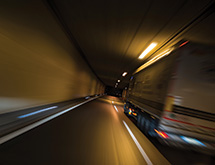 The merger of two companies often is an arduous process. That was not the case when International Telematics and Imarda recently joined forces. "It's been incredibly seamless," says Dean Marris, president, North America. The reason for the smooth transition was simple. "We have like-minded, entrepreneurial people coming together," he explains.
International Telematics and Imarda are both leading fleet management companies that offer two of the top solution in the industry. The merger was announced in May and completed in October, and the new company will be called Coretex. "The merger has been about one year in the making," Marris says. "It's been well thought through."
"We've already moved into one building," says Marris, whose family founded International Telematics in New Zealand in 2005. The company has offices in Auckland, New Zealand; Melbourne, Sydney and Perth, Australia; New York City and Denver. Marris will serve as president of Coretex's U.S. operations.
Imarda was founded in 2007 following the acquisition of two companies that had a combined 11 years of experience in building telematics systems. It is based in Auckland, which will be the location for the Coretex headquarters.
Leveraging Growth
Both International Telematics, which provides the ibright solution, and Imarda and its i360 platform, are experiencing strong growth in North America, Australia and New Zealand, which served as a primary motivation for the merger, Marris says.
Now that the union of the two companies is complete, Coretex will shift its priorities. "How we deliver products and services is key," Marris says, adding that both companies have strong North American distribution networks, which also are being combined.
Imarda's i360 fleet management platform allows data from vehicles, mobile personnel, enterprise applications and other sources to be collected. Vehicle data is collected from Imarda's proprietary GPS tracking devices as well as third-party devices and smartphones.
International Telematics' ibright fleet management solution uses a combination of machine-to-machine communications, GPS, cellular networks, Bluetooth and accelerometer technology to gather critical fleet information and presents it to fleet controllers and drivers. The solution is designed to improve performance, reduce costs and gain a competitive advantage.
Bringing the two companies' platforms together will position Cortex as a leader in the industry.
"Essentially, Coretex solutions will translate masses of disparate data into actionable intelligence delivering business value across organizations operations," Marris explains. "Coretex solutions will ensure that organizations are in control of compliance requirements, driving cost efficiency, keeping workers safe and enabling revenue growth."
Vertical Penetration
The merger is designed to create a more powerful company designed to grow and accelerate expansion in the U.S. telematics market, which is expected to grow from 14.7 million vehicles being monitored in 2014 to 37.9 million by 2020, Marris says. "We're transforming fleet management services across the globe," he says.
The move made sense for both companies because it allows them to leverage their strengths and broaden the customer bases, Marris says. "It's the merger of two successful companies," he says. "Both companies saw the synergies. We are going to get deeper and deeper into the vertical markets that we serve. This is exciting for us as we bring even more value to current and new customers."
Both companies' offer robust solutions for different industries. For example, Imarda is focused on providing "mission-critical information to the construction industry," Marris notes. The company also serves utility companies, waste and recycling, delivery services and the transportation and logistics market. International Telematics, meanwhile, specializes in refrigeration, as well as dry van and in-cab solutions.
The goal is to combine both companies' experience with customer and channel relationships to position Coretex as a leader in the market. "It's all about integrity," Marris says.