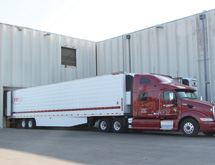 With live animals and meat products, most shipping has to be just-in-time. The 98 percent on-time delivery record of JBS Carriers lends itself to this type of shipping, and having its own leased fleet of tractors and trailers enables it to provide a level of reliability that is exemplary. "Most of our loads are just-in-time," JBS Carriers President Rodrigo Horvath stresses. "We are measured in minutes."
JBS Carriers is a division of JBS USA, a processor of beef, pork and lamb, that says it is the largest cattle feeder in the world. JBS USA is also a majority shareholder of Pilgrim's Pride Corp., a poultry company that has operations in the United States, Mexico and Puerto Rico. Horvath estimates that approximately 70 percent of the cargo JBS Carriers hauls is for JBS USA. The rest is for external customers like retailers, food and cold storage companies, and even some competitors.
"Every business that we serve has a different way to handle their cargo, so drivers need to be specialized in each of those differences," Horvath emphasizes. Drivers need to watch the temperatures inside refrigerated trailers to ensure they do not rise too high, and when a truck's cargo stands on four legs, a driver has to take care not to turn too sharply and knock it off its feet.
The company has 750 trucks, 1,300 refrigerated trailers, 80 trailers to transport live animals, 30 container chassis and 20 tankers. The container chassis are used to haul hides from beef processing locations to a rail facility and frozen poultry to port. The live trailers haul cattle from JBS's feed lots to its beef processing plants. The 20 tankers transport grease from beef processing facilities to feed lots to be mixed into feed.
"One of the benefits of JBS Carriers is we are really flexible," Horvath declares. "We can haul any type of trailer that the customer needs." JBS USA's pork processing facilities will use JBS Carriers by September to haul hogs in place of an outside company it had used previously.
"They want to upgrade the equipment, and this vendor doesn't have the capability to make that upgrade, and we stepped up," Horvath explains. "We never hauled hogs before." Transporting hogs calls for trailers with rounded corners. "They are more friendly as far as the animal handling," Horvath says. JBS Carriers has four of the rounded trailers on order.
Saving Fuel
JBS Carriers' many modifications of its trailers to save fuel have won it the 2013 Green Fleet of the Year award from Fleet Owner Magazine and a 2012 Green Fleet Award from the Colorado Motor Carrier Association. Horvath estimates the company has invested $5 million in auxiliary power units so tractors do not have to idle to operate their accessories while parked. Additionally, all the diesel fuel its tractors use is 5 percent biodiesel.
The company also has invested approximately $300,000 in an aerodynamic device that attaches to the rear of its trailers and is said to result in 5 to 6 percent greater fuel efficiency. Sold by ATDyamics Inc., Hayward, Calif., the "Trailer Tail" looks like flaps on all four sides of a trailer's rectangular back end.
Additionally, side-skirt panels that hang under the trailer on each side between the front and rear wheels are said to add another 4 to 7 percent greater fuel efficiency to a truck's operation.
The skirts are installed on new trailers at the trailer manufacturing facility. Horvath estimates the skirts have been installed on 90 percent of JBS's trailers, which have an average lifespan of 4.5 years. The company's average lifespan for tractors is approximately 2.5 years. All of JBS Carriers' tractors and trailers are leased with capital from banks and financial institutions. The company uses no independent contractors. It performs approximately 70 percent of its maintenance in-house, and 30 percent is done by outside vendors. "Having a new fleet helps a lot to keep the fleet running and not have any mechanical issues or any types of maintenance problems," Horvath points out.
Safety Devices
JBS Carriers outfits its trucks with the latest communication devices so text messages can be received and GPS tracking used. GPS also indicates vehicle speed, which is set at a maximum of 65 miles per hour. "The engine is set up to not go any faster than that," Horvath explains. The company also is installing in 100 tractors on a four-month trial basis a portable video system that continuously records the driver's view of the road and a driver in the cab.
From DriveCam, San Diego, Calif., the devices only save the video preceding and following an event that its sensors detect – such as sudden braking or a collision – thereby recording both sides of an incident. This is done by storing a certain amount of video in a buffer that is overwritten unless the system is directed to save it when an incident occurs. Horvath is using the system for training. So far, it has been installed in 85 tractors.
Driver Shortage
Horvath considers the driver shortage to be his biggest challenge. "We have a need for drivers right now," he stresses. "We have trucks without drivers." He is executing a two-pronged strategy to deal with the driver shortage. "We are working much more toward driver retention, recognizing that turnover is a challenge," Horvath says. JBS Carriers' driver retention rate is better than the industry average of 108 percent that was calculated in 2012 by the American Trucking Association. That figure of 108 percent means all a company's drivers plus eight more left the company during the year.
When hiring, JBS Carriers requires a prospective driver to have at least two years of driving experience and no accidents in the past five years. The company recruits drivers in areas where its terminals are located – Greeley, Colo.; Oakwood, Ga.; Green Bay, Wis.; Hyrum, Utah; and Cactus and Pittsburg, Texas. It also seeks out drivers in the Midwest, West and in agricultural areas.
To recruit new drivers, JBS Carriers has established an innovative mentoring program. "First, the student needs to get his or her commercial driver's license," Horvath says. "So we have one phase where we provide financial support to allow the student to take that course. Once he or she finishes the course, we put them in a truck for up to eight weeks with an experienced driver."
For the future, Horvath anticipates growth beginning in 2015. "I think the current mix of business generated from outside companies and from internal JBS loads is well-balanced," he says. "We don't necessarily want to change this ratio. As far as the fleet goes, we will invest in state-of-the-art upgrades to improve safety and quality of service. We keep fighting for every improvement that we can."