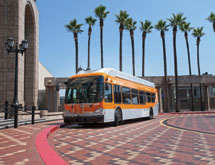 For fleet operators across the country, the tightening of diesel emission standards became a significant issue in 2009, when new federal guidelines were approved to curb greenhouse gases. For California in general and Los Angeles in particular, air quality has been on the radar for much longer, as the city has been designated a severe non-attainment area by the Environment Protection Agency for its air pollution for decades.
"There is enormous political pressure for the city to clean up its air quality," says John Drayton, manager of vehicle technology for LA Metro, the city's bus and rail transit agency. "It's not just our board under this pressure – there's long been a push to go toward the cleanest technology available. It's just part of the LA political DNA."
LA Metro in the mid-1990s began replacing its fleet of diesel-fueled buses with buses that run on compressed natural gas (CNG). Today, the agency's entire fleet of 2,250 buses runs on CNG. The agency recently purchased 550 replacement buses Drayton calls "the cleanest in the world" when it comes to emissions standards.
Metro operates more than 170 bus routes covering a 1,433-square-mile area in the city.
High Performance
CNG became the agency's standard after previous alternative fuels such as ethanol proved too costly to maintain in the long run. "We've learned that we have to be smart about implementing technology – you can't introduce technology for its own sake," Drayton says.
Metro's experience with CNG has proven to be more positive. "The horsepower and torque of engines we use are comparable to diesel, and we don't find CNG to be a hindrance," he adds. Metro's buses are 60 feet long, weigh 60,000 pounds, can carry between 60 to 80 passengers and run on 320-horsepower engines. "From a performance standpoint, there's not an appreciable difference in the engines we're using today and diesel engines."
To keep its buses fueled, Metro formed partnerships with Clean Energy Fuels and Trillium CNG to operate and supply 11 CNG fueling stations. "Both are great companies," Drayton says. "Because of their efforts, fueling is not really something we wake up in the morning worried about."
Looking Forward
Drayton, a 23-year veteran of Metro and a native of the LA area, says the efforts of his agency and others to clean up the city's air have already made a positive impact, as evidenced by the steep decline in the number of smog warnings issued in the area. "I've seen how bad LA can be," he says. "When you look at the LA basin today, it's really an unusual day where you will have smog issues."
Although Drayton is proud of the agency's past work in adopting CNG into its operations, he says Metro is by no means resting on its laurels. "We haven't slowed down – we're not sitting back and saying, 'look at what we've done,' we want people to look at what we're going to do next," he says. "We're really asking ourselves where we go from here."
For Metro, the question of what's next could potentially include three options. The first of these involves battery-powered electric vehicles, which it is exploring through a five-bus demonstration program in collaboration with Chinese battery manufacturer BYC (Build Your Dream). The agency is also looking into fuel cell vehicles similar to vehicles now being used at AC Transit in Oakland.
For its third area of technology exploration, Metro is looking into adopting next-generation CNG engines that are even cleaner than what is now in place. The agency is collaborating with natural gas engine manufacturer Cummins Westport, a Vancouver, B.C.-based joint venture of Cummins Inc. and Westport Innovations, to examine cleaner engine technologies.
"There are several technologies out there that would give us even greater reduction in our emissions and bring us to a cleaner point in our future," Drayton says. "I think we're now in a really fun time where there is a lot of innovation and new technology still being developed."