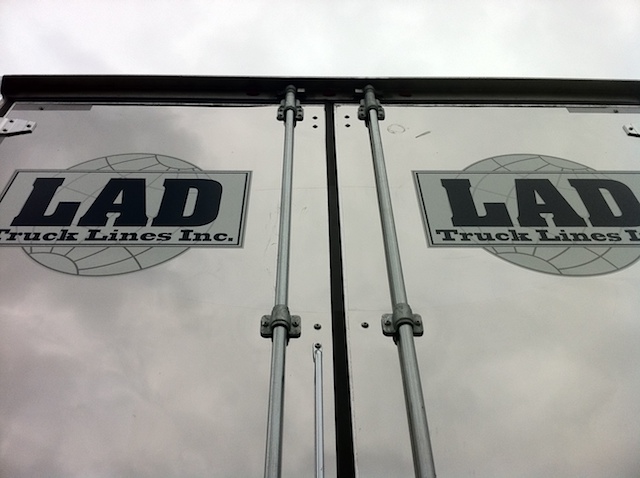 LAD is focused on keeping its customers and employees loyal.
By Alan Dorich
LAD Truck Lines Inc. has earned a reputation as a family led company that can be relied on to resolve issues quickly. "Our customers and contractors know that decision-making is all done here locally," President Mack H. Guest III says. "Somebody will be here every day who can make a decision."
Guest, who was a three-year letterman and offensive captain for the University of Georgia Bulldogs in the 1970s, founded the company in 1997, after working for multiple trucking and logistics firms. His brother, co-owner Judson Guest, joined him in 2000. His son, Mack H. Guest, IV, joined the company in 2006.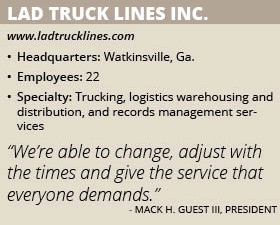 Today, LAD operates four entities: its Truck Lines division of the same name, LAD Logistics, LAD Warehousing & Distribution, and LAD Records Management. Mack Guest adds that the company serves a broad range of clients, including CertainTeed, Fibervisions and Carrier Transicold, on the warehousing side.
Through its logistics unit, LAD serves Power Partners, Southwire Co., and ABB, and its trucking unit caters to many frozen food and perishable shippers, including the top 25 poultry processors in the land. "We take care of our customers and treat them like family," declares Mack "Dutch" Guest IV.
On the Record
LAD has recently focused on growing its records management division, which stores, tracks and secures records for multiple clients, and provides shredding services. The company keeps its clients' records in its secure facility.
"We got involved with that a few years ago," Guest recalls, explaining that the company learned about record management from a local hospital it built a warehouse for in 2005. "When they left, we just applied what they taught us in many different areas."
Staying Current
In its ongoing quest to keep current with technology evolution, LAD implemented a system from McLeod Software, based in Birmingham, Ala. "It's the No. 1 software in transportation and logistics," Guest declares.
"We feel like they really helped us tremendously in growth of the company," he continues, adding that LAD also partnered with Omnitracs Inc., based in Dallas. "They helped with [our] wireless communication with the drivers." Omnitracs communicates their information into McLeod. McLeod communicates with the shipper through electronic data interchange (EDI).
LAD also was a step ahead of the recent electronic logging device (ELD) mandate. "We started working on that six years ago," he recalls. "We started in the training and setting up the infrastructure."
That allowed the company to be prepared even before the deadline. "Today we continue to learn and work daily with our contractors, drivers and shippers," Judson Guest says.
LAD continues to look at ways to make it easier for drivers to use electronic logs, including new in-cab computers. "We also have heavily invested [in] software with the best trip optimization," Dutch Guest says.
Drawing in Drivers
Like many, LAD copes with the ongoing challenge of finding qualified drivers. "That's been a challenge since we started the business and continues to grow daily," Mack Guest III admits.
During strong economic times, he explains, young recruits have opportunities in many industries, but LAD has restrictions with drivers who can travel across state lines. "We can only keep someone under 21 in Georgia," he says.
Because of the wait, "A lot of guys have chosen other career paths," Judson Guest says. "We're losing the young guys early on."
As some lawmakers work to get that age lowered to 18, LAD has stepped up its recruiting efforts on social media with Facebook. "We've gained lots of traction with that," Dutch Guest reports.
Word of mouth also helps draw in drivers to LAD. "When you've got a driver unloading next to another driver and he tells him about LAD, you can't beat that," Judson Guest says.
LAD's clients also are doing their part to make driver experiences better. "They are [building] nicer driver lounges and nicer restrooms," Mack Guest III says, noting that some are constructing showers and more parking.
The Right Ways
Guest credits LAD's success to his employees, drivers, contractors and customers. "We're only as successful as our weakest link," he says, noting that many have 19 years with the company.
LAD has nurtured that loyalty through its family atmosphere, which emphasizes hard work, communication and fair treatment. "We built the business on doing what you say and treating the people the way that you want to be treated," he says.
Dutch Guest agrees. "We try to do everything the right way to provide a good place for our employees and make a good living for our drivers," he says, noting that drivers are drawn to such aspects as having their own personal dispatcher.
LAD's team also shares the company's focus on continuous improvement. "We have new challenges hitting us every day," Mack Guest III says. "We're able to change, adjust with the times and give the service that everyone demands."
LAD plans to do that going forward. "We have a niche in the market," he says. "We need to continue to try to do better at what we do every day and continue to give the best service in the markets we serve."