Grinding out success
Offering a range of rolling stock engineering, as well as maintenance, restoration and infrastructure services, Loram UK Ltd is one of the rail industry's most versatile organisations
To those in the industry, Loram is probably best known as an equipment manufacturer for on-track machines, and predominantly, rail grinders. "That's the biggest chunk of the turnover, it's the biggest chunk of the market awareness, and the biggest chunk of the business is spent servicing that sales pipeline," says Business Development Director Andrew Watson. However, it is clear from talking to Andrew that there is much more to Loram than just grinders.
Loram UK Ltd was established in 2016, when Minnesota-based Loram Maintenance of Way purchased Derby's Railway Vehicle Engineering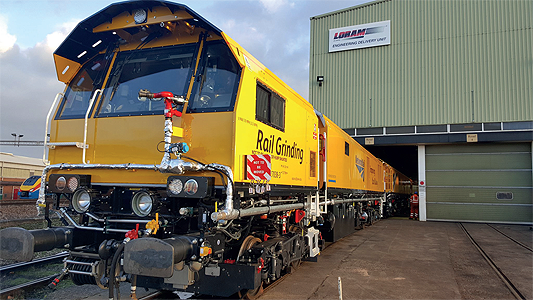 Limited (RVEL) to help expand its presence in Europe. "Loram had reached significant market share in North America and so began to obtain complementary businesses around the world," Andrew explains. "It saw the UK as being a strategic target for growth."
Following the purchase of Friction Management, a rail lubrication firm, RVEL became the second company Loram acquired. "RVEL had a long-standing relationship with Network Rail and was the five-year owner of a contract to maintain their infrastructure monitoring fleet," recalls Andrew. "Loram needed an entity that understood the in-country nuances to help it win work in the UK, hence the decision to buy RVEL."
Since then, Loram has been on what Andrew describes as a 'journey of strategic acquisitions' and the company now has a presence across five continents. Andrew suggests that the company is already starting to reap the benefits of its international expansion. "We are now the proud owners of the EMEA region of the world to mine for opportunities," he states. "Not necessarily the UK-based traction and overhaul type of work, but Loram products and services export very well into the European, Middle Eastern and North African markets."
The Middle East remains a particularly strong area of focus for Loram. The company currently has machines in Dubai and Saudi Arabia, but further expansion is high on the firm's agenda. Loram's American roots have been a valuable asset in helping to make the venture a smooth process. "The further east you get, the more typical infrastructure and regulation legislation culture fits with the American way of doing things," Andrew expounds. "Saudi Arabia are very closely aligned with the States for other hardware exports, and the Saudi capacity for American standards suits our business really well."
Engineering services
Of course, this does not mean that Loram will be abandoning its significant business interests in Europe, but Andrew is unafraid to talk about some of the challenges the region presents for a company with its origins in the USA. "In Europe, the sign-off process for any type of rolling stock is significantly different to North America," Andrew asserts, "so we're always exploring ways to bring products to market in Europe more successfully and more efficiently. We'd like to take on some of the bigger players, and we want to operate in that environment."
In the UK, Loram sees itself as uniquely qualified to support both vehicular and on-track engineering and maintenance needs. "We have a parent company with almost 70 years' experience working with on-track machines, and the reputation of Loram products – which have been on the UK market since the early 90s – are significantly revered," Andrew declares. "This is on top of the long-term maintenance contract we've had for Network Rail's IM fleet, which is largely a rolling stock, coaching stock fleet."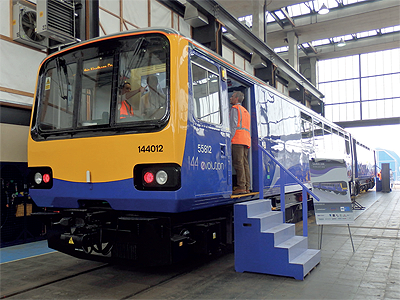 This contract, which Loram inherited with the purchase of RVEL in 2016, expires at the end of 2020. As a result, winning the opportunity to service the IM fleet for a further five years is one of the company's major goals for the coming months. "It's absolutely front and centre in our minds," Andrew comments. "We are actually hoping that there is a mechanism in the contract to introduce a new type of fleet to help create a more uniform, module approach to carrying their monitoring equipment. We feel that our close working relationships with GBRf for rail ops, and with Sperry Rail for measuring equipment, will put us in good stead for offering Network Rail a full infrastructure monitoring service."
Within the last five years, Loram has also undertaken a number of overhaul, modification and enhancement projects for some of the industry's biggest names, including Siemens, Bombardier and Porterbrook. "We are very selective about which tenders we apply to in that environment. We tactically steer clear of franchise refreshers, and instead, concentrate more on bespoke engineering solutions," Andrew remarks. "Over the past 12 to 18 months, a lot of the projects have been involving alternative propulsion systems. A key complement to these types of work streams is the ability for Loram to collect and deliver rolling stock, utilising our mainline operator licence and pool of train drivers. We see this as something unique in this market segment.''
It's an area of the business that Andrew is clearly proud of, and a service he hopes consumers will begin to more freely associate with the company. "People will know Loram because of on-track machines, rail grinders, and our ten-year commitment to the Network Rail IM contract. There won't be many people who know us for the bespoke engineering service we can offer as well."
As Loram grows and adapts, investment in the company's future continues. Alongside a newly introduced benefits package for its staff, the organisation will be relocating its office space later this year and there are plans to invest in more training to help increase the 57competence and capability of its personnel. "We have a capital expenditure plan that spans into the millions over the next three or four years that will help us upgrade the site," Andrew says. "Later this year we will be increasing the fuel tank capacity in the yard, as well as introducing an LPG fuelling facility. We are improving back office amenities, we're committed to a long-term apprenticeship scheme, and our physical infrastructure is being changed quite drastically.
"From a business point-of-view, we're setting up an operational control in readiness for when we start operating machines on the network under our own banner. We have a license to run trains on the network, and if we can do it in the UK, there's no reason why we can't go on to run trains on other networks too."
To summarise, Andrew enthused that the horizon looks extremely positive for Loram. "With our diverse but complementary market offering, sizeable UK infrastructure and comprehensive workshop and site in Derby, along with our mainline operator licence, we have expertly positioned ourselves to offer a high calibre of service to the industry's key players."
Loram UK Ltd
www.loram.co.uk
Services: A leading supplier of track maintenance and friction management services and equipment