Mansfield Clean Energy Partners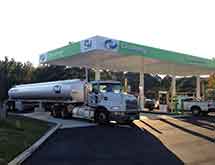 Navigating any new market can be tricky, but when two companies with extensive experience in the field come together, their combined expertise can give them a clear path to success. Such is the case for Mansfield Clean Energy Partners (MCEP), which combines the experience of one of America's leaders in the transportation fuels logistics sector and an innovative builder of compressed natural gas (CNG) refueling stations that has been on the leading-edge of the emerging CNG market.
President and COO Ira Pearl says MCEP benefits greatly from its roots in Mansfield Energy Corp. – which for more than 57 years has been a leader in the transportation fuels sector – and Clean Energy Fuels, the nation's largest builder of natural gas refueling stations. This partnership has given MCEP the brainpower and experience necessary to bring CNG to fleets in the bulk fuel-hauling market. Pearl says the company was formed in 2013 after Mansfield Energy Corp. noticed several of its large customers were beginning to convert portions of their fleets to CNG.
Rather than accept this erosion of its customer base, Pearl explains, Mansfield Energy Corp. decided to adapt to the times and enter the CNG market itself. It found the partner it needed in Clean Energy Fuels, which was originally founded by T. Boone Pickens and current President and CEO Andrew Littlefair. Since its inception in 1997, Clean Energy Fuels has built a portfolio of nearly 500 CNG and LNG fueling stations across 43 states.
With the partnership in place and MCEP opening its first CNG card-lock station in September 2014, the joint venture's first customer was Mansfield Oil Company, a subsidiary of Mansfield Energy Corp. MCEP built its first CNG fueling station amidst the Doraville fuel terminal complex just outside Atlanta for Mansfield Oil Company's newly acquired heavy-duty CNG trucks, which are used to haul diesel and gasoline for customers. By placing the facility in the terminal complex, MCEP was able to solve any concerns about out of route mileage for the fuel hauling trucks. Since these trucks come in and out of the terminal multiple times per shift there are ample opportunities for the trucks to fuel each day without being concerned about wasted time looking for or driving to a CNG fueling station. With the Atlanta-area facility up and running and serving a broad range of customers in the bulk transport sector, Pearl says MCEP has its sights set on opening its second refueling station in Tampa, Fla., in early 2015. This facility would serve Mansfield trucks as well as other regional and national bulk fuel haulers.
One of Us
CNG is a relatively new fuel source for the bulk fuel-handling sector, and Pearl says that many carriers might be reluctant to embrace the alternative fuel. That's where the gravitas of the Mansfield name does a lot for MCEP when it comes to winning over new customers. "It's clear that we are one of them – we are a fuel transportation company, and we have begun transitioning our own fleet to CNG," Pearl says.
With a network of more than 900 carrier partners across the United States to help move more than 3 billion gallons of refined products each year, Mansfield Energy brings a solid reputation and name recognition to the table, but there's more to it than that. Pearl says Mansfield's adoption of CNG for portions of its own fleet gives it greater credibility when MCEP tries to convince other carriers to do the same. "We're eating our own cooking, if you will," he says.
The cleaner burning nature of natural gas and its relative inexpensiveness and lower price volatility compared to traditional fossil fuels makes CNG an attractive value proposition to many carriers nonetheless. "As we build our business, the Mansfield's customers are very interested in moving freight on carriers that are more forward-thinking," Pearl says, adding that these companies are looking for ways to become more eco-friendly without taking a hit to the bottom line.
"They want to reduce their environmental footprint, but they don't want it to cost a nickel more," Pearl says, adding that CNG provides the best of both worlds due to the cost savings of using natural gas.
Big Expansion
Convincing the bulk fuel carrier market to give CNG a chance has been MCEP's biggest challenge to date, and Pearl says the company is advising customers to take the conversion one step at a time to allay their fears. MCEP typically advises customers to convert only a small portion of their fleet at first just to get their feet wet and build up their confidence in CNG. "Anytime you're doing something new in the market, it's a matter of getting to that tipping point in the market," Pearl says.
Pearl says the stability of natural gas prices should continue to be the one of the best arguments for CNG conversion when compared to the volatility of petroleum prices. MCEP hopes to build 20 to 30 more CNG refueling stations over the next three years, then kick expansion into high gear. Pearl says the goal is to have fueling stations in at least 200 terminal markets in the future.
Even though at first glance a company that specializes in hauling petroleum encouraging the use of CNG looks like a conflict of interest, Pearl says MCEP was created from the understanding that CNG will be a part of customers' futures whether it is involved or not. "At the end of the day you are trying to provide value-added services to customers," he says. "That includes more cost-effective freight transportation and a reduced environmental footprint, which is an objective of many of Mansfield's customers."