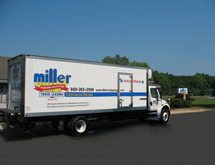 Asking for more coffee at a restaurant is a sign that a customer is truly satisfied. It's the same with the full menu of services offered by Miller Truck Leasing. "Our customers enjoy their business with us so much so that when it comes time to renew, they renew their vehicles with us," Vice President and co-owner Mark Miller reports. "That's the ultimate description of success. If our customers want to continue doing business with us, we must be handling them properly. We could say our business retention rate is the highest in the industry."
Miller estimates that of those companies still needing their trucks, 99 percent renewed with Miller Truck Leasing. "If they don't need that truck for their business, I don't count that as lost business, but if a customer is renewing their trucks, we retain 99 percent," he says.
The average length of a lease with Miller Truck Leasing is six or seven years, so it represents a substantial commitment. The company's oldest customer is a distributor of specialty and fine foods that has been with Miller Truck Leasing since 1972.
Miller estimates that approximately 70 percent of his company's leases are for refrigerated trucks that are used by food-related corporations to deliver their own products. "The reason that companies choose to do business with us is we provide them with a service alternative that is available 24/7, 365 days a year," Miller promises. "We handle all breakdowns, all preventive maintenance and all repairs. We also provide substitute and rental trucks."
If a company owns its trucks, Miller Truck Leasing can maintain the vehicles for it on-site at the customer's location or in any of its 12 shop locations. "We give the customer an end-to-end solution," he says. "They know what their transportation cost will be. They know they can deliver their product without any major issues, and they have somebody to call who can handle any problem they may have. We do 100 percent of the maintenance on the fleet that we lease."
Big Enough
Miller Truck Leasing has a total of approximately 2,500 tractors, trucks, and trailers that are leased, rented or on a maintenance contract with customers. It rents trucks for any timeframe in addition to leasing them for six or seven years. After five to seven years, the trucks are sold and replaced with new ones.
The company's competitive advantage is that it is a privately held and family owned company that is large enough to handle its customers' needs but small enough to give them individual attention. "We're the largest privately held truck leasing and maintenance company in the Northeast," Miller asserts. "Our people are able to make decisions for customers any time they need to at any level to make sure the customer keeps their vehicle on the road and is able to deliver their product."
The latest GPS technology also is offered in the leased trucks for an additional charge. "We offer a full line of GPS tracking and monitoring systems with our trucks if a customer wants to take advantage of that," Miller reports.
Technical Expertise
The technology on all trucks is a major factor that pushes customers toward Miller Truck Leasing. "We have to have a lot of technology to maintain the trucks so we can diagnose issues with them," Miller says. "Our technicians and shop managers go through extensive training to be sure they can provide the best level of service on the trucks we handle."
Miller Truck Leasing obtains technicians from several sources. "We're able to hire people from technical schools and train them on the way we do business, our culture and basic mindset, and then promote them as they grow with the company," Miller says. "We have employees that have been with us for well over 30 years."
Miller Auto Leasing, a sister company to Miller Truck Leasing, can lease any size or make of vehicle to customers, which is another competitive advantage. "We're really the only company that provides both full-service truck leasing and leasing for cars and pickups and the like," he maintains. "We are able to offer any make or model of vehicle to any company, from a small car to a tractor/trailer."
The Miller Transportation Group began in 1912 as a small Ford dealership that Miller's grandfather purchased with other investors in the 1930s. "We've been in business longer than pretty much all of our competitors," Miller emphasizes. "As a privately held company, we are more concerned about taking care of our employees and customers than we are about quarterly drops in earnings and other things like that."
More Growth
For the future, Miller is contemplating opening one to three facilities in different markets by next year and expanding services. "Our strategy for future growth is to move into contiguous markets – anywhere in the Northeast or mid-Atlantic states – where we feel that we can utilize our competitive advantage to provide a good, privately held, customer-centric solution to potential customers," he says. "We also would consider looking into other offshoots of our business, which could include dedicated delivery, where we would provide a truck and a driver for a customer on a contractual basis."
Miller sees the company's growth trend continuing. "We've been growing at 20 to 25 percent for the last three years and expect to grow at that rate for the next three to five years," he says.