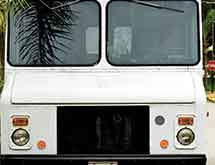 Oakhurst Dairy has long billed its dairy products as "the Natural Goodness of Maine," and the company has made strides in recent years to live up to that slogan in every aspect of its operations. This is especially true of the company's fleet of trucks, which carry its products throughout New England.
The company has focused on reducing the harmful emissions its trucks generate by converting a large portion of its fleet to biodiesel. Not only has this resulted in a significant reduction in the amount of greenhouse gases the company's activities put out into the environment, but it also has resulted in numerous accolades for its forward-thinking initiatives.
The company operates a fleet of more than 75 vehicles, the majority of which are heavy-duty trucks. Recently, Oakhurst Dairy converted more than a third of these vehicles to biodiesel hybrids. According to the company, the move has cut the company's greenhouse gas emissions by more than 4.5 million pounds since the conversion. Oakhurst Dairy was the first dairy company in the United States to utilize an electric hybrid truck for deliveries in 2009, and the company says the addition of side-panel skirts to reduce air resistance has helped make the company's fleet even more fuel-efficient.
The conversion to biodiesel is just one of a number of recent green initiatives for the company, and these include the addition of solar panels at its distribution center in Waterville, Maine. The company says the 216 solar panels total approximately 3,250 square feet, making it one of the largest solar installations in the state, generating approximately 45,000 kilowatt-hours of electricity annually. These and many other initiatives demonstrate Oakhurst Dairy's unwavering commitment to sustainability and energy conservation.
"Taking care of our environment has become second nature for all of us at Oakhurst Dairy," President Stan Bennett said in a statement. "We're committed to producing the freshest, highest-quality milk while also actively working toward reducing our carbon footprint.
"As a local, family owned business, we continue to strive to ensure that when we make an impact on our community, it's a positive one," Bennett continued. "These latest projects are the next steps in our continuing dedication to helping improve the communities where our neighbors – our employees, our customers and their families – live."
Perfect Partners
Oakhurst Dairy teamed with Maine Standard Biofuels for a seven-year partnership to help facilitate its conversion to biodiesel. Based in Portland, Maine, Maine Standard Biofuels collects used restaurant kitchen oil to convert into biodiesel fuel. In 2013, the company provided Oakhurst Dairy with more than 120,000 gallons of biodiesel, which was produced less than 10 miles away from Oakhurst Dairy's processing facility.
The collaboration between Oakhurst Dairy and Maine Standard Biofuels earned the partners recognition from the Northeast Diesel Collective, which presented them with a Breathe Easy Leadership Honorable Mention award in 2013. "It is an honor to be recognized for our fuel emission reduction efforts alongside our partner Maine Standard Biofuels," Fleet and Facilities Manager David Green said in a statement. "Today it's possible for trucking fleets to use biodiesel without having to make equipment modifications and the benefits are really significant. Not only are we able to reduce our overall fuel emissions – a positive for the environment and our community – but we are also able to decrease total fuel costs – a positive for our business bottom line."
"We believe that by working with customers like Oakhurst we can make a difference in the environment as well as the economy," Main Standard Biofuels President Jarmin Kaltsas said in a statement. "We are proud to be working with a company that has the vision of making the world a better place to live in."
Standing Tall
Oakhurst Dairy has been a family owned and locally operated dairy since 1921, when Stanley T. Bennett purchased a dairy farm in Portland. Starting with two horse-drawn wagons, Oakhurst Dairy started delivering fresh milk and other dairy products throughout the area. Today, Oakhurst Dairy is the region's largest independent family owned dairy company, and its commitment to the environment is just part of the responsibility the company takes on every day.
"The Bennett family has stood behind every glass of Oakhurst milk, while contributing 10 percent of profits to local organizations through its Living Natural Goodness program to support healthy kids," the company says.