Oakland County International Airport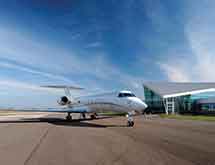 Oakland County Director of Central Services J. David VanderVeen says that in today's global economy, airports have become regional ambassadors. Airports are often the first impression a person has of a new area. VanderVeen says Oakland County in southeast Michigan makes sure that the impression its airports leave with guests is a positive one.
"When someone lands or takes off from your facility for the first time, you make an impression and you want to make a good impression," VanderVeen says. "At the direction of County Executive L. Brooks Patterson, we started a campaign years ago to make the airport more attractive. We cleaned up signs along the highway, and received landscape and beautification awards so we could put our best face forward."
Oakland County manages three airports, the main one being Oakland County International Airport (OCIA) and two smaller airports, one of which is located in Troy, the county's largest city. OCIA began in 1928 and was the first airport in the nation to be certified by the government. It became and still is an important part of Michigan's economy. In 1967, the city of Pontiac transferred authority of its airport operations to the county – giving the airport the leadership and resources it needed to transform into a world-class institution.
"We began making the airport safer by extending and widening runways, and making sure approaches to the airport are safe and clear of obstructions," VanderVeen says.
An Oakland Overhaul
The county's efforts to put OCIA at the forefront of aviation didn't stop there. OCIA is a general aviation airport that handles all civilian fleets except airlines. Its customer base includes business and corporate travelers, airfreight, recreational flyers, air ambulances, air traffic reporters and crop dusters. It is the second-busiest airport in Michigan and one of the busiest general aviation airports in the nation with more than 120,000 takeoffs and landings annually. There are more than 150 corporate owners and 554 aircraft based at OCIA.
Also, virtually every Fortune 500 company in America flies in and out of OCIA. Collectively, they expect quality services and facilities. A few years ago, VanderVeen says the county took a hard look at OCIA's decades-old terminal and decided it needed extensive work.
"We had a terminal building dating back to the '50s," VanderVeen says. "It had a leaky roof, asbestos, single-pane windows in bad need of replacement and it didn't show off what the airport was. We wanted to project a professional, high-tech image, which Oakland County is. The terminal building didn't reflect that. We were looking at remodeling or razing it, and we decided to demolish the structure."
In 2011, OCIA debuted the new building as the first LEED-certified general aviation terminal in the nation. Features include geothermal heating and cooling, photovoltaic panels on the roof, wind spires that generate electrical power to help offset the costs of utility charges, rain gardens and bioswales to collect and purify rain water, LED lighting, and a living wall filled with tropical plants from around the world serving as an air purifier.
"We have over 1,000 foreign businesses based in Oakland County," VanderVeen says. "In the global economy and 21st century, airports become even more relevant, and it's exciting to be part of something that's always advancing."