OMNI Grade Crossing Systems
OMNI Grade Crossing Systems keeps railroad crossings smooth for the public and its clients.
By Staci Davidson, Senior Editor at Knighthouse Media
You may not realize how interesting railroad crossings are until you're traipsing around Chicago's north side on a late spring evening with an eight year-old, examining the crossings used on the street-level tracks of the Chicago Transit Authority. But the quality of railroad crossings can have a major impact on a community, not only in terms of the safe transport of goods and people, but the ease in which cars and pedestrians are able to cross railroads. This is fascinating to certain second graders, but the quality OMNI Grade Crossing Systems delivers also is important to its customers and the communities they serve.
"When we put one of our crossings in, the reaction of the public is key," explains Bob Cigrang, vice president of OMNI. "When we make the crossing much smoother, we make the public happy, the businesses around the railroad are happy, and it makes everyone's life a little easier."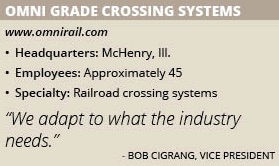 Based in McHenry, Ill., OMNI is the leading supplier of grade crossing systems to the U.S. rail industry. The company has been in operation since the early 1980s, starting with the production of recycled rubber crossing surfaces – i.e. grinding up old tires – and eventually evolving with the industry to concrete crossings. Over the years, OMNI acquired other market players like Red Hawk Rubber Co. and Goodyear's rubber crossing business. OMNI now has plants in McHenry, Lincolnton, N.C., and Portland, Ore., and makes concrete crossings, rubber crossings and combination rubber and concrete crossings.
"We are the leader because we are diversified with different products and can work on various specialty applications that others can't do," Cigrang says. "Additionally, we've been around longer than any other competitor."
The Importance of Quality
With its three facilities, OMNI can work with customers across the country. From its McHenry plant, for example, one of the company's local customers is Metra Rail, the northeastern Illinois commuter rail system. Metra is the fourth-busiest U.S. commuter rail system in terms of ridership. Most of the Metra lines use concrete railroad crossings, but the system's Rock Island line is electrified, so that line's crossings are strictly rubber. OMNI says customers like Metra that prefer concrete crossings tend to also use rubber next to the rail to protect signalized crossings.
"Now, 80 percent of our business is concrete and the other 20 percent is rubber," Cigrang says. "And with our rubber products, we no longer recycle – we just do 100 percent virgin rubber products because it makes a better product and lasts longer.
"Quality is very important to us," he continues. "A railroad crossing is part of a highway, too, and the crossing can affect the public's impression of railroad. Railroads want good reputations, and the crossings help with that."
Cigrang notes the company's workforce – about 45 employees total – is key to its dedication to delivering a quality product. Most of its employees are part of OMNI's manufacturing operation, which includes its own rubber factory. The company also has certified welders to create the frames for its concrete crossings.
OMNI uses a 24-point standard of compliance for ensuring quality, and it has achieved the M-1003 Quality Assurance Certification from the Association of American Railroads (AAR). This certification shows its operations were rigorously examined for the quality and effectiveness of the standards' implementation. The AAR audits OMNI's operations once a year to maintain its certification and remain in compliance with its railroad customers.
"Getting away from recycled rubber was one thing, but we maintain quality in many ways," Cigrang says. "We also try to develop new products for the railroad industry, like creating private-industry tracks and crossings. These are still concrete, but they have a different design than the public railroads."
Smooth Rides
OMNI develops railroad crossings for freight, industrial, transit and specialty applications. The company works closely with each of its customers, developing crossings that are specific for their applications. Cigrang notes OMNI does a lot of business with railroad contractors and industrial clients that have railroads running into their facilities, but the company remains dedicated to providing quality with every client.
"We've been around since 1983, so we are very well known in the industry and work closely with different railroads, contractors and industrial partners," he says. "We adapt to what the industry needs. For example, we have created a lot of ADA crossings lately so railroads can comply with the Americans with Disabilities Act. There always has to be a gap next to the rail for the wheel of the train, but we narrow the gap for ADA purposes to make it smoother."
Now is the busy time of year for OMNI because the weather allows for railroad crossing installation more so now than in the winter. But regardless of the time of year, OMNI remains dedicated to quality.
"We might build a new facility, but I'm not sure when it will happen," Cigrang says. "Our main focus is just to make the best product we can and getting it out there to our customers."