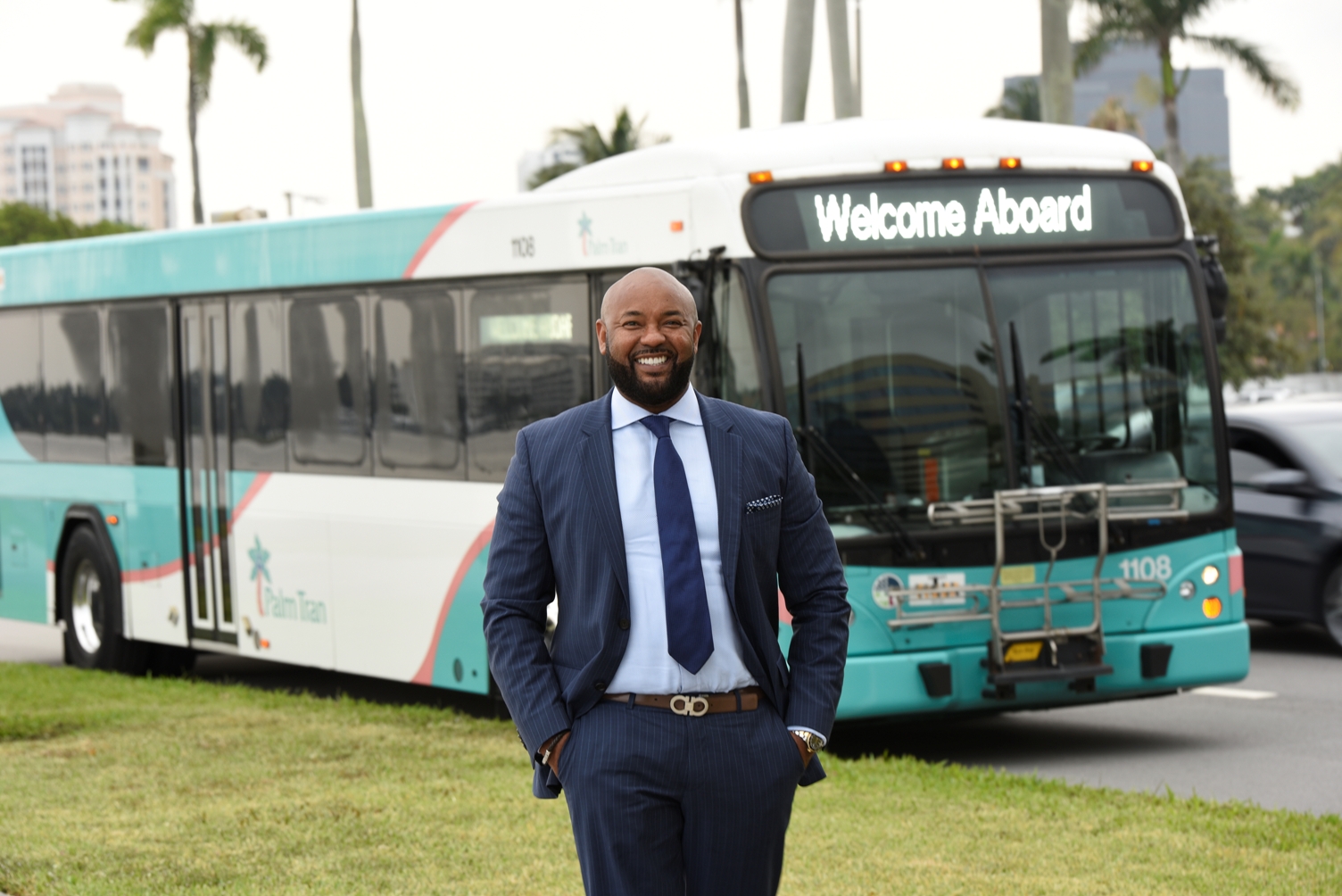 Palm Tran's executive director breathes new life into Palm Beach County, Fla.'s outdated public transportation system.
By Janice Hoppe
Palm Tran, Palm Beach County, Fla.'s public transportation system, began to implement new technology to modernize its decades-old system after the arrival of its new executive director. Over the past seven months, Executive Director Clinton B. Forbes has taken a comprehensive look at Palm Tran's services and is focused on redesigning the system for maximum efficiency.
"Palm Tran has been somewhat stagnant in new route development and growth," Forbes says. "Palm Tran hasn't changed its routes in 20-plus years even though everything around us has changed, including population density, land use patterns, traffic and development. We haven't kept pace with that."
Located along the southeastern coast of Florida with a population of 1.4 million, Palm Beach County is one of the largest geographic counties in the southeastern United States. Palm Beach County's urban area population represents more than half of its total population. "It's an area that's difficult to serve," Forbes says. "I think more than anything it's because of the size, and much like other communities, it is experiencing urban sprawl. It has a decentralized business district with nodes in different parts of the county and each area wants to be served by transit."
Fleet Improvements
In 1971, Palm Tran began serving the residents and visitors of Palm Beach County with fixed bus routes and paratransit service. Today, the mid-size transit system provides 12 million rides per year and offers door-to-door paratransit service for the county's senior and disabled population. Only 10 percent of Palm Tran's current ridership consists of "choice riders" or those who have other options such as owning a car, Forbes says, and it's a figure he wants to see increase.
Palm Tran offers more than 740 miles of bus routing, operating 35 routes with 156 40-foot GILLIG buses. In Forbes' comprehensive study of the public transportation system, he said that many of the bus routes are slow with far too many stops, few direct routes and buses are too infrequent. "What we are looking at is taking a white sheet of paper and designing a bus system around our core services that maximizes efficiency and offers direct and quicker service to attract choice riders," he says. "That is one of our No. 1 priorities."
Although the routes need reconfiguring, Palm Tran prides itself on having one of the youngest average fleet ages in public transportation at 4.6 years. "We have done a good job with replacing our fleet to minimize breakdowns and have chosen a much more stylish design in the GILLIG Low Floor Bus Rapid Transit (BRT) model," Forbes says. "We will purchase 10 of those buses this year that will showcase our new branding."
The buses will not only give Palm Tran a fresh new look, but are sustainable. GILLIG's Low Floor BRT is clean diesel-powered to meet stricter EPA standards, Forbes notes. The buses will also be equipped with USB ports for riders, which Palm Tran expects will appeal to its target demographic and pave the way for future enhancements such as WiFi.
System Upgrades
To ensure it continues attracting choice riders and millennials, Palm Tran is implementing a number of system-wide upgrades. Using their smart phones, riders can track the real-time location of their buses using "iGo!." The automatic vehicle location technology uses Google Transit maps and InfoPoint software to bring commuters up-to-the-minute travel information. "We have a great real-time application and we would like to see usership on that increase," Forbes notes.
Palm Tran began piloting a new fare system four months ago to assess the viability. The county would replace its current fare model that accepts cash or tickets with a payment system that accepts cash, credit cards, smart cards and mobile ticketing.
Within the next year, Forbes hopes to have the new fare system implemented to accept any form of payment. "I am a believer in ensuring anyone who approaches the bus with any type of payment form in their wallet or purse can ride the bus," Forbes says. "Right now, there are limitations for choice riders as most don't carry cash."
Palm Tran also considered infrastructure upgrades during its system review and plans to double its 333 bus shelters throughout the county over the next 10 years. "That's an aggressive plan, but with the weather here in Florida you need coverage," Forbes notes. "We are working aggressively to have better bus shelter infrastructure and ensuring we have the appropriate access to comply with the Americans with Disabilities Act. We have a project in the works that's upgrading existing bus stops to make sure we are in compliance."
Moving forward, Forbes says his first priority has been to ensure each one of his 630-person staff is in the right position to grow and implement these changes successfully. "I have made my assessment of the system, put the right people in the right seats and organized the organization so we can move forward," Forbes says. "I think the priorities now of Palm Tran are redesigning our bus network system, upgrading the fare box equipment and exploring transit signal authority where traffic signals change to green when a bus is near."
www.palmtran.org
Budget: $118 million
Headquarters: West Palm Beach, Fla.
Employees: 630
Specialty: Public transportation