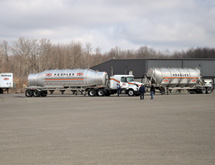 Peoples Services Inc. (PSI) prides itself on combining the service level and flexibility of a small company with the size and resources of a much larger organization. "We make a personal commitment to our customers," says Doug Sibila, president of the Canton, Ohio-based company. "We feel we can compete with large carriers because we're flexible and nimble, but we also have the resources to see large projects through."
The third-party asset-based logistics provider operates 65 tractors, 30 bulk pneumatic tank trailers, 20 flatbed trailers and 82 van trailers. It also has under its control roughly 4.5 million square feet of public and contract warehouse space serving customers in the chemical, polymer, and industrial markets in Ohio, North Carolina, South Carolina, Virginia and West Virginia. PSI's capabilities also include transloading, drumming, tolling, packaging and distribution.
The storage and transportation of chemicals in particular is one of the company's strengths. All of the company's warehouse facilities are secure and ISO9001 certified, and five of PSI's Ohio facilities are additionally recognized by the state's Safety and Health Achievement Recognition Program (SHARP) for their reduction of hazards and low incident rates. Warehouse and trucking staff are trained in the handling and storage of hazardous materials. "Not just anyone can handle chemicals efficiently and safely," Sibila says. "Chemicals and plastics are a specialized niche and expertise for us, and we provide service to the top-10 chemical companies in the country."
PSI's warehouse management software systems offer full visibility because inventories can be tracked to the batch or lot level online, allowing for accurate shipments and inventory reporting. One of PSI's clients, Kraton Polymers, takes advantage of the company's "drop and hook" trailer program, which offers pre-loaded trailers. This helps to significantly reduce the amount of time drivers spend at a site before driving, allowing them to be more efficient as well as comply with new federal regulations that limit the amount of total time they can spend on the road, Sibila says.
History of Success
Sibila represents the third generation of family ownership at the company, which traces its roots back to Peoples Cartage, a trucking company founded in Ohio in 1914. Ray Sibila, Doug Sibila's grandfather who founded his own trucking company in 1936, purchased Peoples Cartage in 1947. The company grew significantly during the 1960s, when it branched into public warehousing. PSI incorporated with its current name and moved its headquarters to Canton in 1992.
Today, the company is 80 percent owned by the Sibila family, with the remaining 20 percent owned by employees through an employee stock ownership plan (ESOP). Although the company saw a decrease in activity and revenue following the 2008 recession, it has since doubled its business and size through the acquisition of several warehouses in 2010. The company continues to invest in new facilities, and expects to close a deal in July 2013 that would bring its total warehouse assets to more than 5 million square feet. PSI believes strongly in hiring members of the local community in all of the facilities it operates. Many employees have been with the company for decades, and, in some cases, have worked alongside their children. "We're proud of the fact that our employees have partial ownership in the company," Sibila says. "That has really given them a vested interest in the company and its success."
Sibila and PSI employees are involved in several community organizations.