Pirelli Tire North America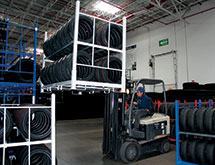 Pirelli Tire North America strives to always be on the leading-edge of manufacturing the most advanced tires in the industry and delivering its product faster to stay ahead of the competition. "It's the performance of our tires that sets us apart," Vice President of Logistics John Godfrey says. "We are one of the leaders in the ultra-high-performance segment and a lot of our innovation comes from our work in motorsports."
The North America division of Pirelli Tire is based in Rome, Ga., and the corporate headquarters is based in Milan, Italy. The company has 22 manufacturing facilities around the world in 13 different countries. Its North American division operates two plants – one in Mexico and one in its hometown. "We manufacture about 35 percent of our regional supply in Georgia and in Mexico and the other 65 percent we import from around the world with our sister companies," Godfrey explains.
Pirelli Tire North America's customers are original equipment manufacturers (OEMs), wholesalers, retailers and Internet retailers. The OEMs drive a certain amount of replacement channel business because vehicle owners look to replace their original tires with the same tires the dealership sold with the vehicle.
The company's tires are made for passenger vehicles, trucks, motorcycles and industrial vehicle tires. Its business primarily comes from passenger and light truck tire sales for high-end vehicles such as BMW, Mercedes, Ferrari and Lamborghini. "We are not looking to chase the customer looking for the most economical product," Godfrey says. "There are sizes we don't make and we don't make tires for a lower-end car."
Auto manufacturers are demanding more advanced tires and quicker delivery times, which can be a challenge when shipping tires around the world. "With very long supply chains it takes longer to get the customer a tire, so having more of your supply local is important," Godfrey explains. "You always want to be better than your competition, but you at least have to be at the same level."
The Dow Jones Sustainability Index named Pirelli Tire a global sustainability leader for the first time in 2002 and the company has carried that title ever since because of its dedication to using green materials in its tires. "Our customers want lighter tires that make less sound than a standard tire, last longer and save on fuel," Godfrey says. "We use green materials, zero highly aromatic oils and more natural raw material fillers in the tire to make a more sustainable product."
Meeting Demand
Pirelli Tire North America has begun geomarketing, which involves using publicly available or purchased data to locate customers and vehicles around the country, and then target those areas and advise its customers on what inventory they should be stocking where. "We are not only focusing on our premium products, but we have also been trying to get closer to the consumer and sell more directly to retailers," Godfrey explains.
To meet the increasing demand for its tires and offer faster delivery times to its customers, Pirelli Tire North America opened a factory in Silao, Mexico two-and-a-half years ago and Pirelli recently opened a warehouse in Mexico City. "As we grow as a region, the percentage we are making in the region will continue to grow," Godfrey adds. "Because retailers don't want to hold as much inventory and may require a quicker shipment, the most important market for us within Mexico is Mexico City."
Pirelli Tire North America is working to increase its local for local production from 35 percent to more than 50 percent in the next few years and maintain strong relationships with OEMs. "Our growth as a region has been huge," Godfrey says. "We have had a manufacturing presence here in the North American region since the 1980s and have had a lot of growth in the North American market in relation to our other regions."