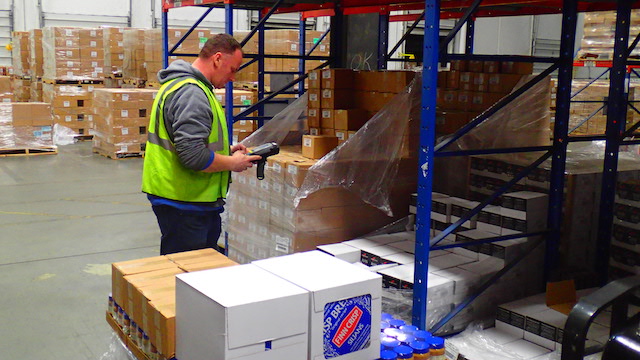 Port Jersey Logistics unveils plans for growth and capital improvements.
By Kat Zeman, Senior Editor at Knighthouse Media
A third-party logistics provider focusing on the food and consumer packaged goods industries, Port Jersey Logistics is implementing a five-year plan that calls for continued growth, expansion of its transportation management services and exploration of new geographic areas.
The Cranbury, N.J.-based company operates two divisions: Continental Logistics Inc., focused on transportation management, and Tyler Distribution Centers Inc., focused on warehousing solutions. Aside from food and consumer packaged goods, the company also serves other industries that include grocery retailers.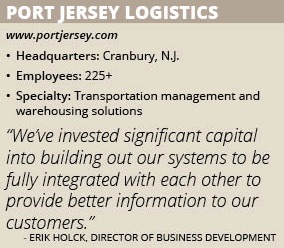 "We've invested significant capital into building out our systems to be fully integrated with each other to provide better information to our customers," says Erik Holck, director of business development. "We are focused on developing our support staff which will allow us to continue to grow the way we have over the past several years."
The company, which has reported 15 percent growth in sales revenue for each of the past four consecutive years, is zeroing in on its transportation management division.
"We have placed significant focus on expanding our transportation offering through exploring how we can build on the existing relationships we have built [with long-term partners]," Holck says.
Port Jersey's five-year plan calls for building out its transportation division's services to match revenue with the warehousing side of the business. "Our five-year plan has some aggressive growth numbers associated with it and with the customer-partner relationships we have, we believe we'll be able to live up to these numbers," he adds.
Moving Forward
In addition to making an investment into improving the efficiency of its logistics system solutions, Port Jersey is exploring the possibility of moving into new territory. "Our goal is to set up another warehousing operation through expanding on the existing relationships with our customer partners in a different geographic region," Holck says. "We're working on identifying that exact market at this point."
To further drive forward its five-year plan, the company will analyze customer feedback and use the information to implement changes to improve its offerings. In January, it implemented a "net promoter score system" designed to measure customer satisfaction and help the company better understand the current market.
"The goal is to understand how satisfied our customers are with us and who they need us to be to help them drive their business forward," Holck says. "It will be assessed on a semi-annual, if not quarterly, basis. The early indications are that we score above the industry standard and our customers value us as true partners."
Customized Solutions
Beyond warehousing and transportation, Port Jersey prides itself on providing added value by developing solutions tailored to the needs of its clients. It focuses on compliance and technology in developing customized logistics solutions for a variety of manufacturers, importers, exporters, distributors and retailers.
"We focus on truly partnering with our customers to solve their problems and create the most efficient process so they can focus on their business," Holck says. "A lot of people talk about doing it, but we take it to an entire different level."
The family-owned company places a high value on customer service. Founded in 1954, it started when Bob Russo purchased his first truck to provide transportation services to grocery stores in the New York/New Jersey metro area. Since then, it has grown to become a major player for logistics in New York and New Jersey.
Last year, three magazines named Port Jersey a top or leading third-party logistics provider to the food industry and supply chain industry as a whole. They are Food Logistics, Inbound Logistics and Global Trade.