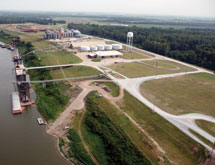 When Robert Maxwell stepped in as the Port of Rosedale assistant director in November 2009 and then was promoted to director in July 2010, his focus was on the emergency side of things. The port, which sits on a slackwater harbor – meaning it's located on a channel off the Mississippi River rather than directly on the river – had experienced a record flood followed by record drought the next year, which complicated operations. Because of that, Maxwell's focus was much like an ER surgeon on a mission to stop the bleeding. Now that the port has recuperated from the worst effects of those disparate natural disasters, Maxwell is focused on the Port of Rosedale's development phase.
"Now we're trying to develop the port and get more business for our public terminal and bring in new tenants at the same time," Maxwell says. "We have some projects that have been on the table for a while.
"Now that it's a few years after the flood has passed, there are things we are starting to see that need to be done and we are in the process of working on those things," he adds.
Sitting at the juncture of the Mississippi River and the mouth of the Arkansas River, the Port of Rosedale opens southern port access all the way to the Gulf of Mexico at New Orleans and western access on the Arkansas River all the way to Muskogee, and through the Tulsa Port of Catoosa on the McClellan-Kerr Arkansas River Navigation System. Its location – 100 miles from Memphis – puts it within a 500-mile radius of major markets including Houston, Birmingham and Atlanta.
Port of Rosedale has grown to include a 3.3-mile-long channel with more than a mile of turning basin, 168 acres of hydraulic fill for marine-related industries, a general cargo dock and dry-bulk unloading and loading docks. Two private docks are also located at the port, as well as a major towing company on the Arkansas Navigation System.
The port operates its own public terminal and also leases space to a number of companies. For instance, the port is working out details on two leases for a 15-acre and a 10-acre parcel. It also recently executed a lease with Louis Dreyfus Commodities, which is building a new grain elevator and barge-loading facility. The $20 million investment allows Louis Dreyfus to load directly from truck to barge and with only 2 million bushels of storage – one of the smallest storage capacities at the port – the commodities group is focused on shipping faster and with higher throughput.
"At different times, they will be able to store on site, but they are not planning on having huge storage," Maxwell says. "They are focused on moving barges out quickly."
With these new leases underway, Maxwell explains Port of Rosedale is beginning to fill up its current capacity. But the port does own more adjacent land, including waterfront acreage. It's focused on developing that land and restoring existing infrastructure to draw more business.
"The port commission owns more land around the water, it's just not developed yet," Maxwell says. "It has to be built up above flood stage, so that's one thing we're working on. Another thing is we need to make the harbor bigger. The channel needs to be widened to get barters in and out. During harvest season, the river gets lower, which makes it even harder to get barges in and out."
And for those that do need water access but don't necessarily need to sit directly on the water, Maxwell says the port has available space on an adjacent 250-acre industrial park that's ready to go with roads, a loading dock, and water, sewer, gas and electric utilities.
The Port of Rosedale also wants to work on a shortline railroad that is currently out of service but could offer another opportunity for growth once it is rehabbed. Before that can happen, however, the port itself needs to expand so it can accommodate future growth.
"We're running out of land on the water, but we have 250 acres for someone that doesn't need to be on the water," Maxwell says. "One idea is to build a conveyor from the water over to the industrial park and load barges that way. It's another thing we need to look into. It's cheaper to do a conveyor and it would give almost immediate access to more space at the park while also easing up traffic at the port itself."