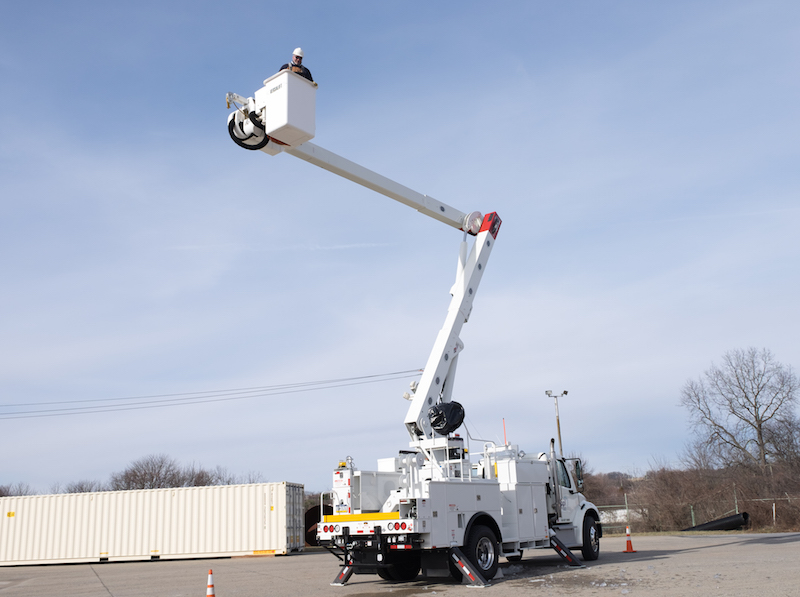 PPL Electric Utilities implements the latest in fleet technology to stay on the leading-edge of innovation.
By Janice Hoppe
Utility companies are not often thought of as innovators, but PPL Electric Utilities is working to change all that as it utilizes the latest technology for fleet enhancements. "We are embracing innovation," Transportation Manager John Adkisson says. "In the fleet department we implemented telematics, which is a big deal and innovative."
The Allentown, Pa.-based utility is one of five companies under the PPL Corp. umbrella. PPL Electric Utilities maintains more than 48,000 miles of power lines in central and eastern Pennsylvania, serving about 1.4 million customers in 29 counties. The company operates 1,200 total vehicles and oversees 10,000 square miles of territory.
PPL Electric Utilities handles more than six million customer interactions each year and has consistently won awards and ranked highly among companies in the United States for customer service and satisfaction. The company has received 23 J.D. Power and Associates awards for top-quality service to its residential and business customers.
In addition to fleet enhancements, PPL Electric Utilities over the next five years will invest more than $5 billion to improve its electric delivery system. The company will replace aging facilities and build new ones to meet growth in demand and to make the network more reliable. "In the utility space, taking on new technology makes business better, and ultimately lowers our rates for our customers," Adkisson says.
Driving Innovation
PPL Electric Utilities takes its environmental commitment seriously, from vegetation management to promoting energy efficiency programs that can reduce its carbon footprint. For the past three years, it has been studying how electric vehicles will affect the electricity grid.
The company was part of a national research group responsible for collecting data to evaluate the vehicles before their wider market availability. Through a grant from the state Department of Environmental Protection last year, PPL Electric Utilities bought 15 Chevy Volts to determine whether the hybrid plug-in vehicle is the best option for its light duty vehicles. Once a determination is made, the goal is to have the hybrids replace gas-powered fleet vehicles.
PPL Electric Utilities uses charging stations for its Chevy Volts, but also allows employees to use those stations free of charge. "We allow them to use it as a benefit and charge their vehicles," Adkisson says. "We are promoting the use of electric vehicles as a sustainable energy source for transportation."
To further reduce its carbon footprint, PPL Electric Utilities is installing battery-powered bucket drops that eliminate the need for the vehicle to continuously run. "The bucket drop is the thing the lineman stands in, and in the past we had to have the engine running to allow the bucket to lift and move in the air," Adkisson explains. "The battery packs can be recharged by a normal 110-volt electric power outlet in the building and the battery pack powers the electric lift motor. It eliminates the need to have the engine run and has a lot of other benefits, including reduced fuel consumption, emission and noise."
PPL Electric Utilities will add the battery pack technology as it replaces vehicles in the fleet.
Powerful Information
PPL Electric Utilities implemented telematics in its fleet to measure and interpret a vast amount of data. "From a safety perspective, we can monitor driver behavior on a macro and micro scale, which was something we could not do in the past," Adkisson says.
Using telematics, the company is able to identify and modify behaviors in ways that will increase safety and reduce fuel consumption. "Presenting data in a transparent way to the workforce has an immediate impact," Adkisson says. "It's no longer a blanket statement – we can now tailor a message in a timely, focused manor to provide the most effective training possible."
PPL Electric Utilities' telematics vendor creates reports from the data based on which areas the company is focused. "We get a periodic report that will score us on vehicle utilization and the exceptions that went into that score," Adkisson explains. "The big benefit is that no one has to sit at a computer terminal processing all the data and looking for the low-used vehicles that went into our score this week."
"I think that the telematics and the electric drive bucket have been our biggest focus over the past couple years," Adkisson adds. "Other utilities are starting to see the benefits and asking a lot of questions on how we implemented it."
In June, Adkisson spoke at the annual Electric Utility Fleet Managers Conference (EUFMC) to share those best practices. EUFMC is an educational conference for fleet representatives from investor-owned electric utilities, electric cooperatives and electrical contractors. The conference attracts fleet executives from more than 70 companies in the United States, Canada and South America.
Intuitive Reports
PPL Electric Utilities' fleet department focuses on engine repair, maintenance and hydraulics for aerial devices and is looking to connect its maintenance cycle with telematics. "Right now the way we do maintenance is calendar based," Adkisson explains. "The vehicle comes in and preventative maintenance is done on a fixed calendar cycle."
Moving forward, Adkisson's vision is to use the data it gets from a vehicle and move its maintenance operation to a more predictive model. "We want to be able to estimate when we will need to service the vehicle prior to a failure," he adds. "That's the big vision, using the telematics in the vehicle and the data from the vehicle to service it before a failure and remove the guessing. Within the next six to 12 months we'll have that implemented on some scale."
www.pplelectric.com
Revenue: $11.5 billion
Headquarters: Allentown, Pa.
Employees: 2,000
Specialty: Power line maintenance