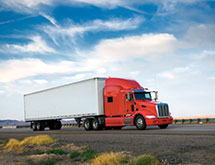 For nearly two decades, Primary Freight Services has been a key player in the global international logistics market. A U.S.-based, family-owned and operated company founded 17 years ago, Primary Freight specializes in international transportation, warehousing and distribution, LTL trucking, and LCL and FCL ocean and airfreight services to and from the United States.
Primary Freight Services was co-founded by CEO John Brown and President Kathy Hogan. "Our founders have built our business on a firm commitment toward being the best in the world at providing timely information to our customers and global partners and by providing personalized proactive service solutions," Vice President – Sales and Marketing Michael Squadrille says.
Inc. 500 recognized Primary Freight Service as one of the fastest growing companies, and the U.S. organization was recognized as Best Global Partner for 2013 by LogNet, the global network Primary Freight Services represents in the United States. In addition, the WPA awarded Primary Freight with Best Operations for the 2013-2014 period. WPA is the other worldwide network that Primary Freight Services is tied to in the U.S. These recognitions affirm the company's commitment to consistent quality service and to proactive transparency for all cargo moves.
Based in Buena Park, Calif., the company delivers its services through a network that spans more than 100 countries. It supplements its international freight services with extended domestic, intermodal, warehousing, purchase order management and tracking, as well as on-forwarding services.
Primary Freight utilizes state-of-the-art, customer-specific technology that gives it deep visibility into shipments for customers and its agency network. It also engages in extensive collaboration with overseas partners to ensure that the information provided is accurate and continuously up-to-date. The company also operates full service regional offices in Chicago and New York, and recently invested in the expansion of its warehousing and distribution facilities in California.
"We have a diverse customer base, which has allowed us to diversify our services," Squadrille says. "Our growth is calculated. We develop and maintain a close rapport with our customers and overseas alliance partners, to ensure we are in tune with their own objectives, supply chain needs, changing market conditions and delivery commitments. This approach supports our business development objectives and has allowed us to achieve and maintain a dynamic growth."
On the Move
As the company has grown, it has expanded its capabilities to service the business needs of clients around the world. It has enhanced its global agent network, and it offers weekly scheduled consolidation services for ocean and air cargo. Its P.O. management service helps ensure a seamless supply chain and web-based visibility for its customers. Warehousing and distribution services are offered in response to customer demand and to complement shipping cycles.
Earlier this year, Primary Freight relocated its California regional and home offices to an 83,000-square-foot facility in Buena Park. It also expanded its warehousing and distribution operations to the location, which now operates under the Primary Logistics Services moniker.
The new facility features nearly 70,000 square feet of warehouse space, which is expandable up to 167,000 square feet to accommodate growth in 3PL services. The company has further broadened its distribution services to include cross-dock, merge-in-transit, trans-loading, LTL trucking, devanning, inventory management and inventory management programs. FDA approval was recently secured, while the company is already C-TPAT and TSA-Certified as an indirect carrier.
Primary Freight serves a wide array of clients rather than focusing on a specific vertical. The company moves a variety of commodities, from aerospace and aviation components to retail products, agricultural machinery, medical equipment, food products, telecommunications and a broad array of products across most industries.
"That scope provides a number of benefits," Brown says. "Different cargos tend to have different sizes and weights, and our mixture allows us to optimize containers for air and ocean containers. We also have experience with high-value, critical products where a high sense of urgency is an expected standard. This emphasis on urgency carries over into everything else we do, so we can be highly responsive to customers and offer value-added services that might not be possible if we specialized in one or two commodities."
Flexibility Matters
Primary Freight constantly reviews and measures its service options. The company collaborates with reputable carrier partners and service providers to assure it best serves its customers and maintains dependable service commitments in all sectors.
Primary Freight sees continuous emphasis on its 3PL warehousing and distribution services as critically important to its future. The company has space to expand those offerings in California, and has updated its facilities in Chicago and New Jersey in anticipation of growth.
"Next year, we intend to strengthen our footprint into the China and Australia markets," Brown says. "We also plan to expand service out of Bangladesh and Germany into the U.S. to complement our existing weekly services from Italy, the U.K., Australia, India, Singapore and New Zealand."