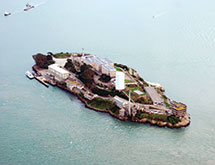 For 95 years, the prison at Alcatraz Island in San Francisco stood as an imposing reminder of the consequences of crime. Today, more than 50 years after its 1963 closure, the island serves as not only a popular historic site that attracts more than a million visitors a year, but as an example of the possibilities of alternative energy.
The prison complex, which once housed many of the 20th Century's most notorious criminals including Al Capone, is now the home of a 400-kilowatt solar photovoltaic system that provides it with a 24-hour power supply. The array system – known as the Alcatraz Island Micro-Grid PV – meets 60 percent of the island's energy demand, lessening the need for diesel fuel to be ferried across the San Francisco Bay to it.
The system's scale, as well as its innovative nature and effectiveness in reducing the island's fuel demand, won its designer and installer, Princeton Power Systems of Lawrenceville, N.J., "project of the year" recognition during the Intersolar North America 2014 trade conference in June.
The award reflects the company's growth from a small operation established at Princeton University in 2001 as a way for then-undergrad computer science and engineering student Darren Hammell and his roommate to "develop cool technology and find a market for it." Today, the company operates three offices and has projects located around the world.
"Our company is profitable and growing fast," says Hammell, now the company's chief strategy officer. "Our growth opportunities are fairly limitless as far as we can tell, and we have a big focus on increasing production."
The company has already reached capacity on a new production facility it built two years ago, and is planning to expand or move into a new space within the next few years, he adds.
Highly Functional
The company designs, manufactures and installs power electronics and technology solutions used in energy management, microgrid systems and electric vehicle charging. "The common thread in our operations is that we produce and operate battery systems that provide service to the electric grid and core functionality to the end-customer," Hammell says. "Our products can charge cars but also provide backup power to homes and offer frequency regulation and peak-shaving capability."
The systems produced by the company range in power from 10 kw to 500 kw, and average between one to four hours of energy storage time. Princeton Power Systems' customers include automotive manufacturers, battery makers, non-profit organizations and commercial and industrial sector customers.
All of the company's products are UL and CE-certified. "Having our products certified to safety and compliance standards allows them to be permitted and installed right away," Hammell says. "Certifying to UL and CE standards is a big investment, but it makes it easier for our customers to get systems up and running in a short time frame and achieve a level of functionality our competitors can only talk about."
Princeton Power Systems' other recent projects include supplying power inverters and energy storage systems to CODA Energy Holdings of Monrovia, Calif. The systems allow commercial buildings to store energy locally, which helps the buildings' owners offset peak demand and lower their monthly utility bills.
The company was also recently selected by selected by several major battery suppliers for peak shaving programs in California to supply power inverters for a peak-shaving program. The project involves storing energy from rooftop photovoltaic arrays.
A Global Need
Princeton Power Systems is applying its experience globally. In addition to its projects in the United States, the company works with customers and partners throughout Europe, Africa and the Caribbean.
"I see a lot of opportunities for us on islands where there is a need for electric power," Hammell says.
The company recently announced its participation in a 5-mw solar microgrid project in Annobon Province, an island off the coast of Equatorial Guinea in west-central Africa. Princeton Power Systems is providing energy management systems and controls for the project, which is a collaboration between the company and two others: MAECI Solar, a division of Management and Economic Consulting Inc., and GE Power & Water.
The microgrid – the largest of its kind in Africa – will provide enough power to handle all of the island's energy demand 24 hours a day. Annobon Province has approximately 5,000 residents, who have access to electricity for only five hours per day, the company says.