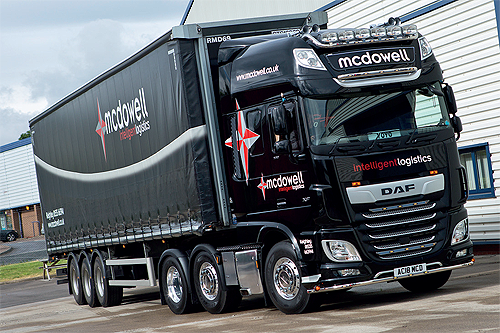 R McDowell Haulage & Distribution
Logistic integrity
Working with businesses of all sizes, from micro to blue chip, R McDowell Haulage & Distribution Ltd is a haulier with over 40 years' experience in adding value through logistics
Established by Roger McDowell in 1976, R McDowell Haulage & Distribution Ltd began life with a single lorry. Fast forward to 2020 and the firm boasts over 100 state-of-the- art vehicles, as well as 150 staff members and comprehensive warehouse and training facilities. In summary, it's been a meteoric rise for what is now known as one of the leading logistics companies in West Yorkshire.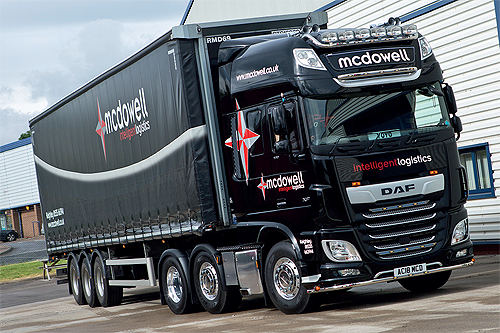 Growth at McDowell has been facilitated by the company's comprehensive offering of warehousing handling and road transport solutions designed to make logistics and stock management operations more efficient, cost-effective and environmentally friendly. Supporting every major sector in the UK, including retail, manufacturing, electronics, food and drink, and home furnishing, the company's core services range from contract logistics to storage, palletized freight distribution to full load haulage.
On the contract logistics side of the business, McDowell continues to save clients time and money by running their transport operations for them. Using its modern and versatile fleet, McDowell allows clients to focus on running their business, saving them time and money on vehicle outlay, driver hire, removing the headache of license undertaking and legal compliance issues.
Benefitting from over 100,000 square feet of ambient warehousing space, which can be racked or open for palletized goods, McDowell's storage services allow its customers to optimize their stock management and order fulfillment capabilities without tying up capital in unsuitable or unnecessary stock. Features onsite include a variety of devanning/decanting, handling, fulfillment, and pick and pack services, as well as barcode application, scanning and dispatch management. Offering real-time stock information through a sophisticated Mandata warehouse management system, and requiring no minimum storage period, McDowell gives its clients complete control, meaning more efficient and more profitable stock handling.
Whether for B2B or B2C deliveries, palletized freight distribution has become an essential part of many companies' customer retention strategy, and an increasing number of surveys show that poor delivery partners can not only cost businesses money, but also customers. As a result, in the early 2000s, McDowell became a member of The Pallet Network, the leading organization in its sector and winner of the FTA/Multimodal Pallet Network of the Year Award in 2019.
As part of The Pallet Network, McDowell offers its clients a complete logistics service from the delivery of a single pallet anywhere in the UK to a full load, while still minimizing a company's cost and carbon footprint. Handling full, half and quarter pallet sizes, McDowell's palletized freight customers profit from free online booking, tracking and management, as well as ePOD with 24/7 access. McDowell can also provide next day, timed or economy deliveries for any palletized goods and even offers specialist services for outsized or unusual palletized freight, which may require expert handling.
Through each area of its product line, McDowell combines modern, professional supply chain expertise with personalized service and aims to bring local values of reliability and customer care to its clients nationwide. The firm prides itself on innovative problem solving and caters for a wide array of unique solutions to bespoke requests each year.
BRC Global Standards and ISO 9001:2015 accredited, McDowell endeavors to stay at the head of the industry through investments of around £1 million each year in the latest infrastructure and equipment. After experiencing the impact of 2020's Covid-19 pandemic, the company has recently received further funding from HSBC UK, which will be used to acquire eight new heavy goods vehicles. It is a positive sign for the future at the end of what has been a challenging year for businesses across the industry. Company Director Geoff Hirst explains more:
"Towards the beginning of the year, it was all about learning to diversify and adapt to daily challenges whilst ensuring the long-term perspective remained positive," he says. "Quickly implementing Covid-19 PPE in order to keep staff working in a safe environment was vital for us to continue operating, but demand for our services was certainly impacted. We had to use the furlough job retention scheme to protect jobs whilst customer orders were reduced and so we worked with HSBC UK to secure support through the lockdown. However, we have a strong and varied client base that enabled us to keep a significant proportion of vehicles on the road. We diversified into the food supply chain since the need for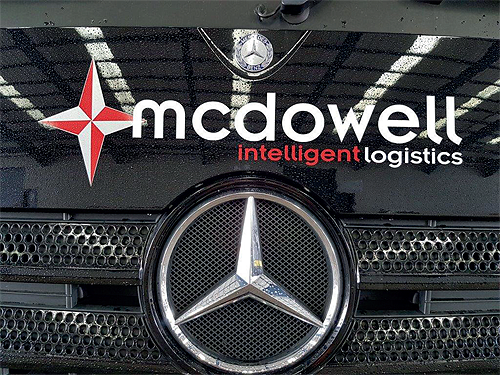 supermarket deliveries increased and we also provided hospital beds to NHS Nightingale Hospitals throughout the UK.
"We're optimistic about the future of the sector," Geoff continues. "Our full team is now back at work and despite being in the midst of uncertain times, we are really pleased to have just secured funding from HSBC UK to purchase new vehicles and expand our articulated vehicle fleet. These new vehicles will enable us to improve our service in response to customer demand and at the same time improve our drivers working conditions, which is paramount to us."
As Geoff suggests, McDowell values people as the most critical part of its business and continues to find ways to show its employees that there would be no business without them. The firm holds the same belief of its customers and the board of directors are proud of the way that McDowell has grown and maintained a high level of customer service throughout its journey so far. At the height of the Covid-19 pandemic, McDowell shared this culture with the NHS, delivering 14 pallets of Fox's biscuits to essential health workers, free of charge. A regular client of McDowell, Fox's wanted to gift 65 cases of Rocky Bars and 88 cases of Party Rings to Leicester hospitals – a total of 26,000 individual treats.
"We were only too happy to make these deliveries. Biscuits may not be life-saving but they can do a huge amount for morale," stated McDowell's Commercial Manager Craig Thorpe at the time. "We routinely move between five and ten loads a day for Fox's, from two of their sites in Wakefield and Ripley, Derbyshire. We are not sure how the biscuits will be distributed within the NHS, but they were certainly received with enthusiasm."
As evidence of McDowell's industry leading practices, the company provides a host of accredited courses tailored to meet client needs, ranging from novices to experienced operators. The only haulage industry-based HGV training organization in the West Yorkshire area, McDowell's available programs include LGV, HGV, and forklift training, as well as Driver CPC. All instructors are experienced industry professionals with full RTITB qualifications.
Though McDowell's achievements are often viewed on a large-scale, the company continues to thrive on a smaller, person-by-by person level as well. This notion can be viewed through employees like Alan Calkeld, who after joining the company as a teenage garage worker, celebrated 25 years with the firm in 2019. Now a qualified Class 1 HGV driver, Alan, and other long-tenured team members like him, are the lifeblood of McDowell and their commitment to the firm is a sign that McDowell is a business that cares.
Led by people like Alan working tirelessly on a day-to-day basis to live out McDowell's values and deliver on its promises, the company is now in an ideal position to grow into the future. "We plan to secure ten vehicles annually and expand by five per cent year on year, with profits reinvested back into the company," Geoff reveals. "There is also the possibility of investing and diversifying into property to enhance the warehousing side of the business. It's a very exciting time to be part of McDowell."
R McDowell Haulage & Distribution
www.rmcdowell.co.uk
Services: Haulage, stock management and logistics