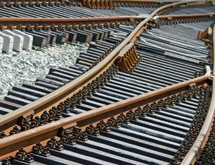 The Staggers Rail Act of 1980 deregulated railroad operations, easing the price structure, streamlining mergers and expediting line abandonment processes. This presented an opportunity for entrepreneurs such as Rick Bertel, chairman and CEO of Rio Grande Pacific Corp. (RGPC), to purchase light-density branch line railroads and set up short railroad operations servicing local business.
Bertel founded the regional and holding company in 1986 and it soon purchased its first rail line. "One of our first and biggest clients was the state of Oklahoma," he recalls. "After the deregulation, they woke up one day and found they owned about 1,500 miles of track, so we acquired some of those properties. We bought our first property in 1990; it was in poor condition, but we had a lot of expertise in infrastructure, so we made it work. It was successful, so we went on to buy other properties."
Over time, RGPC extended its reach to six states and went from two employees at its inception to the current 250. Today, the company has four fully owned short line subsidiaries: Idaho Northern and Pacific Railroad; Nebraska Central Railroad; New Orleans and Gulf Coast Railway; and Wichita, Tilman and Jackson Railway.
To round out its railroad services, RGPC formed Campbell Technology Corp. in 2007 to provide signal engineering, design, project management and construction services.
Diverse Markets
Although the company focus is freight transportation, the Idaho Northern and Pacific line has a successful passenger service called Thunder Mountain Line. This passenger train serves tourist-oriented events such as rafting expeditions, hosts dinner trains and sponsors the North Pole Express during the holidays.
The Nebraska Central Railroad serves a variety of industries in the state. "This is our largest market," RGPC President Robert Bach explains.
New traffic patterns and heavier rail cars have prompted the company to invest in new infrastructure. "The heavier rail cars have required additional investment on the part of the regional railroads to be able to handle the heftier loads," Executive Vice President Scott Traylor explains. To address that issue, this past fall, RGPC built a replacement bridge over the north fork of the Elkhorn River in Norfolk, Neb. The $2 million project was completed in a month and supplanted a through-truss-style bridge dating from 1889. The six-span steel bridge now comfortably accommodates 286,000-pound rail cars. The company expects the new bridge to see about 60,000 cars annually, which RGPC predicts will have a positive effect.
Other growth for the company is taking place in the area serviced by the New Orleans and Gulf Coast Railway. "There is a tremendous development in that area as a result of the expansion to the Panama canal," Bertel explains.
Close Ties
Its small size allows RGPC to adapt quickly to market changes. "Because we are a small company, we are pretty nimble reaching decisions," explains Michael Haeg, vice president of marketing and sales. "We don't have to have discussion groups; we come up to conclusions pretty quickly so we can implement solutions fast to a dynamic marketplace."
Bertel credits the company's success also to its relationships with clients and the dedication of its employees. "We try to develop a certain camaraderie in each railroad and establish a good management relationship with our employees," Bertel says. "Over the years, we've dealt with all sorts of issues: hurricanes, floods, droughts, tornadoes, etc. It's great to see employees that we hired 20 years ago as laborers still working for the company, now holding management positions."
RGPC also strives to be sure its employees at every level establish ties with the communities where they operate, according to Haeg.
"Our railroads run on a local basis, so our employees are rooted in their local community; they're part of the local economy," he explains.