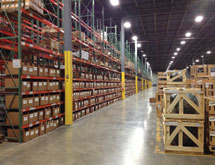 A few years ago, Smart Warehousing began putting the puzzle pieces together around an idea revolutionary to the logistics and warehousing industry: franchising. The foundation for Smart Warehousing's franchising concept, however, has been well in play since it was founded in 2002.
The Kansas-based company has grown its warehouse business one client at a time and operates multiple sites in the state. The company is preparing to consolidate some of those facilities into a 570,000-square-foot distribution center at the new Logistics Park Kansas City center owned by BNSF in Edgerton, Kan. As the company has grown, it put roots down on both coasts – first in Ontario, Calif., and another in Orlando, Fla. It then began spreading into other Midwest states, such as Missouri, Indiana, Texas and Minnesota. The company has strategically grown in three major ways. A third of its business comes from organic growth, another third via acquisitions and another third by strategically opening up original locations in new markets.
Those three strategies have served Smart Warehousing well. The company today operates more than five million square feet of warehousing space across 25 facilities in 12 states and one Toronto facility that opened last year. The size and scope of its facilities vary from city to city, but all in all, Smart Warehousing boasts capabilities in inventory management, pick and pack, returns processing, systems integration, retail compliance and replenishment, labeling and ticketing, pooled distribution, kit assembly, recall services and transportation management.
"Being able to help serve almost any channel has allowed us to diversify our offering," Wasinger says. "From e-commerce to overflow storage, we can help in many ways."
Today, the company plans to grow those services in more locations through franchising, which is now its fourth major growth strategy.
Future in Franchising
"We recently kicked off our first franchised location," Wasinger says. "We've been planning it for the last few months, and to see it come together and to see the excitement has been awesome.
"Since we started expanding, we have been talking to many business owners and operators in the 3PL world, mostly about the typical growth model of acquisition," Wasinger continues. "We found a lot of them were doing a great job and wanted to continue running their operations, but they just felt that if there was a way to partner with a company like Smart Warehousing, that would be a perfect win-win and best-case scenario."
The reason peers in the industry feel that way is because Smart Warehousing has differentiated itself through technology since its foundation. Wasinger has spent 20 years in the logistics sector and has experienced supply chain systems and inventory management from the ground up – from forklift operator to CEO. So when he founded Smart Warehousing, he knew that technology would be the company's sticking point if handled poorly.
"While there is a lot of great software out there, we just felt like if we had the technology and ability in-house to develop it, program it and customize the code, we would be a more flexible and faster solution," Wasinger says. "We developed what we call an electronic catchers mitt to make sure we could handle about anything a client would throw at us. That was really the beginning of how Smart Warehousing started. We are crazy passionate about how technology and innovation can impact the supply chain."
Wasinger knew that constantly updating technology to meet the growing list of consumer demands was an industry trend that wouldn't go away. Real-time access, integration with clients' ERP and ordering systems, electronic data and records, remote access and online inventory management that can be accessed via cloud and web-based solutions are just a few of the demands that customers expect rather than appreciate. But keeping up with those demands is a price many operators find expensive to keep pace with, Wasinger says.
Leader in Technology
Smart Warehousing, however, is at the forefront of that changing technology. It holds the skills in-house to develop and refine its warehouse management system. It even has an acronym: SWIMS, or Smart Warehousing Information Management System. It has become a familiar term with its clients.
"About two or three years ago, I remember it became a verb," Wasinger says. "Our clients started talking about 'swimming' data to us, saying, 'We'll swim that over to you' or, 'We'll have someone swim that to you.' We coined it, and it ended up becoming a verb that now thousands use all over the world."
And now, Smart Warehousing is "swimming" its technology to other warehousing operators. Its first franchised location opened in April in San Antonio, Texas. It plans to open two to four more locations this year. The San Antonio location is a conversion operation, where the owner retains its facilities, clients, employees, etc., but adopts Smart Warehousing's management system and brand name. Wasinger predicts most of the franchising opportunities going in this direction.
"These are the folks who have great employees and great relationships with clients and great locations," Wasinger says. "What they need is great technology and many of them are not software and integration experts. Our program makes it so they don't have to be."
Another growth vehicle for this franchising model, are players in the logistics world but not currently specializing in warehousing, like a trucking operator, for instance.
"A transportation company might have opportunities to get into warehousing because they already have those clients, but they aren't sure how to do it."
For both types of franchisees, Wasinger says Smart Warehousing offers a plug-and-play solution that gives them the resources they need to run a technology- and best practices-driven company. Some of the benefits include the technology that is regularly and automatically updated, keeping operators out of that technology trap. Another major benefit is that Smart Warehousing will handle the onboarding and integration process for all new clients plugging into the systems.
"Anyone can purchase a system, but effectively using it to put a smile on a clients face is totally different; we do that," Wasinger explains.
The Smart Warehousing system also helps warehouse operators monitor their costs of labor. "Our warehouse managers and supervisors needed tools to help them manage the day-to-day operations and to be successful," Wasinger explains.
Other advantages include being part of a larger national network where referrals, ideas and innovations can travel quickly between facilities and having hundreds of vendor integrations ready to access.
Wasinger says Smart Warehousing's model is a viable solution in a market where customers value accurate data. During slow economic periods, he has noticed that business owners start to look outside for logistics solutions. The company gets several calls daily from potential clients looking for innovative solutions, especially as e-commerce continues to grow. Having a proven system to onboard and integrate quickly is key to winning new business.
"We've spent the last 12 years testing and applying our software package in hundreds of different situations," according to Wasinger. "We've already developed this program for our own use and operation.
"We know the challenges," Wasinger adds. "We know how hard it can be to implement, but if it is designed correctly it works. We have worked with thousands of clients over the years and not only understand, but appreciate their needs. They make the rules, they get the systems and they expect us to execute their wishes flawlessly. Seems like Smart Warehousing to me."