Stan Koch & Sons Trucking Inc.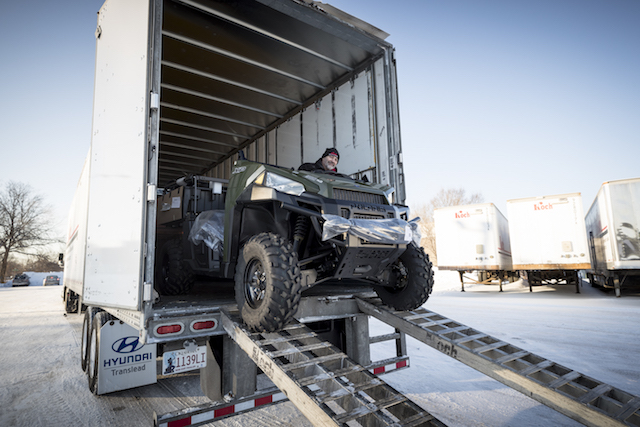 Investing in its drivers and fleet helped Stan Koch & Sons Trucking Inc. reach a major milestone of 40 years and beyond serving the transportation industry.
By Jim Harris
Koch Trucking's drivers do more for the company than just transport goods from one location to another. "We need them to be salesmen just as much as they are drivers," says Todd Wright, director of maintenance for the Minneapolis-based group of companies. "Our drivers are well-dressed, courteous and knowledgeable people who deliver on time and represent who we are and what we do as a company. They help us sell our capabilities and make us look good."
Koch Trucking's drivers also provide services including setting up and tearing down ramps used to unload goods such as golf carts and all-terrain vehicles manufactured by many leaders in power sports recreation vehicles. "Our niche is offering specialized services to our customers," Wright adds. "We excel or exceed our competitors in being on time with our deliveries as well as in how we handle their products."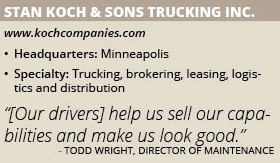 Koch Trucking's clients also include many national retail and manufacturing companies. Specialty loads commonly consist of large goods such as recreational vehicles, boats and large power systems. "We essentially serve every type of market there is," Wright says.
Koch Trucking's core business is east of the Mississippi River, but it will run trucks across the entire continental United States. "Koch Trucking has dedicated fleets all over the country, including fleets in Colorado, Washington, California and Arizona serving the western United States," he adds.
Stan Koch & Sons Trucking Inc., the parent company, consists of four additional divisions – Koch Logistics, which provides national and international shipping, supply chain management, distribution and warehousing services; Koch National Lease, which, in partnership with Koch Trucking's affiliate United Trailer Leasing, provides trucks, trailers and other commercial vehicles and equipment customized to meet a customer's needs; GW Transportation, providing trucking and third-party logistics (3PL); and Koch Marine, specializing in boat and over-sized watercraft.
Koch Trucking and its owners are not related nor affiliated with Koch Industries, Inc., the Wichita, Kan.-based multinational energy and manufacturing conglomerate owned by brothers David H. Koch and Charles G. Koch. Although the spelling for both is "Koch," the Minneapolis-based organization pronounces its name "cook," while the Kansas company pronounces it "coke," Wright notes.
Building Loyalty
Like most transportation companies, Koch Trucking faces the challenge of recruiting and retaining qualified drivers due to a national commercial driver shortage. Koch Trucking's emphasis on specialized, courteous service makes retention even more critical. "We're told that we have a better-than-average turnover, but that's still unacceptable," Wright says. "Losing a high-quality driver is always a big loss for us."
Koch Trucking pays qualified drivers a highly competitive salary and benefits package. On top of that, drivers are offered a sign-on bonus and are paid by the mile along with detention pay and stop pay. "We are a family-owned and oriented business, so we can make decisions quickly and fairly. We are also small enough that our owners are active in the day-to-day decisions such as pay for drivers," he adds. "We focus on the driver first."
In addition to compensation, Koch employees have direct access to owners Randy and Dave Koch and other top executives: "Any driver can get ahold of any one of us at virtually any time," Wright says. "We want everyone to feel comfortable asking questions or sharing comments, and our doors are always open."
Owner Randy Koch was Koch Trucking's very first driver, as well as the company's first driver to reach the million-mile mark. "This gives him a deep understanding of drivers' needs and wants including safe, comfortable and welcoming cab interiors," Wright notes. All of the trucks owned by Koch Trucking feature auxiliary power units, Serta mattresses, 15-position swivel seats, extended legroom and LED lighting. "We know our people will be in their trucks a long time, so we really try to load trucks up with premium equipment," he says.
The companies regularly replace equipment with new Volvo, International and Kenworth trucks. Last year, Koch Trucking purchased 300 new sleeper cabs, which included 30 Volvo 780 cabs. The Volvo 780 cabs include double bunks and more room than the Volvo 670 model. "This is the biggest and fanciest truck you can get," Wright says.
The new Volvo 780s were assigned to drivers based on seniority, in recognition of their tireless service to Koch Trucking. "All 30 of the vehicles ended up with drivers who had been with the organization for 11 years or more," he adds.
In addition to giving its drivers safe and comfortable rides, Koch Trucking also makes sure they can spend time at home as often as possible. "When I started here 16 years ago, we advertised 21 to 28 days out on the road; now it's typically seven to 10 days," Wright says. "Many of the drivers in our fleet get home once a week, and a large portion are home daily."
Koch Trucking supports its fleet using the newest technology available. This includes routing software to determine routes closest to each driver's home region, which allows drivers greater home time. Technology is also used to determine when trucks need maintenance. "We may not be as big as the largest trucking companies, but we can use technology as well as anybody," he adds.
Forty Years and Beyond
Koch Companies is celebrating its 40th anniversary this year. Founded by the Koch Family, the company's strong emphasis on family and putting drivers first rapidly led to new and expanded services and business lines. "They've built a great company," Wright says of the owners.
The Koch's continue to grow Koch Trucking and it's affiliated organizations. Last year, a Chicago-based logistics and warehousing company as well as a manufacturing company in Mexico and a distribution company in Pennsylvania were added to the Koch family of companies.
Wright attributes Koch Trucking's longevity to its owners' vision and the dedication of its entire staff: "Whether it's our drivers or people in operations, safety and maintenance, we have a great family of people who work really hard," Wright says.