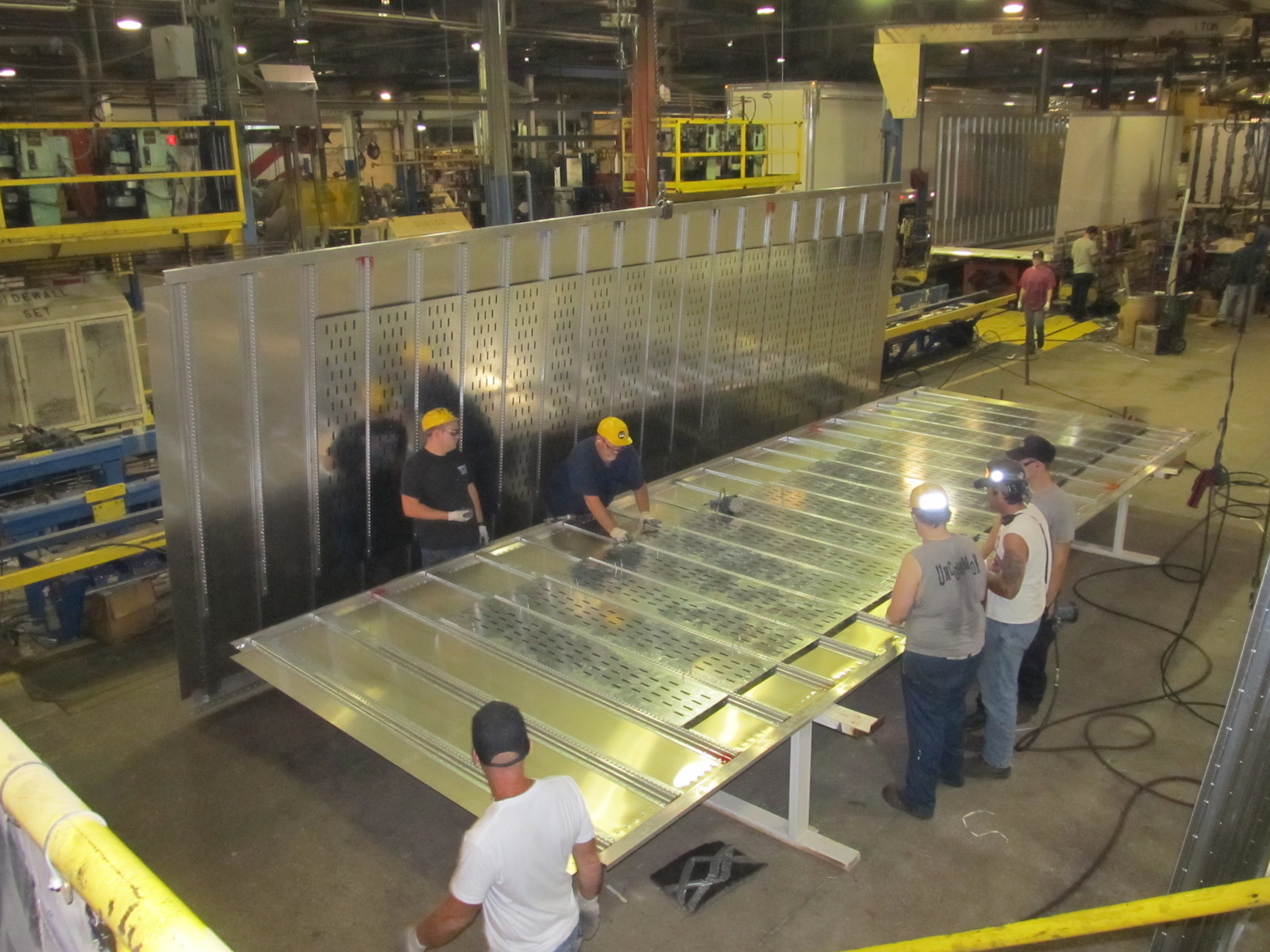 Strick Trailers is proud to specialize in sheet-and-post dry van trailers.
By Jim Harris
In the 1930s, Frank Strick had the idea to apply his knowledge of aircraft engineering to another transportation industry: trucking. He developed and later introduced a "frameless" monocoque trailer body that consisted of aluminum rather than steel. Doing this meant trailers could be bigger and lighter than those available at the time, meaning they could haul more freight per truck.
Strick would go on to develop a container dubbed "the Stricktainer" for use on steamship lines in the 1950s, preceding the rise of intermodal shipping and becoming the world's largest manufacturers of marine container in the 1960's. After Frank Strick's death and under the leadership of his son-in-law, Sol Katz, the company also designed and built the Flexi-Van container system for the New York Central Railroad.
Strick continued to innovate with new trailer designs throughout the 1970s and 1980s while greatly increasing its manufacturing footprint and business lines, including starting trailer leasing giants Transport International Pool (TIP) and subsequently Strick Lease. Today the manufacturing company maintains its history of innovation while focusing its efforts on producing dry van sheet and post trailers for specialized needs. "We've had a total makeover in our business model in the past 10 years," Chief Sales Officer Charles Willmott says, noting the company has sold facilities and reconfigured its structure since 2002. "We're now focused on smaller order sizes of trailers with more customized specification, which creates a higher compelling value to our customers." The typical order size today is 10 to 50 trailers.
Innovation remains part of Strick's DNA. "We're working on many exciting future projects, most notably involving integrating aerodynamic features into the designs of our trailers and utilizing 'smart trailer' and intelligent trailer systems, which we believe to be the future of the industry," he adds. "Our goals are to promote public and team member safety, and to help our customers solve operating problems while reducing costs."
Specialized Applications
The company produces roughly 2,000 sheet-and-post dry van trailers a year at its manufacturing facility in Monroe, Ind. This style of trailer represents roughly 25 percent of the annual dry van manufacturing market. "Most of the major manufacturers right now don't offer this kind of trailer anymore," Willmott says. "The sheet-and-post market has become highly specialized, and we're happy to continue to develop innovative products and solutions for our customers."
Strick's "frameless" aluminum sheet-and-post trailer provides low tare weight, high strength and long-term durability. The company's customers include less-than-truckload cargo haulers as well as other companies that require trailers with high dynamic load forces capable of carrying large paper rolls, for example. Regular customers include paint manufacturer Estes Express, Sherwin-Williams, Shaw Carpets and PBL, a Detroit-based carrier of automotive parts. "Our trailers offer numerous applications for companies who truly need and can benefit from sheet-and-post design over the [more common] composite design," Willmott says.
Most of the components used in Strick trailers are sourced from North American suppliers. "Our mission is to provide customers with a high quality, innovative, competitively price product that is crafted here in America by American workers," he adds.
Improved Operations
The company continues to improve its manufacturing capabilities and overall organization. This year, Strick recently doubled its number of finishing bays and added more stations to its manufacturing line, giving it the ability to customize trailers without slowing down the line. Later this year, they will be adding a completely new second line for more complicated builds. "When we run a trailer down our line, we make sure it's designed for our customers' needs," Willmott says. "We avoid finishing our trailers out in the yard like everyone else does."
Strick Trailers LLC is part of the Diamatrix group of companies, which includes Cheetah Chassis Corp, a Berwick, Penn.-based manufacturer of intermodal container and other chassis; and John Evans Trailers, a Sumter, S.C.-based manufacturer specializing in log trailers, gas bottle trailers, and other custom steel trailers.
The company is in its fourth generation of private family leadership and is 30 percent employee owned. "We're very proud of our team and the way they execute quality on behalf of our customers day in and day out," Willmott adds.
www.stricktrailers.com
Headquarters: Monroe, Ind.
Employees: 150
Specialty: Sheet-and-post dry van trailers