Transport Investments Inc.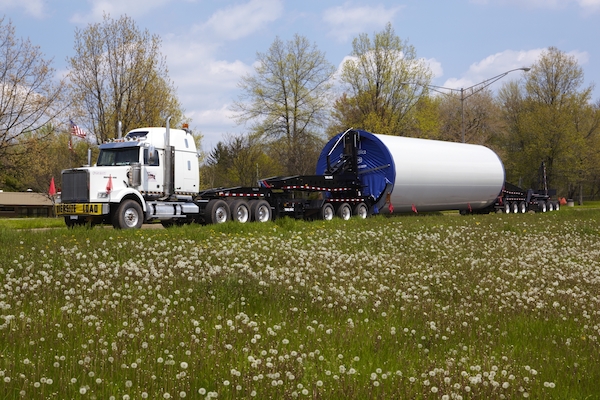 Transport Investments Inc. aims to reach a half-billion dollars in revenue by adding to its family of trucking and logistics companies.
By Russ Gager
The trucking industry has been consolidating over the last few years, so Transport Investments Inc. (TII) moved quickly to take advantage of it. Within TII, there are five trucking companies: American Transport, Greentree Transportation, Aetna Freight Lines, American Wind Transport Group and Marathon Transport. Its logistics arms include TII Logistics and Simplified Rail Logistics, with its origins dating back to 1986. TII has a fleet of approximately 800 owner/operators and eight terminals throughout the United States.
"We needed private equity to support us in achieving our growth and acquisition objectives," President, CEO and co-founder Douglas McAdams declares. "Five years ago, we identified 10 companies we wanted to buy. Five years later, five of them were sold, and at that rate, soon they'll all be consolidated."
So nearly one-and-a-half year ago, TII partnered with Revelstoke Capital Partners, a private equity firm, to provide financing for its growth objectives and acquisitions. "We had excellent relationships with our banks and TII was debt-free, but we couldn't write the kinds of checks that needed to be written to buy significantly sized companies," McAdams insists. "Revelstoke Capital Partners has been very instrumental in helping us identify prospects and formulate a strategy for acquisition.
"We are constantly evaluating numerous acquisition opportunities and are looking for the right strategic and cultural fit," McAdams continues. "We expect to add meaningful revenue from acquisitions in 2016. This industry is growing and the market is highly fragmented. We believe that scale, density in our markets, superior customer/agent service and diversification will be critical factors to achieving long-term success and growth.
"I expect to see the big getting bigger and the number of market competitors to contract as the pace of mergers and acquisitions in the industry continues," he says. "Our goal is to be a half-billion-dollar company in the next two to three years." While Revelstoke Capital Partners owns a majority of TII's stock, McAdams, his family and key TII employees continue to hold a significant minority share of the company. TII ranks among the top 40 general commodities carriers and is listed among the top 12 flatbed/specialized carriers in the United States.
"The reason we have different brands is that there are different leaders in charge of each business segment, and each leader has a different approach to attracting agents, owner/operators and customers," McAdams explains. "Our programs for our owner/operators and agents are not the same across our brands. I always tell people that our goal is to be the Kellogg's of the trucking industry. We don't care which brand you decide that you like – we just don't want you eating Quaker Oats.
"Importantly, our back-office systems and procedures are fully integrated," McAdams adds. "While we have different brands, we are one company, one culture and we have the benefit of leveraging best operational practices company-wide for the benefit of our agents, end-customers and owner/operators."
Energy Industry
TII's companies primarily serve the industrial, building materials and manufacturing industries. Less than 15 percent of its business is from the oil and gas industries. TII's companies haul sand for fracking and construction materials to build cryogenic and cracking plants. These plants break oil and natural gas into different products such as propane, kerosene, diesel and other components.
The price drops in a barrel of oil have changed the materials that TII's companies ship. The cost of railroad transportation – which is fixed for a barrel of oil – increases proportionately when the price of oil drops. So more pipelines are being built, which means TII's companies are hauling more pipe, pumping and pipeline equipment. Also, new pipelines are being built to support plants that produce liquefied natural gas. "We are the equivalent of Saudi Arabia when it comes to gas," McAdams asserts about the United States.
TII companies also are moving oil rigs from North Dakota to New York and Pennsylvania, because the cost of production is lower there. "While we were moving the drilling rigs, we were following the price of oil down," McAdams remarks.
TII also serves the renewable energy industry. A company TII founded, American Wind Transport Group LLC, specializes in transporting components such as the blades of wind turbines. Spun off in 2012 from American Transport, it is now a direct subsidiary of TII. McAdams asserts that American Wind Transport Group LLC has one of the largest fleets of blade, schnable and specialized trailers used to transport the various tower components in the industry. "This division has nearly doubled its revenue in the past two years, and its prospects look bright," he says.
The company uses GPS so it can track these components, which must be delivered in the order of erection. "A lot of this takes coordination," McAdams emphasizes. "They don't want to take a blade and lay it on the ground while they're waiting for the base."
Hauling long loads is a specialty of TII's companies. They transport utility poles cut from Southern pine in the Southeast that normally extend up to 80 feet in height. The company also transports Douglas fir transmission poles up to 120 feet in length from the Pacific Northwest. "Sometimes, we're running 80-foot poles into the Northwest and 120-foot poles into the Southeast." He estimates that TII is No. 3 in the United States in transport of wind energy components and electrical poles.
The balance of the products TII ships in 49 United States and Canada is machinery, pipe, industrial goods, building products, cranes and drilling equipment – "the entire list of commodities that can be moved on a flatbed, a drop-deck or any specialized kind of equipment," McAdams says. "No more than 11 percent of our business comes from any one agent or end customer. One of our guiding principles is not putting all our eggs into one basket.
Owner/Operators Only
TII's companies use only owner/operators as drivers. "The vast majority of our business is with owner/operators or small fleet owners," McAdams emphasizes. Those owner/operators are independent operators or the drivers may be employed by a fleet owner."
The owner/operators might use their own trailers or TII's. "In the wind business, some of those trailers can run in excess of $350,000, a price that is not something an owner/operator could afford to buy. McAdams notes. "We provide the trailers for those kinds of moves." TII's Fleet Solutions owns all of TII's trailers, which McAdams estimates number approximately 300. TII does no drop-and-hook with its trailers.
Because some of TII's trailers are designed only to carry specialized equipment, such as wind turbine components, they may not have as many miles on them as a more conventional trailer. "Our specialized trailers may only move 20,000 miles a year vs. 100,000 miles for a flatbed," McAdams estimates.
Trailers can last from 10 to 20 years depending on their usage before they need to be replaced. "We would prefer to buy something three to five years old, but more often than not the price advantage isn't there," McAdams maintains. "For the difference in wear-and-tear and the price of new, you may as well buy new." TII has a network of third-party garages that perform maintenance as needed on its trailers.
The advantage for TII of exclusively using owner/operators is flexibility. "As capacity expands and contracts, we can react rather quickly," McAdams points out. Another advantage is that owner/operators are highly motivated. "The owner/operator receives a percentage of the gross revenue," McAdams explains. "The harder he is willing to work, the more money he can make."
"In some cases, our agents have the direct relationship with the customer," he continues. "So the agent earns a commission for all the freight that they generate. Then we provide the public liability/property and cargo insurance. We will advance the owner/operator on the load, so he has money to pay for fuel and running expenses. The day the operator turns the paperwork in, we settle with him. We are his bank. We are also responsible for credit and collection, settlements to the agents, and carriers to whom we broker freight, in addition to all administrative functions including safety and compliance."
This places TII between the owner/operator and the customer. "We have to get a high enough revenue on the load to get the owner/operator to accept it, and a low enough price so the shipper will give it to us," McAdams observes. "So in many respects, we're somewhat of an arbiter or a market-maker. Everybody to us is a customer – the company that gives us the freight, the owner/operator and the agent. We are in the customer service business, so our goal is to satisfy all our customers all the time."
McAdams stresses that a major competitive advantage of his company is its employees. "I think our biggest advantage is our people," he stresses. "A lot of our people have been with us for over 30 years, and they have proved themselves year-in and year-out."
As TII expands, McAdams intends to maintain and expand on the company's brand identification and diversification."
www.thetii.com
Projected 2016 revenue: $220 million
Headquarters: Pittsburgh
Employees: 100
Specialty: Full-truckload transportation solutions