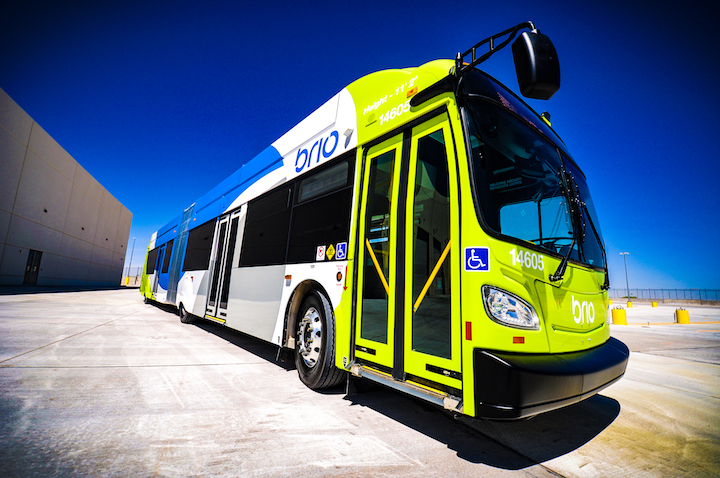 Sun Metro makes major improvements to El Paso's public transportation system.
By Kat Zeman, Senior Editor at Knighthouse Publishing
A booming economy is sprouting a number of improvements in El Paso, the largest metro area on the border of Texas and Mexico. Contributing to this burgeoning economic growth is the Sun Metro Mass Transit Department, which has been responsible for roughly $450 million in major enhancements to the Texan city's public transportation system in the past 10 years.
Sun Metro, El Paso's public transportation provider, has restored the city's streetcar service, opened a new transit center and is making significant additions to its citywide Brio rapid transit system.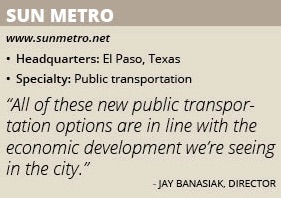 "All of these new public transportation options are in line with the economic development we're seeing in the city," says Jay Banasiak, Sun Metro's director. "We're fitting in nicely with the city's economic development package."
Among the new transportation options is the new and much-awaited El Paso Streetcar service, which launched in November last year. The two-year project involved restoring the city's fleet of on-rail streetcars that had served the city's previous system from the 1950s until its closure in 1974.
"The streetcar is another way to spur downtown development even more," Banasiak says. "People associate streetcars with economic development."
Featuring three different color schemes, the newly restored Presidents Conference Committee (PCC) Streetcars, operate along a 4.8-mile route through the heart of El Paso that runs in two loops through its downtown and uptown areas.
Both loops interconnect an international bridge, an array of businesses, restaurants, government buildings, convention center, ballpark, a university among many other prominent locations.
"Every business along that route is going to benefit from having a streetcar service," Banasiak says. "I think that's why the people were interested in reviving it. They knew it would help their businesses."
On average, Sun Metro operates four streetcars per day. Each has roughly 40 seats and standing room for about 20 more people.
"We have many historical buffs that like to ride them," Banasiak adds. "The route is a little different than it was in the 1950s but it still hits all the core areas of town."
A Community Catalyst
Another major enhancement to Sun Metro's public transportation system is the new Arves E. Jones Transit Center at Northgate, considered to be a "catalyst" by the City of El Paso for the transit-oriented Metro 31 smart growth development, which is adjacent to it.
Overall, 30 acres are being developed at the former location of Northpark Mall at the corner of Dyer Street and Diana Drive. The new $15.5 million transit center, which opened in May 2018, was built on six acres located at the original site of the old Northgate Mall.
"It was a rundown mall," Banasiak says. "We had a small transit center there but it was outdated."
The new transit center offers commuters free Wi-Fi, electronic arrival and departure announcements, a concessionaire and civic meeting area and exterior seating with shade canopies and bike racks. The plaza features aesthetic "Torre de Flores" landscaping, pedestrian lighting and an iconic art.
The center occupies roughly 12,000 square feet and about 79 percent of the project was financed through federal funding. Sun Metro received a Federal Tiger Transit Oriented Development Grant.
The Northgate Transit Center serves as an anchor to a public-private partnership stimulating an additional 24 acres of Metro 31's transit-oriented development. The mixed-use development will feature a mixture of new shopping options, green space and residential apartments.
The Brio
In addition to the streetcar service and new transit center, Sun Metro will make additions to its Brio Rapid Transit System, which consists of four corridors.
Mesa Brio was Sun Metro's first rapid transit route, which opened in October 2014. It starts at the Downtown Transit Center and ends at the Westside Transit Center, running 8.6 miles with 20 stations.
Construction of the Sun Metro Brio Rapid Transit System continues to move forward along the Alameda and Dyer corridors. It is expected to be operational early this year.
Improvements to the Alameda Corridor, which starts at the Downtown Transfer Center and ends at the Mission Valley Transfer Center, are coming this year. The corridor, which occupies roughly 14.5 miles, will feature 14 buses and 29 stations.
The Dyer Corridor is also being revived this year. The 11.4-mile corridor, which starts at the Downtown Transfer Center and ends at the Northgate Transfer Center, will feature 10 buses and 20 stations.
Finally, the Montana Corridor, which runs 20.5 miles, will open in 2020. It begins at the Downtown Transfer Center and ends at the future Far East Side Transfer Center. It will operate 14 buses and 25 stations.
Tech Savvy
Aside from making enhancements to its public transportation system, Sun Metro is responding to the growing use of smartphones by providing options to transportation services through new technologies.
It introduced a new Sun Metro Go App that empowers passengers by connecting them with a digital interface from any location. The app gives passengers various options to select from such as trip planner, real-time bus arrivals and up-to-date alerts. It also features route schedules, a route finder and identifies nearby bus stops based on the user's location.
In addition, passengers have the ability to view bus arrival details instantly from any bus stop with the use of their smartphones. The new Sun Metro Now platform consist of marquees located at each bus stop throughout the city.
Passengers have the option to scan a QR code or text the bus stop number to receive bus arrival details in real-time. The marquees are located at more than 2,800 bus stop poles and shelters.
Consisting of buses and paratransit service, Sun Metro is a department of the City of El Paso, and the agency also provides contracted services to El Paso County and Sunland Park, New Mexico.