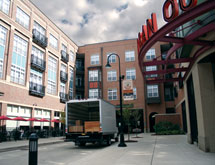 "Rugged" and "clean" are two words that go together just as much as "durable" and "lightweight," but they are adjectives that Supreme Industries Inc. ascribes to its truck bodies every day. The national manufacturer with facilities in California, Texas, Indiana, Pennsylvania and Georgia has been in business since 1974, designing and building truck bodies for almost every truck-needing industry.
Movers, service providers such as plumbers and landscapers, food manufacturers, deliverers, construction workers and more have all used Supreme truck bodies as their means to haul and deliver equipment and supplies. Although Supreme Industries' clients vary, Interim President and CFO Matt Long says there is one specification that crosses all industries.
"We have product lines that we customize to what the customer needs are," Long explains. "But the current trend is to make strong, lighter vehicles so that the person using it gets better gas mileage. When they think about fuel, they're evaluating the merits of gas, diesel or hybrids.
"When they come to us, it's, 'Do we go with fiberglass reinforced plywood, steel or some combination of the two?'" Long adds. "So it really has to do with what the customer is looking for and there are a number of things we have to look at. But the over all trend for everyone is to increase fuel mileage."
Best of Both Worlds
Supreme's clients want the savings in fuel without forsaking anything in quality, and the company has developed solutions to give the clients just that.
The company often uses fiberglass-reinforced plywood, which provides a rugged and weather-resistant body that is smooth and lightweight. Aerodynamic features such as wind fairings on the top-front of the bodies or skirtings on the bottom also increase fuel mileage. Supreme has replaced lighted ceilings with translucent ceilings to reduce the bodies' weight and improve in-body lighting, as well.
Long notes that Supreme is popular for its line of Spartan truck bodies used by electricians, utility companies, contractors and municipality workers. The line can be customized to fit Chevy/GMC, Ford, Isuzu and Mitsubishi chassis.
Another well-known line is its refrigerated truck bodies, which are used mainly in the food industry. Manufactured for thermal efficiency, Supreme's Kold King refrigerated truck body come in a variety of sizes and can be adjusted from mid-temperature to deep-frozen. The bodies can be fashioned from aluminum or fiberglass and include durable features such as 12-gauge galvannealed steel perimeter understructure; 3-inch, heavy duty I-beam crossmembers; and welded gussets. The Kold King is used for extreme conditions, while the company's Insulated VX van is the best option for those who need to take the edge off outside temperatures.
A Recognized Leader
In addition to these lines, Supreme also is a recognized industry leader in cutaway truck bodies. Supreme is Ford's No. 1 volume pool account for cutaway truck bodies, and for the past 10 years Supreme has been Ford's No. 1 delivery van account.
GM also recognizes the company as a valuable partner. Supreme was awarded 2011 Best Overall Volume Recognition for the GM Cutaway Van Chassis, and its Moreno Valley, Calif., facility was awarded the 2011 Sales Improvement Award. Supreme achieved the highest percentage growth rate for GM pool chassis sales.
"For over two decades we have utilized GM chassis and look forward to continuing to work with GM and produce high quality products," states Mike Oium, vice president of operations. "The partnership between GM and Supreme has become a benchmark in the industry."
Just like Ford and GM, Supreme has a national presence, which Long says gives the company a leg up on regional competition especially when dealing with national companies. Each Supreme facility has the same the quality and testing procedures in place to make sure every truck body performs to Supreme's standard.
"We have a strong engineering department behind our company that ensures each body we produce fits all the needs of our customers," Long says.