Tennessee Commercial Warehouse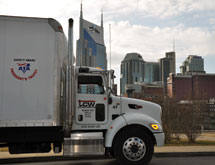 Tennessee Commercial Warehouse (TCW) draws on its diversified assets to provide services to its customers in the most cost-effective way possible.
"One thing that's unusual about our company is we offer distribution, warehousing, truckload and intermodal services, but not in a silo," says Scott George, CEO of the Nashville, Tenn.-based company. "You don't normally see companies combine all these modes together, which we do. We believe there's efficiencies that can be gained from doing that."
Grouping its various modes of transportation together helps the company achieve an 83 percent load rate. "Intermodal is prone to a lot of empty miles, typically 50 percent, but by combining that with our truckload and LTL services we bring that down," he adds.
TCW owns and runs a fleet of 250 trucks and operates 10 terminals across the southeast in addition to its central 100,000-square-foot warehouse in Nashville.
George's grandfather, Howard George, established the company in 1948 as a small warehousing business serving the tobacco industry, later branching out to distribution and later intermodal services. TCW still serves the tobacco industry as well as the lumber, chemical, paper and automotive markets.
While the company has grown considerably since its founding, it retains a friendly, family oriented atmosphere and remains privately owned by its founder's family.
"We're grown a lot but strive to maintain a small company feel that's agile and personal," Scott George says. "We see our drivers every single day, know them very well and are involved in their lives. We believe there's more to a satisfying career than just pay – there has to be respect and caring for your employees."
Returns on Investment
Internal investment is a high priority for the company. TCW has in recent years made several additions to its technology and truck fleet that help it not only add efficiency to its operations, but also allow it to stay ahead of a rapidly changing market.
"This is a very dynamic industry – if you're seeking predictability, logistics is not for you," George says. "I think we're on the cutting edge."
One example of the company's early adaptation of technology is its embrace of electronic logs before they became common in the industry. The move was made partially after George and other management observed the amount of time drivers spent filling out paper logs, he says. Most importantly, TCW wanted to insure it was compliant.
For several years, TCW has used safety systems and GPS locators in its trucks. The safety systems, which prevent drivers from exceeding 65 mph, have greatly contributed to the company's positive safety record. In 2010 and 2011, the American Truck Association awarded TCW for its safety efforts, George says.
Another investment paying dividends in the long run for the company is its purchase of bulk fuel at its terminals. TCW purchases fuel and diesel exhaust fluid (DEF) from Mansfield Oil and Pilot Flying J. The company's entire fleet is equipped with selective catalytic reduction technology that runs on Yara Air1 DEF supplied by Mansfield.
"More than 90 percent of our fueling is done at our own terminals," George says. "The initial investment may be steep, but the return on investment is typically under two years."
TCW's newest investment is in intermodal chassis used for international shipments. The company is leading a group of intermodal companies with the purpose of purchasing the chassis from marine carriers in North America. "Our goal is to improve the quality of intermodal shipping and drive efficiency through the use of this nationwide pool to lower the cost," George adds.
The company's future plans include expanding its value to its customers. "I think everyone's being asked to do more with less these days," George says. "We have always been and always will be asset-based, but we have been taking on more of a 3PL role for many of our customers to help them gain efficiencies in their own organizations, and I think we will see more of that."