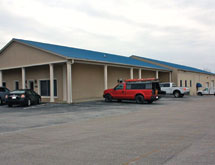 As founder and president of her own company, Time Logistics Inc. (TLI), Laura Shorette understands how crucial it is for business owners to meet shipping deadlines, so she has made it the cornerstone of her freight management company to satisfy her clients' needs for punctuality, every time, all the time. "We do more than A to B," Shorette explains. "We do everything in between to satisfy our clients because we understand that we are dealing with their livelihood."
Located in Columbia, Tenn., TLI handles the consolidation and distribution of insert materials and direct mail promotions for a number of national accounts. TLI has grown and evolved over the years since Shorette founded the company in 2001, along with her first employee and now Vice President of Operations, Scott Coble. The freight management and logistics company has three distinct divisions: retail, time-sensitive direct mail, and the newest member of the company's business group, general commodities.
Service Lines
In the retail division, TLI has clients such as Aldi and Rooms to Go. The company recently faced the challenge of keeping up with the "Black Friday" deadlines established by one of the biggest retailers in the country, Walmart, for which it does national distribution. "They did an event on Thursday and another on Friday, so we had to distribute over 44 million copies. It is definitely our busiest time of the year."
When there were printing challenges, TLI employees worked against the clock to make the deadline, packing one week's worth of work into two days. "We are here 24/7, even on holidays if there are issues," Shorette says. "We can do last-minute shipping, provide expediting, anything to make sure the product gets where it needs to go, on time."
TLI is planning to expand its time-sensitive direct mail side of the business within the next year and establish a consolidation center, consolidating mail with non-dated materials such as advertising for insurance companies. "Our biggest client base is the time-dated mail," Shorette explains. "We are expanding so we can bring things through Tennessee and cut cost for the client by sending time-sensitive and non-time-dated materials in the same truck."
The third division of the company, general commodities, was also founded on the clients' requests for a specific type of service. "Three years ago I had all these clients that wanted me to move printers and other things that did not fit our classification of freight, so we opened a division we call general commodities," Shorette says. "Now we haul anything from tires to copy machines."
People and Technology
Shorette notes that what has allowed her to grow and prosper is the company's customer service. "The best compliment my company can get is a referral. We have built a large part of our business from word-of-mouth referrals," she says.
To ensure a high level of service, Shorette makes sure her employees are involved one on one with the client. "We are proactive, not reactive. We provide solutions for our clients," she says. "Our clients expect us to be their eyes at the printer, so we do all the print run-outs, we tell the printer what needs to print first according to logistics and we send reports to the client. We try to provide a seamless operation for them. The customer can completely rely on us."
To maximize productivity, Shorette has taken advantage of new technologies and has implemented personalized solutions. "Because what we do is so unique, we hired programmers to customize our system to meet the clients' needs," she says. "When we started, the client would fax over the orders and we would manually enter them. Now they can go into our website and enter anything they want themselves; it cuts down on data entry error."
This also helps TLI manage its carriers. "We can log into our carrier base, automatically track our shipments and see what they are doing," Shorette says.
New Expansion
On Jan. 4, TLI moved its current headquarters to a new 15,000-square-foot building located on more than 6 acres of land in Columbia. Shorette expects the larger office space will enable her company to grow and accommodate its expanding workforce.
"My goal next year is to grow the general commodities side of the business," she explains. "I can see having to hire at least 10 more people."
Shorette's husband, Allen, and stepsons Mike and Ken also play active roles in the company's growth. She expects future generations of her family to keep growing the business she founded.