The Crucial Link To Growth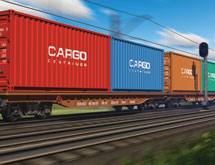 Exports will drive U.S. port growth, and rail transportation is the critical link to support that growth. In fact, the President's U.S. Export Initiative cites reliance on continued improvement of rail intermodal market share and intermodal connections as key to its success. Improving intermodal shipping is crucial for export growth and for the United States to compete in the global economy.
Florida East Coast Railway (FEC) has answered that call with its current infrastructure improvements, including on-dock intermodal rail at Port Miami for ease of ship-to-rail container transport.
Creating Balanced Trade
Since Miami is at the end of the U.S. domestic supply chain, it can serve as a transshipment hub when Asian trade is dropped at Port Miami and then quickly trans-loaded. Port Miami is actively working with the largest exporters to China, to re-fill Asia-bound containers with many different kinds of products. Some include: soybeans, grain, scrap metal, paper, resins, frozen poultry, U.S.-manufactured automobiles, raw-baled cotton, and alternative fuels.
In order to provide stimulus to fill out ships from Port Miami back to Asia, westbound export rates will most likely be very aggressive.
Also, a weak U.S. dollar is evident for probably the next decade, making an export resurge for the U.S. inevitable, as well as balanced trade with Asia, Latin America and other markets where there are emerging middle classes.
Rise in U.S. Agriculture Exports
The increase in the Chinese middle class, the rise in Chinese currency, and the changing Chinese diet – shifting to animal proteins as disposable income increases – represent a substantial opportunity for the U.S. to export more filled containers to China. Many grain shippers see an opportunity in those empty containers back to China. In fact, a new U.S. Export Grain Route is a near-future possibility.
China's bursting economy is requiring more and more raw materials and staple foods to fuel the growth. This new paradigm allows for a source of constant back-haul containerized freight to Asia. Presently, Eastern Class 1 railroads cannot participate in this scenario. Neither can FEC, Port Miami or the Panama Canal. But, the logistics of intermodal shipping with the expanded Panama Canal can create a new vertical Asian trade route for the United States.
One way to achieve this would be to shift the grain route to a more north-to-south export Container On Flat Car (COFC ) routing paradigm, then load the filled containers onto Super-post Panamax vessels through the expanded Panama Canal to Asia.
Import containers moving north from Miami will benefit from attractive back-haul rates, and those same import containers, once made empty in U.S. markets beyond Jacksonville, Florida, can be reloaded with U.S. exports.
New Route for the Panama Canal
The economies of scale of the 9,000- 13,000 TEU vessels (more container loads spread over the vessel), coupled with detailed pre-planning of export grain loads, will result in a more efficient ocean model.
Also, the Panama Canal gains a new containerized grain route that they do not presently have, increasing westbound trade revenue for steamships and the Panama Canal.
The Panama Canal is an important gateway for U.S. grain and soybean exports, connecting vessels loaded in the U.S. Gulf and at East Coast ports for destinations in Central America and throughout Asia. Shipping companies in Asia will be able to use the expanded canal to bypass the West Coast and sail directly to East Coast ports.
Since the vast majority of all goods are moved on waterways, the canal had to change in order to compete in global trade. Ships that are too large for the Panama Canal use the Suez Canal, or the Straits of Malacca (between Malaysia and Indonesia), or the ports of Los Angeles where cargo is routed on the "land bridge" of railways and highways from West to East Coast.
It's All About Logistics
Currently, grain is transported by Union Pacific and BNSF railroads in 40-foot international containers to West Coast U.S. ports. Grain is very heavy and therefore cannot be double-stacked on COFC rail, due to the maximum loading capacity restrictions on the intermodal flatcars. This affects flatcar capacity, since the majority of what they can load on top of grain containers is empty 53-foot domestic containers, as well as empty international containers.
Florida East Coast Railway, along with Norfolk Southern (NS) and CSX railroads, is providing 53-foot domestic container service, typically with lighter weight retail freight, to the second largest Florida consumer population. NS, CSX, and FEC can design collective services to load the 53-foot domestic containers on top of the heavier 40-foot international grain COFC exports to Miami. By doing so, maximum intermodal car utilization is achieved.
The NS, CSX, FEC domestic rail containers can be grounded at FEC's intermodal rail facility and new South Florida Logistics Center for local distribution. Then, the export 40-foot COFC grain loaded on the bottom tier of the intermodal cars can be weighed and loaded directly onto vessels at Port Miami Pier. The process can be repeated with reverse routings when the empty intermodal flatcars are loaded with import international COFC loads.
A New Dawn for Florida and Asia
With the Panama Canal expansion slated for completion in 2015, and the shifting trade routes expected as a result, FEC and Port Miami have engaged in an aggressive joint marketing strategy, focused not only on steamship line companies, but also manufacturers, exporters, importers, 3PLs, supply chain, freight-forwarders, and custom house broker companies for the greatest market penetration.
While the Panama Canal is expanding with a third lock, Port Miami is deepening its harbor to -50 feet. Fully laden mega-ships (8,500-13,000 TEUs), commonly known as Super post-Panamax ships, will for the first time gain direct access to the southeast U.S. Port Miami will be the only port south of Norfolk, Virginia, able to accept these ships fully laden.
Along with the "Deep Dredge," Port Miami is undertaking a $2 billion public and private investment in infrastructure improvements, including a port tunnel –serving as a dedicated roadway connector linking port facilities with Florida's interstate system – and on-dock intermodal rail for ease of ship-to-rail container transport.
Several large Pacific trade carriers are courting Miami for a long-term access agreement for Port Miami's largest cargo terminal. Miami has been approached to work with Chinese business interests as a principal access point for Asian imports into the southeast U.S. The proposal incorporates a massive mid-state rail-served logistics park for distribution of Chinese-made products, as well as related light manufacturing activities.
Also under consideration is a dedicated on-port office tower for Chinese multi-national firms ('China 1') located in the midst of a downtown Miami World Trade Center complex.
Given the margin pressures that importers are facing in today's volatile economic environment, Port Miami and Florida East Coast Railway will help shippers to significantly reduce their transportation expenses, inventory investment and carbon emissions.
The railway can deliver cargo to 70 percent of the U.S. population with a speed-to-market rate that will make Port Miami an obvious choice for cargo delivery, as well as to be the last outbound port for heavy exports returning to Asia.
James Hertwig is president and CEO of Florida East Coast Railway, a 351-mile freight rail system located along the east coast of Florida and the exclusive rail provider for Port Miami, Port Everglades and Port Palm Beach. FEC connects to the national railway system in Jacksonville, Fla., to move cargo originating or terminating there. Based in Jacksonville, FEC provides end-to-end intermodal solutions to customers.