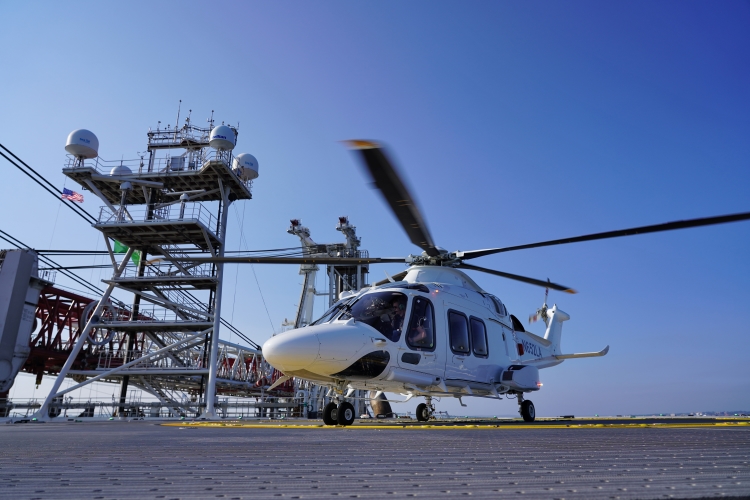 The US receives its first ever offshore wind helicopters  
Leading aviation company, LCI, has delivered the first helicopters dedicated to offshore wind operations in the US
LCI has delivered two AW169 helicopters to support the offshore wind sector in Quonset, Rhode Island, and Martha's Vineyard, Massachusetts. Leased under long-term arrangements, the helicopters will support the production of sustainable energy in the US.
Operated by HeliService USA, the helicopters will support Ørsted and General Electric contracts. Equipped with hoisting systems to airlift technicians to and from turbines, they enable safe, efficient crew changes and maintenance. 
LCI maintains a growing fleet of modern, sustainable aviation assets, which are leased to major operators around the world. Many are deployed on mission-critical and socially responsible sectors, such as emergency medical services, search and rescue, and offshore wind energy. In October 2022, LCI signed the Aircraft Leasing Ireland's Sustainability Charter, committing to Net Zero by 2050. 
The state-of-the-art Leonardo AW169 helicopters are worth over $20 million. Designed to perform a wide range of mission-critical operations, they can operate across a variety of sea states. 
Jaspal Jandu, LCI's CEO, commented: "Modern helicopters emit up to five times less CO2 per passenger compared with offshore crew transfer vessels. They are mission-critical, socially responsible, and will underpin the growth of this exciting new energy future in the US."
The White House has committed to a new clean energy industry. Its goal is to deploy 30 gigawatts (GW) of offshore wind energy by 2030, and 110GW by 2050. This will trigger more than $12 billion per year in capital investment and create 77,000 direct and indirect jobs.
Michael Tosi, Managing Director of HeliService USA, said: "Helicopters are vital to efficient offshore wind operations. Working in partnership with LCI, we are excited to be bringing proven procedures and a strong safety culture to this new clean energy industry."