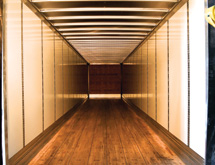 Expanding capacity and inventory and the quickly escalating cost of real estate combines to make finding storage for materials and products a constant challenge for growing businesses. Toronto Trailers is dedicated to easing that process for its clients.
The company focuses on mobile storage solutions utilizing dry van trailers and containers. Although the core business of Toronto Trailers is commercial storage, the household moving and storage solution business is a big part of what the company does. While the cargo control equipment supply division is the newest facet of Toronto Trailers, it has become the fastest growing supplier of ratchet straps, load bars, moving blankets and other logistics equipment.
Toronto Trailers is a full-service mobile storage and freight transport company. It provides short- and long-term rentals in Ontario of trailers or containers that are best suited for commercial and household storage purposes. The company provides 30-foot to 53-foot mobile dry van storage trailers and 20-foot and 40-foot ground level storage containers.
"Many construction sites use containers because of their ground level access," owner Barry Nisan points out. Others use dry vans for storage because they are at the level of the loading docks at which they are stationed.
Toronto Trailers offers a wide selection of storage containers from which to choose. All are available for rent or sale and feature ground-level or dock-level access. They are all-steel, feature high-security designs and are guaranteed to be wind- and water-tight.
The company's containers can be delivered to a customer's home, driveway, place of business, construction site or even stored in the company's secured yard in Concord, Ontario. The containers are designed for a multitude of applications, including business inventory storage, home renovations, seasonal storage, household moves, construction or job site storage and any other type of storage.
"Our storage trailer rental services in Toronto are very flexible," Nisan says. "We give all our customers the option to rent our storage trailers for a period as short or as long as required with no minimums or maximums."
Toronto Trailers also offers household moving and storage. The company will drop off a trailer or container in front of a customer's house. After the customer or Toronto Trailers' professional crew has loaded it up, Toronto Trailers takes it away for secure storage and delivers it to the customer's new home whenever they desire. A company crew also can unload the trailer, if the customer desires.