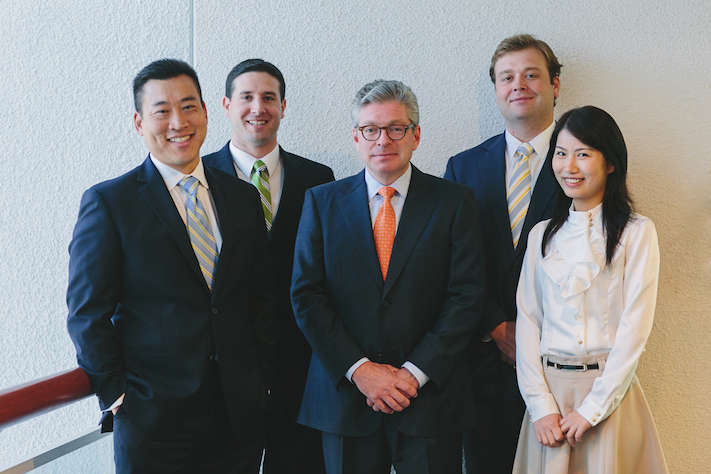 TPS Logistics has grown along with its clients by maintaining strong relationships with them.
By Bianca Herron
Shortly after graduating from Michigan State University with his Bachelor's degree in Material & Logistics Management, Brandon Stallard started TPS Logistics with his father, Cecil Stallard, in 1993. Though they did not have much capital, it was Stallard's father's relationships and reputation in the industry that gave them the push they needed.
Nearly 25 years later, the full-service logistics management company oversees $1 billion in transportation for other enterprises, including clients in the health and beauty, heavy industrial, energy, automotive and manufacturing sectors. "We had really humble beginnings," CEO Brandon Stallard says. "At that time, this type of company had not been developed before, so there was no road map and we just put one foot in front of the other."
TPS Logistics once had offices all around the world, but found that its full-platform holistic approach needed to be completely transparent from the shipping dock to the boardroom. "We have boots on the ground throughout Mexico, Canada and six offices in the United States. This allows us a local presence to ensure we can implement the strategic plan that is determined at the executive level," Stallard explains.
Forging Connections
TPS Logistics prides itself on retaining clients. In fact, some of them have been with the Troy, Mich.-based company for more than 20 years.
"We have had little to no turnover," Stallard says. "Interestingly enough, we have no salespeople either. One factor of that is because we're business-minded first and happen to be subject matter experts in logistics management. Many folks are running transportation management companies, but what sets us apart is the fact that we ask our clients to help us understand philosophically how they run their business and what their priorities are."
In this way, Stallard explains, TPS Logistics tailors a plan customized to the characteristics of a client's business, as opposed to dictating how to manage their business. "Ultimately, they're helping us help them," he says. "Every client is completely customized because we're not there to tell them how to run their business, we just want to understand how they run their business to better serve them."
In addition, TPS Logistics has maintained those strong relationships with growing companies and has simply grown right along with them. "People bring us with them, those we've worked with in the past and [through] referral and so on," Stallard says. "Whether they move positions, companies or have acquisitions, they always call on us because we do what we say we are going to do. We hold ourselves completely accountable and are effectively an employee for our clients. They see us as one because we blend in and are not just a vendor or provider of logistics."
Stallard noted that the company's clients expect them to work as hard, if not harder, than they do. "They also want us to stay current on industry trends and to remain vigilant. It's all about relentless improvement and never falling asleep at the wheel," he says. "Most of all, they expect accurate, real-time data and the best rates, service and key performance metrics."
Improved Tech
Technology has played a critical role in TPS Logistics' operations, helping it to work faster, smarter and be more cost-effective. "We're always under cost pressure from our clients," Stallard explains. "So they demand – and rightfully so – that we're saving them money. That means reduction in head count and much higher visibility of everything, including finances, cost assignment and knowing where their shipment is at all times. That's why we've invested in a new mobile tracking device called Badger."
The company has also bought and developed software companies in an effort to give it the best-in-class TMS (transportation management system) that can be easily customized. "In addition, because we hold our carrier relationships near and dear, we are heavily investing in a new platform to offer a turnkey solution to deploy our services to million-dollar and less transportation shippers, as we believe they are underserved," Stallard notes. "So we're trying to put together what we're calling a 'logistics management light' platform that is affordable and can be deployed effectively both cost and operation wise."
Seeing Growth
Overall, it is the people that make TPS Logistics successful. However, what makes Stallard most proud is seeing his employees' growth and hard-working nature.
"They are the smartest, with a level of integrity like I've never seen," he says. "I'll drive by the office and see the parking lot is half full on the weekend. When I go inside to find out what's going on, they say they didn't like a project so they decided to come in. So they're hyper-motivated with an unprecedented level of energy and can-do attitude. It makes me proud because they're constantly evolving."
"I sit in prospective client meetings now, and I listen to what they are telling these folks we can do," Stallard added. "I have to lean over in amazement and ask if we can really do those things, because it's so awesome. I point that out because there's a relentless evolution in the up-and-coming generations, who in turn are really reinventing our company everyday."
HQ: Troy, Mich.
Revenue: $1 billion
Employees: 130
Specialty: Full-service logistics management