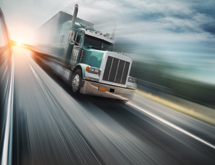 Ever since Howard LeFevre laid the foundations of what would become Truck One in 1947, the organization has been building a reputation for delivering loads as promised. LeFevre passed away in 2008, but his legacy lives on through the assets, strength and quality of service that is a part of Truck One today.
"We have gone through a great deal of evolution," President and CEO Jay Winegardner says. "Howard was the driving force that helped the company become what it is today."
The company's roots can be traced to LeFevre's founding of B&L Motor Freight in 1947. Successful growth led B&L to become the leading trucking company in central Ohio from the 1940s until the 1970s. In the early 1980s, the trucking industry was deregulated. B&L was phased out, and United Carriers Corp. and several affiliates formed as customer-focused transportation companies.
Eventually, United Carriers Corp. and its affiliated companies merged into Truck One as a single, high-service and customer-oriented organization. It has restructured over the years into its present format with four connected companies. Truck One and Fleet Service operate in all 48 of the continental United States.
The other companies are Midwest regional entities, which are Freight Service and Midway Truck & Trailer. Freight Service is focused on trailer leasing, while Midway Truck & Trailer's operations are centered on tractor-trailer repair. Altogether, the four companies have annual revenue of $33.1 million and 130 employees.
"We can offer some kind of service to just about any company out there," Winegardner says. "We approach the market by offering everything from hauling freight and arranging for hauling to leasing trailers and heavy duty vehicle repair."
Strong Position
Today, Truck One is a trucking company that maintains regional, 48-state and dedicated operations. It is headquartered in Newark, Ohio, and has additional locations in Pennsylvania, New Jersey, New York, Ohio, Texas and Virginia. The company's total fleet size consists of 70 company trucks, 110 independent contractor partners and more than 900 trailers which include vans, flats and tankers.
"The majority of our locations are in conjunction with dedicated operations that are on site with customers," Winegardner says.
Truck One feels it is well positioned to understand the present and future requirements and expectations of its customers. The company's goal is to provide service that exceeds those expectations.
One area where Truck One has already demonstrated an ability to meet or exceed expectations is with its on-time delivery record. Truck One has a 98 percent on-time score. This has helped fuel the company's growth with locations across the Eastern United States and built a customer base that extends across the country,
"We've always been a company that is focused on a high level of service," Winegardner says. "We do what we say we will, and we work hard to be an extension of the customer's operations."
Not only has this approach helped the company continue to grow its business for nearly 67 years, but it also has established many lasting ties with its clients. Owens Corning has been a customer of Truck One for decades. Truck One also counts companies like International Paper and Big Lots as valued customers.
"With our dedicated trucking operations, most of those customers are box companies," Winegardner says. "Most of the freight we move is dry van freight, full truckload. But we do have flatbed services, as well as a small group of tankers. Whatever their needs, we work to create long-term partnerships with customers that have benefits for both sides."
Driven to Change
Truck One understands that its drivers are the key to its success. The company has its own team of drivers, and it has many independent contractors that work with the company. Attracting, recruiting, retaining and training drivers can be a challenge, and the company is not currently hiring drivers without experience. To combat the shortage of experienced drivers, the company offers competitive pay and benefit packages as one way to ensure it has the necessary capacity.
In addition, the company is working in its backyard to encourage education for prospective drivers. Winegardner says there is a local community college and adult education center that Truck One is trying to get involved in with driver education. Beyond that, Truck One is looking at ways to bring in drivers who were driving trucks in the military but may not have civilian over-the-road experience.
In an ever-changing industry, Truck One knows that it must always keep up with new regulations and technology to remain relevant. The company spends a lot of time ensuring that all of its people comply with and understand the new rules of the road, and it is constantly exploring how to bring in new IT solutions so it can provide better information to customers and help them reduce their transportation expenses.
Truck One says it is looking at everything from electronic logs and trailer tracking systems to natural gas trucks and automatic transmissions to figure out where it needs to be in the future. It is also looking at ways to ensure it is maximizing the effectiveness of its TMW Systems dispatch software.
In the end, Truck One is striving to live up to its mission to be a reliable team member of its customers' operations. Its motto is to deliver each shipment on time, every time, with safety and courtesy. Having built a team that is committed to helping customers reduce their transportation costs, Truck One is prepared to change with the times.
"We're enthusiastic about working together to be profitable and solve problems for our customers," Winegardner says.