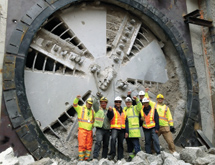 Maintaining and expanding the transportation infrastructure of Canada's largest cities requires a great deal of planning, engineering and construction management expertise. URS Canada Inc.'s expert staff and more than 60 years of experience makes it more than up to the challenge of ensuring that the highways and rail lines of Toronto, Calgary, Ottawa and Vancouver run smoothly.
The Richmond Hill, Ontario-headquartered company, founded in 1954 as Cole Sherman Consulting Engineers and Planners, has since 1997 been a part of URS Corp., a leading provider of engineering, construction and technical services to public- and private-sector clients worldwide. "We are multi-disciplined, so we can address all matters related to any given project," Vice President Scott Thorburn says.
The company's transportation market strengths include strategic and route planning as well as construction support services. "Our broad experience in all stages of a project result in strong planning and keeping jobs on time and on budget during construction," he adds.
URS's office in Richmond Hill serves the Toronto and surrounding area, and the company also has offices in Calgary, Ottawa and Vancouver. The Ottawa office, opened in 2013, reflects the company's efforts to diversify its geographic base, Thorburn says.
In addition to its work in the transportation sector, URS works in the municipal, power, oil and gas, marine and coastal and other markets.
High Expectations
URS works with a number of transportation-related agencies including public sector and governmental clients such as the Toronto Transit Commission, the Ontario Ministry of Transportation and Transport Canada as well as private Class 1 railroads such as Canadian National and Canadian Pacific.
In recent years, the company has widened its client base in response to the growth of the public-private partnership (P3) ownership model throughout Canada. "Most large-scale projects worth more than $50 million are favoring the P3 model, which is different than what it was five years ago. This is having a profound impact as to who our clients are and how we are participating in these projects," Thorburn says. "We are repositioning ourselves to continue providing service directly to the owners of projects, but we are also working on becoming an active participant in the P3 delivery model working for concessionaires and contractors."
All of URS's clients have high expectations for quality. "Our clients are being challenged and are facing reduced resources whether in their labor force or funding, so they are demanding even greater ownership on our part when it comes to managing and driving projects," Thorburn says. "URS has a very formalized quality management system in place, and the following and adoption of that system is driven down to every and all employees; we make sure everybody is mindful of quality. A good-quality job results in repeat business."
Experience Applied
URS is applying its expertise to a number of projects in its four core markets. One of the company's largest current projects involves providing engineering and technical advisory services for the city of Ottawa's $2 billion Confederation Line. The 12.5-kilometer light rail transit line will run both above and underground and will include 13 stations.
URS served as a member of the team that provided proof of concept and design work to the city and also assisted it through the procurement process. The company is now providing contractual compliance services on the city's behalf regarding the project, which is slated for completion in 2018.
The Confederation Line is just one of two significant light rail projects URS is involved in. The company is also providing construction support services on the $2.6 million Toronto-York Spadina Subway Extension, an 8.2-kilometer extension of the Toronto Transit Commission's subway north into the Regional municipality of York, Thorburn says.
URS's road-related projects include support services for maintenance and rehabilitation projects on the country's busiest highways including Highway 401 through Toronto.
All of URS's clients benefit from the expertise of the company's staff. "We have a great group of people here who genuinely care about clients and are experts in the fields we serve and services we provide," Thorburn adds. "The desire to provide quality services to clients on a repeat basis is entrenched in our staff."