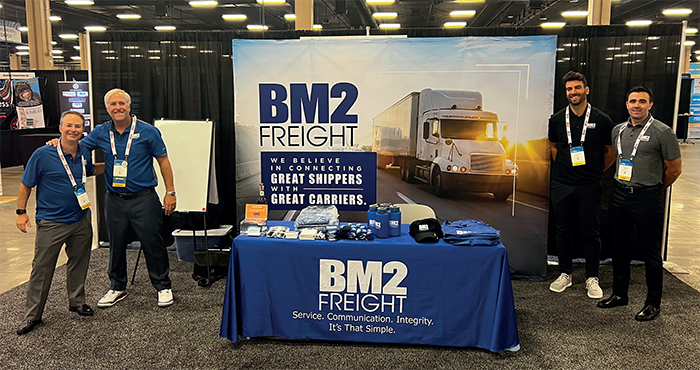 Two ways data and market trends are fuelling BM2 Freight's success
Driving success forward
BM2 Freight Services Inc (BM2 Freight) was founded in Covington, Kentucky. In the spring of 2008, three motivated salesmen, Kevin Ball, and brothers, Jeff and Matthew Mason, decided to go out on their own and build a freight brokerage business from the ground up. Their mission was to become the leading customer-oriented strategic broker in North America. "They decided to create a company that provides best in class service, treats its employees very well, and services customers to the highest level," shares Peter Katai, BM2 Freight's Vice President of Sales.
We learn from Peter about the ways in which BM2 Freight has made itself a pioneering freight business, and a one-stop shop in today's world of transportation. "Although we started in Kentucky, we now have two outside offices located in Chicago and Nashville, as well as a Canadian operation," he says. "We service the larger freight forwarders in our industry domestically, with food and beverage, retail, chemical, manufacturing, and packaging split into smaller verticals.
"Last year, we turned over about a 120-million-dollar revenue, with the Kentucky and the Chicago offices being particularly successful," Peter reveals. "Although the Nashville office is smaller and opened during the pandemic in 2020, it is a growing market with a lot of young talent. We believe it's going to be a great office in the future."
When it comes to the company's uniqueness, Peter highlights that BM2 Freight chooses to think outside the box. The business, which specializes in moving complex shipments, has been able to diversify into several sectors owing to its wide-ranging expertise. "We've worked into verticals, such as fresh and perishable food, which has enabled us to refine our temperature control operation," he notes. "Additionally, we have adapted to put tent tails on the back of the vehicles to make sure our drivers are able to monitor their environment. Despite this being a small percentage of our business, we have put in extra care. Our expedite business is really where we've become more specialized, and is about 20 percent of what we do in total. This has been a fantastic avenue for us, as we have seen our connections with clients lead to other opportunities in the industry."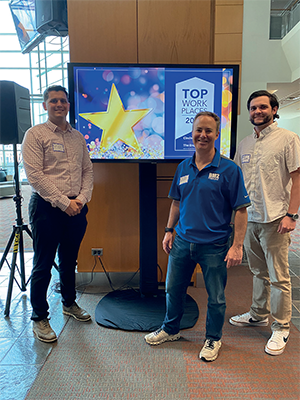 In addition to these industries, BM2 Freight offers a drop trailer service as well, which, according to Peter, is uncommon for a broker. "We do business with large food and beverage, automotive and retail companies where we provide them with trailer-dedicated runs. Our goal is to offer tailored solutions for our customers so that the shipment process is as easy as possible."
Peter then goes on to discuss recent projects that have brought the company great success. He highlights that this year, BM2 Freight has been working closely with three large beverage companies. Partnerships like these have served the company's growth excellently, and are challenging it to broaden its horizons. "For these two, we are dropping trailers at specific sites, which is one of the traits that separates us from the competition," he says. "We have also recently won a half-million-dollar contract from a large retailer that we will be executing over the next four weeks. The biggest challenge we've seen right now is that in an industry like this, sometimes experienced businesses have a difficult time operating because they are confident in their ways. However, for us, we are open to adapting, and we see the current state as a good market to learn. We are hiring more salespeople as well to keep the pipeline active, and to make sure that we have opportunities lined up for next year."
Peter is keen to share that moving forward, the company has a goal to achieve a turnover of more than 500 million within the next five years. To reach this, he says that the business will be growing organically. His strategy will be to buttress the company culture and ensure the team consists of the best in the industry.
"There's a massive market out there that we feel offers so much room for growth, and we want to continue to bring in talented people to help us take that on," he emphasizes. "We are establishing a mentor program to assist with this journey. What we're doing is looking more closely at the market so that we can move in the direction of where the trends are. We are paying attention to what's happening with the trucking sector for example, and how it is being influenced by the economy. In response, we then take that information and look into areas we can focus on. This then filters across the rest of our team according to the expertise and skills our leadership group can offer, and we then share that with the rest of the team. In my opinion, the food and beverage sector is one area of our business that will thrive, because of the return on investment it's set to provide."
Peter drives home his point about the importance of the company's people by closing our conversation on the ethos that continues to fuel the business. "Since the beginning of our work, we have been determined to improve our culture from within. That comes down to our four core values, which are: win the day, be professional, excellence only, and trust the process. I feel that at the end of the day, to ensure that these remain true, our leadership team, myself included, has to stay accountable for our actions. This means we must make ourselves present and available for our staff every day.
"On the flip side, we also try to stay fun and engaging. We like to host sales contests, and we have company outings. We have three company events a year: a summer event, and a holiday outing, as well as a golf outing for our sport fanatics. We also organize lunches once a month because we want to encourage an environment where everyone here feels appreciated.
"Finally, we have implemented a few bonus and commission programs to ensure our financial commission programs are very transparent," Peter concludes. "This is where technology is becoming more significant within our work. We have introduced a new TMS system, so our employees know exactly how much money they are making, and how much commission they will receive. We feel we have been very open with our employees, and as long as we continue with this culture of honesty, while keeping an open mind as to how we can improve, we will continue to get better every day."
www.bm2freight.com