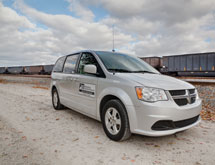 United Companies has found the best way to keep its customers happy is by interacting directly with them to see and hear what their exact needs are and to proactively meet those demands. For the company to be successful, employee training and technology are vital.
The Evansville, Ind.- based company is a privately owned corporation comprised of United Leasing Inc., Professional Transportation Inc., and the Romain Automotive Group. United Companies specializes in asset management, logistics and transportation, finance and business solutions. It has direct operations in 50 states, Canada and Mexico. "It's a prerequisite for managers to grow every department, every business unit, every year," CEO Ron Romain says. "There are new opportunities in each line of business requiring focused execution to achieve our objectives."
United Leasing is a broad-based leasing company for businesses. The company finances and manages a wide-range of business assets in the mining, transportation and fitness industries. Romain Automotive Group sells, leases and services new and pre-owned vehicles in a retail setting. The group owns and operates an expanding automobile network in Indiana.
Professional Transportation transports crews for the railroad industry. The company offers safe, dependable and on-time performance for over-the-road and dedicated yard van services to all of the largest railroads in the industry, as well as numerous short-line operators. "Professional Transportation was started in 1980 and has grown from literally a 10-van operation to the largest crew transportation company in North America with 6,400 employees," Romain says.
Technology is Vital
Professional Transportation utilizes its proprietary technology programs to enhance and automate its operations. "Technology has had a significant impact on our business," says Steve McClellan, COO of Professional Transportation. "It has impacted our performance capabilities and made the job of our drivers a lot cleaner."
By making the job "cleaner," McClellan is referring to the automated data gathering and management the technology provides to the company's 2,500-vehicle fleet. Because of that new technology, communication with customers regarding transport information is more expedited than the company had provided in the past.
Customer experience is always a priority and the new technology makes it easier for the driver to deliver personalized service. "We are trying to remove things for the driver that doesn't involve the customer experience," says Jim Derk, director of information technology. "When the business started, we had to use clipboard logs and paper processing. That took away from what they have to do – which is being an on-time and safe service provider."
Professional Transportation will travel in excess of 155 million miles in 2013 and McClellan says he only sees that level of business continuing, which makes the automated technology vital.
Embodying the Company Vision
United Companies is extremely invested in employee training to ensure everyone in the company has an understanding of its culture. Employee training, development and engagement became key factors about 15 years ago and five years later the company opened United University at its headquarters. "The best way to have a great company is to have an outstanding, well-trained workforce that fully understands what you are doing as an organization," Romain explains. "That training involves every touchpoint with the customer. If we don't leave those touchpoints to chance the customer experience will be precisely what we know the customer wants."
Training is mostly centered on customer interaction, including how to perform a customer visit, proper follow-up and how to do it all effectively. "We want it to look very consistent and the training is critical to that happening," Romain adds.
A strong workforce and state-of-the-art technology will propel United Companies into what Romain, McClellan and Derk see as a promising future full of growth. United Companies plans to expand its services further into Canada and Mexico. "We have a strong mindset around growth and in five years we will be a totally different company," Romain says.