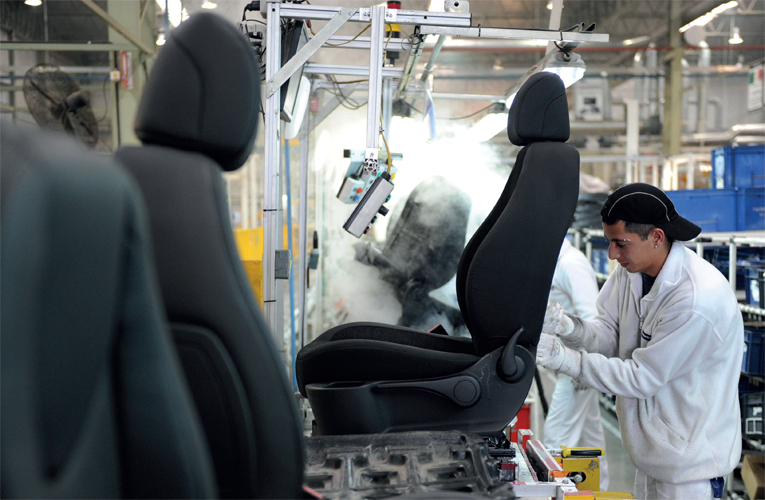 Whenever original equipment manufacturers (OEMs) in the automotive sector announce a new model, it triggers a period of both excitement and trepidation throughout dealer networks. Everybody, from the assembly line to marketing, must then collaborate harmoniously to ensure enough stock can be secured within the market. And this is not a standardized undertaking – every launch presents a different journey. Assembly plants must produce within allocated time frames. Quality and technical teams must find the right rhythm between batch validations, reworks and postproduction operations. The outbound logistics teams have to monitor handovers between stages and to book the right capacity at the right time in order to avoid demurrage costs or other surcharges related to exceeding transport capacity.
On top of these production and distribution challenges, National Sales Companies (NSC) and importers add pressure to distribute more units to their local distribution compounds to maximize sales opportunities, resulting in time-consuming calls and emails asking what stock is available and when it will arrive. Obtaining meaningful levels of visibility across launch activities often consumes significant resources for reporting and internal alignment. Cross checks are required to enable logistics executives to focus on risk-handling and avoid having to manage a crisis.
The value of real-time visibility
In this context, the visibility of goods in transit is no longer considered a 'nice-to-have' but rather a 'must-have' capability. In the B2C world, grocery home deliveries are now commonplace and customers expect timely updates on the whereabouts of their order. While this level of information may not be necessary when a customer purchases a new car online, within a B2B context there are short-term, long-term, direct and indirect benefits for dealers within the OEM's ecosystem.

Over the short-term, the initial value of improved visibility can be experienced for pre-carriage flows. Most of the automotive industry operates on Electronic Data Interchange (EDI) technology standards for securely sharing data between ecosystem partners. Compared with EDI, new Application Programming Interfaces (APIs) offer faster, more cost-effective ways to connect systems and share information. Below is a summary of these key differences:
When choosing a platform, it's important to ensure it is fully compatible with both API integrations and mobile applications and leverages telematics and transport management solutions (TMS) integrations to automatically capture exact departure and arrival times and locations, allowing users to trigger events when geofenced zones at delivery sites are entered. Given the high value of cars and the volume of daily departures from assembly plants or vehicle compounds and ports, the ability to instantly confirm arrival or departure of vehicles has a significant positive impact on cash flow for OEMs.
Improved customer experience
Another major benefit of full visibility for automotive execution relates to customer experience, which can be improved by reducing the number of 'where's my car' enquiries. Over the past few years, thanks to some large Finished Vehicles Logistics (FVL) carriers' digitalization initiatives, web portals allow dealers or NSCs to see the latest workflow status for ordered units. Nevertheless, in most cases, the estimated times of arrival tend to be calculated on only theoretical lead times. As a result, emails are still being exchanged regarding shipments in transit, and response times range from one to four days, depending on whether the unit has been transported by a managed fleet or a subcontractor.
Productivity and efficiency gains
Over the mid-term, further value is added through day-to-day benefits for flow pilots. For example, the inefficiency of using spreadsheets with launch unit lists costs carriers' and NSC's logistics teams days of work on double checking in-transit and ready-for-transport units. It also requires continuous manual updating due to a lack of connectivity amongst FVL partners' systems. For these reasons alone, implementing real-time visibility across outbound transport processes for finished vehicles logistics greatly improves overall efficiency and success rates by increasing car availability and on-time delivery during the launch phase. With real-time transportation visibility tracking, teams can focus on exceptions and reduce the risk of missed demonstrations, helping FVL professionals to get back on track faster while also allowing dealers and NSCs to concentrate efforts on selling and increasing pre-orders.
Enhanced control tower view of operations
To ensure a smooth launch, most OEMs already have a pre-established responsibility assignment matrix covering roles and responsibilities between all parties. However, when it comes to measuring and following success on a daily basis, a control tower solution is a must. Control tower teams, whether equipped with internal or external tools, take over the tracking and execution responsibilities; from ordering to performance monitoring. For example, they're often in charge of transport order management (dispatch and execution), sharing Estimated Time of Departure (ETD) and Estimated Time of Arrival (ETA), and administrative tasks such as delivery slot booking, reporting on extra costs and measuring performance.
Value of real-time transportation visibility for carriers
Transmitting real-time information to shippers is made possible by securely collecting real-time data from carrier systems and surfacing it on their customers' platform of choice. Data can be collected from onboard telematics, installed within trucks, or via direct EDI connections with TMS and other internal IT systems. The automatic collection of data eliminates the need for time-consuming calls or emails, and any manual input of delivery information into multiple shipper portals. In addition, delivery times can be proven more objectively to clients, as delivery and wait times are precisely recorded using GPS data and geofences.
This helps to deliver a differentiated quality of service and benefit from significant time savings. By providing shippers with a better quality of service through access to real-time and predictive data on deliveries, carriers are able to stand out from their competition. Supply chain automation also aligns well with the FVL market's business requirements. The tools available today help to make new vehicle launches smoother and easier than ever before, both for 3PLs and OEMs, helping them stay competitive in a fast-moving world.

Bahadir Baytekin is a Solution Consultant at Shippeo. Shippeo, the European leader in real-time transportation visibility, helps major shippers and logistics service providers leverage transportation to deliver exceptional customer service and achieve operational excellence. Its Multimodal Visibility Network connects FTL, LTL, parcel, and container transport and integrates 750+ TMS, telematics and ELD systems using a unique API.
www.shippeo.com