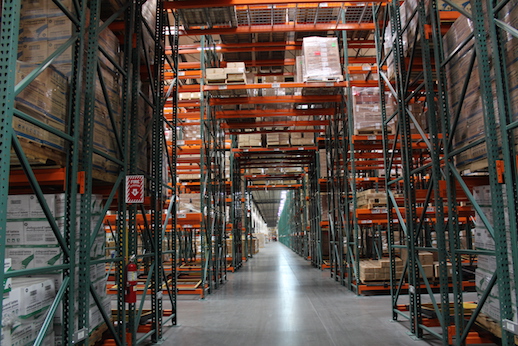 Weber Logistics transports and houses goods in temperature-controlled environments to maintain the integrity of products throughout the distribution cycle.
By Stephanie Crets
Weber Logistics prides itself on being the West Coast logistics leader with strengths in its focus, flexibility and scalable distribution solutions. Founded in 1924, the company serves a variety of industries, including food and beverage, confectionery, import retail goods and chemicals. Goods and materials in these industries tend to be more sensitive than others, which is why temperature-controlled transportation and warehousing capabilities are a huge component to Weber Logistics' services.
"We're diversified and have specialties among several industry verticals," COO and Senior Vice President Bob Lilja says. "We have our integrated fleet of third-party logistics and truckloads that service the West for all those different industry verticals. We daily run LTL routes of time-defined services of air-conditioned and refrigerated products – throughout California and the Southwest. We're delivering to a required delivery date from the client."
Lilja goes on to explain that many micro-regional distributors, especially for food and beverage, pick items up and deliver them a couple of times a week on their schedules. But Weber Logistics emphasizes that it is the premier food distributor on the West Coast, delivering on the customers' schedules with the service metrics to prove it.
Temperature Controlled
Weber Logistics has seen much consolidation in the industries it serves. For example, a number of food manufacturers have looked to freight management companies as they have merged to manage their logistics. Lilja says that this can hurt those companies in the long run because the freight management companies are just looking for the lowest price. And when manufacturing companies and distributors of food products don't deal with third-party logistics directly, they may not receive the best service.
"One of the things everyone in the industry recognizes is that the more product you have and delivery density you have, the better service you can provide," he continues. "We deal with food, along with pharmaceutical capsules that require the same kind of transportation and temperature-controlled, food-grade handling. That fills trucks up, gives us more places and more options and allows us to deliver better service."
Some of the features of the temperature-controlled facilities include:
Ambient, chilled and frozen environments in an AIB-certified facility;
Automated temperature monitoring with out-of-spec readings that will trigger immediate electronic alerts;
Warehouses certified to handle organic products; and
Co-location of many food and grocery customers, which reduces freight costs through freight consolidation.
The company is strategically located to serve the West Coast with two facilities in the middle of the Los Angeles basin. "We have an integrated fleet of trucks domiciled in a multi-service building that has the refrigerated housing and cross docking, and we do inbound distribution of refrigerated products and distribution of it," Lilja notes. "It's all centralized in this area that is the densest population of these warehouses in the United States."
Additionally, Weber Logistics has southern and northern California warehouses, with even more freight transfer points in adjoining states to provide storage and delivery services for key regional markets. Weber Logistics will also be opening a new 100,000-square-foot distribution center in downtown Los Angeles in October. It will be the company's tenth distribution center and features freezer, refrigerator and air-conditioned environments.
Sometimes the company even creates pop-up refrigerated warehouses for customers that may not have the capabilities to store their products. For example, Weber Logistics installed a 515,000-square-foot facility with refrigeration equipment and is currently running it through the fall to house a client's food items to service its holiday traffic.
"Weber is really focused on rapidly growing our less-than-truckload operations and expanding into more temperature-controlled products and lanes," Lilja explains. "We're looking to continue to increase our footprint with temperature-controlled warehousing. There has been more demand for refrigerated warehousing service than ever. That's become a great opportunity for us, as we tie warehousing with refrigerated fleet and that's an attractive offering to the food and related products industry.
"We think there's a real opportunity to dominate the market for businesses that need an integrated solution for warehouse, distribution and trucking," he adds. "Since we have an asset-based fleet and transload facility at the [Los Angeles] port, we see that as an opportunity to drive more importers into our distribution profile. We have a real commitment to integrated logistics and full ownership of our part of the supply chain. Our past and future tagline is 'the strongest link' in the supply chain."
www.weberlogistics.com
Estimated Revenue: $100 million
Employees: 600
Headquarters: Santa Fe Springs, Calif.
Specialty: Temperature-controlled transportation and warehousing