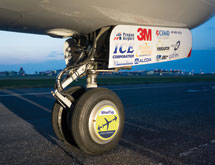 Most people probably don't think too much about what is involved with moving commercial jets while they are still on the ground. Currently, pushback vehicles safely move aircraft backward from gates most of the time, while the engines power forward taxiing. Aiming to change all of that, WheelTug has been working on an electric built-in unit that can move the aircraft backward and forward without having to engage the engines or tugs.
"WheelTug is about innovation that enables massive customer benefits," CEO Isaiah Cox says.
WheelTug has become an industry leader in what is now an emerging e-taxi market. Its fully integrated ground propulsion e-taxi system is a nosewheel-mounted, high-torque electric motor and drive powered by the aircraft's auxiliary power unit. The goal of the WheelTug system is to save time, fuel and money for airlines by allowing their aircraft to taxi and maneuver at the gate without using their main engines.
Off the Ground
Based in Gibraltar, the company has been involved with electric motors since the 1990s, and it has been developing its e-taxi solution for more than a decade. The company had its first proof of concept test in 2005 when Boeing Phantom Works and Chorus Motors tested the WheelTug concept on an Air Canada 767 at the Evergreen Air Center at Pinal Air Park in Marana, Ariz. At the time, these successful tests demonstrated that the technology could serve as a more efficient way of moving aircraft at airports.
"We took it from concept through to the first test of the hardware, software, motor, electronics, mounting and controller in six months," Cox says. "The demonstration proved that an electric nosewheel motor could drive the airplane."
Since that time, WheelTug has been working to make the system commercially viable and raising awareness and interest in the concept. Further tests have been conducted on several occasions. WheelTug completed an electrical load measurement test on a Boeing 737 Next Generation in January 2010 at Hartsfield-Jackson International Airport in Atlanta, Ga. Another test was held at Prague Airport in November 2010 to test the system in wintry conditions. As for the first fully in-wheel demonstration unit, it was tested at Prague Airport in June 2012.
The benefits that e-taxi solutions could bring to the aviation industry are significant. In addition to lower ground operation fuel consumption and removal of the time and safety costs involved with using ground tugs, reductions in carbon dioxide and other greenhouse gas emissions, increased safety and flexibility of operations, faster turnaround times, reduced engine maintenance costs and decreased noise pollution are all advantages that the WheelTug system could bring to the industry.
Then there are the cost benefits. WheelTug estimates that airlines will see savings of more than $1.1 million per aircraft per year. It will also offer the systems to airlines on a leased "power-by-the-hour" basis. That way, the systems can be installed and operated on aircraft without the airline having to invest in any upfront capital expenditures.
"The margins for airlines are very thin, and if we can save them hundreds or even thousands of dollars on every single flight, it can transform the industry," Cox says. "We're essentially giving the system away in exchange for half of the generated savings. It eliminates risk for the airline and maximizes returns for our investors."
Ready for Launch
As it approaches the eventual commercial launch of the system, expected for sometime in late 2015, WheelTug aims to remain innovative by partnering with high-quality manufacturing companies. It wants to leverage its intellectual property and get the system into service as quickly as it can. It is a federated company that has relationships with various supply, manufacturer and customer support organizations that allow it to remain lean and focus on the continued development of the technology behind the system.
As of now, the company has nearly 800 reserved systems with airlines that include EL AL Israel Airlines, Jet Airways, Israir Airlines, Alitalia, Onur Air, KLM, Livingston, Corendon, airberlin, Icelandair, Malaysia Airlines, Volaris and Air Transat. WheelTug is confident that its e-taxi system will provide its customers with a competitive advantage while giving the WheelTug system the opportunity to change the market forever.
"Our customers are not only saving fuel, but they are seeing the biggest savings in time and the ability to use the aircraft more in flight," Cox says. "We have a five-inch wide motor that can generate savings in many areas, and we have an attractive business model. Aviation is a hard market to break into and innovate in. We have the innovation, business model and technology. Now we just have to execute."